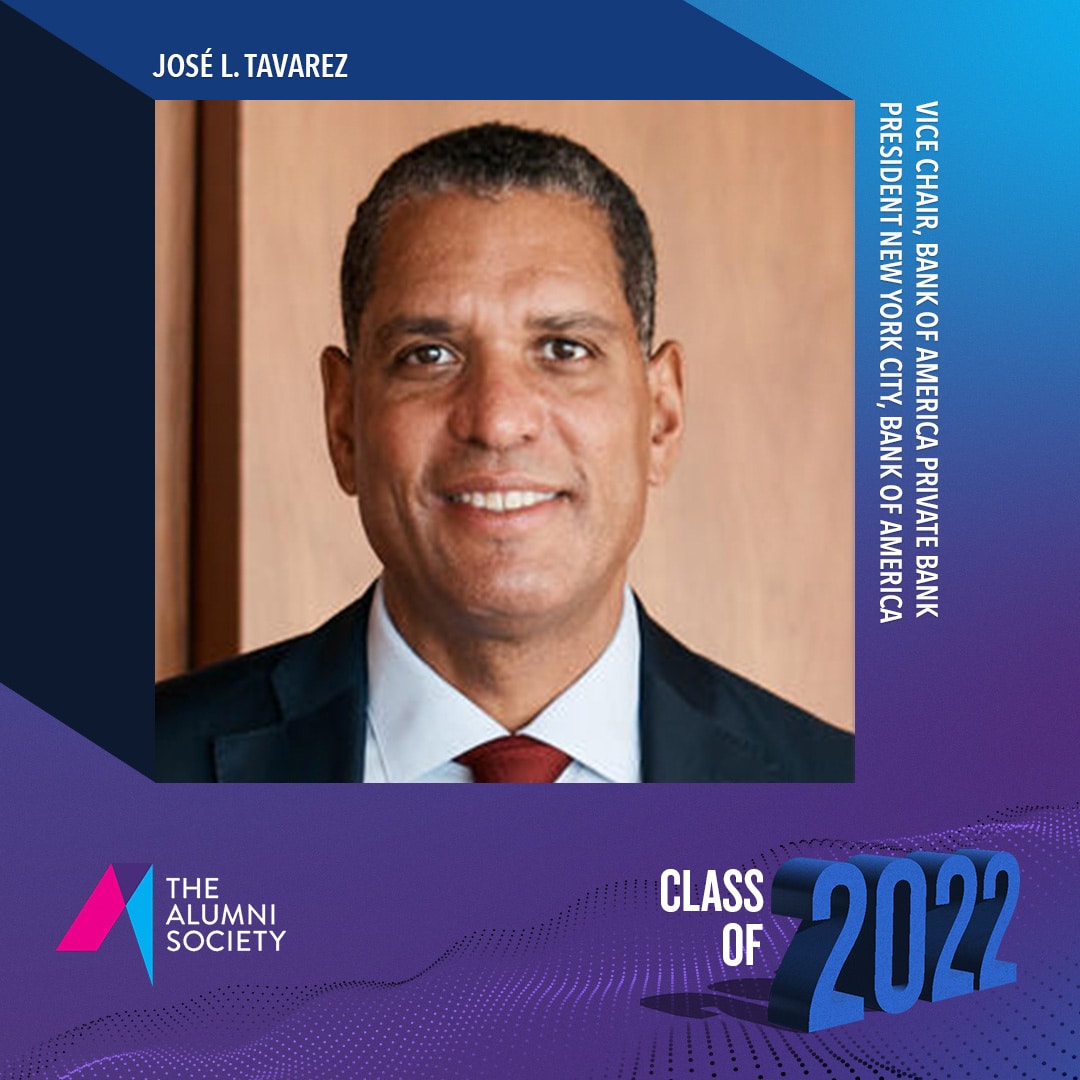 By: Billy Yost
As the president of Bank of America (BofA), New York City, José L. Tavarez has the kind of profile that has the possibility to inspire millions. Tavarez's financial acumen has been utilized by some of the biggest players in finance and consulting, and his focus on growing his leadership teams is a textbook example of how to lead with service. The executive shares with The Alumni Society his ongoing commitment to his communities, his most formative roles, and his inability to find much free time.
Could you talk about some of the experiences, both personal and professional, that have helped you as a leader and performer in your space?
Professionally I have been lucky to have worked at several leading companies in a variety of leadership roles. The opportunity to lead different businesses has given me invaluable experience and exposure to senior executives who, through mentorship or example, helped me to better understand problem-solving and taught me to think strategically.
The most formative and foundational job was early in my career working with KPMG as a consultant. It was there that I was given the building blocks for my professional development and really had to learn how to think critically about a variety of business situations with a problem-solving mindset.
Personally, I learned the value of education from my parents (neither of whom went to college) as well as the importance of hard work. They helped me redefine what is possible and always had faith that academic achievement was the best way to open up possibilities in life—both personal and professional.
How does your ethnicity and heritage help you be successful?
Exploring my cultural and racial background at a young age allowed me the opportunity to better integrate into diverse environments throughout my academic and professional career. That process of exploration forced me to examine not only my culture but also my own biases about people from other cultures, making conscious decisions to establish relationships with them. Forming relationships with people from different backgrounds has provided me with great opportunities, insights, and success both professionally and within my own community.
Could you talk about some of the D&I initiatives you're working on in your role at Bank of America and what those have looked like from your perspective?
I serve as the national co-executive sponsor of Bank of America's Hispanic/Latino Organization for Leadership and Advancement (HOLA), a group committed to helping attract, engage, develop and retain Hispanic/Latino talent.
As president of Bank of America New York City, I engage in all of the bank's local community sponsorship activities in New York and our outreach across a wide variety of D&I organizations and causes.
What kind of work have you done to pave the way to develop future leaders, and what importance do you place on doing this work?
It's some of the most fulfilling work that any leader gets to do. I am active as both a formal and informal mentor to several junior colleagues within Bank of America and am a contributor to Bank of America's Executive Development Program (EDP). With respect to my ongoing leadership responsibilities, I consider building and developing my leadership team as a top priority of my role.
For many years I have also actively participated in a University of Pennsylvania program, which mentors Penn athletes and assists them with job placement and leadership development.
What is next for you, your profession, and your industry?
In an organization like Bank of America, there are an incredible number of paths and opportunities to continue to elevate your career and broaden your expertise. Financial services have such a vital role to play in society, helping individuals on a personal direct level or impacting huge macro-economic trends. I feel incredibly lucky to be here right now looking at what is needed and what is possible. Looking ahead long term, it's hard to imagine what life after BofA might include but I have always had an entrepreneurial interest and it is fun to consider many ways I might pursue that one day.
Finally, how do you relax?
If I'm honest, I don't relax much. But when I get the chance, my family comes first. I love being a father of daughters and anything I get to share with my girls brings me great joy. I am a devoted "beach reader"—that and golf, when I get the chance, are my go-to ways to unwind and de-stress.
Connect with José L. Taverez on LinkedIn.