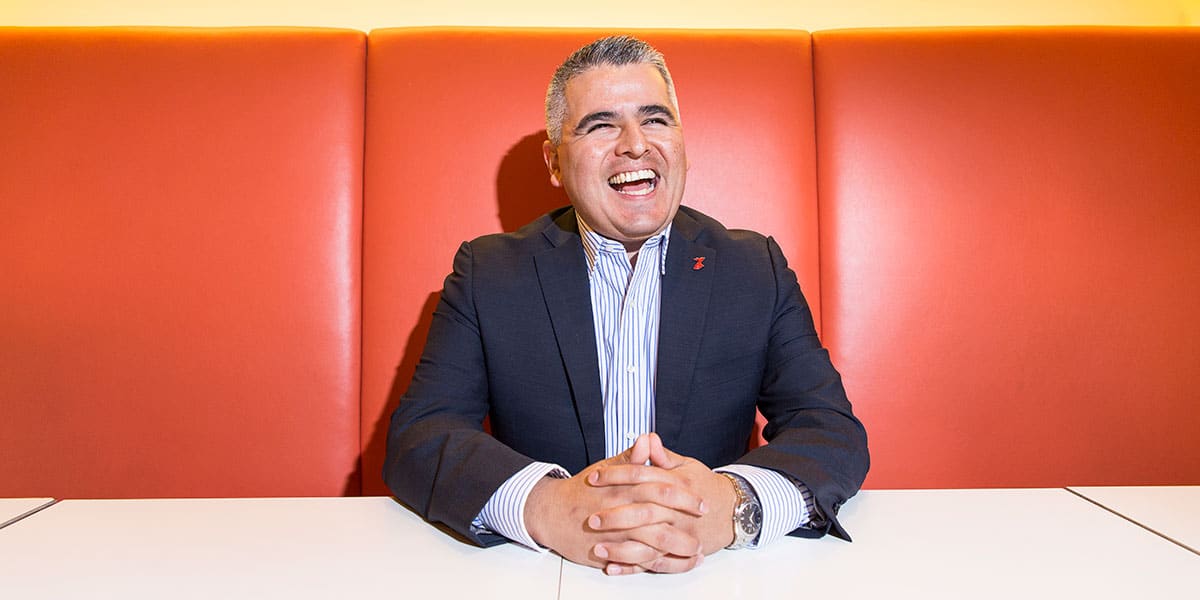 For Sodexo's Alberto Ortega, great relationships are great business
Alberto Ortega has always been a relationships guy. Since he joined Sodexo, a facilities management and food services corporation, in 2011, Ortega has built bridges for his company the way an engineer would for a city: Finding openings for outreach, connecting the best points of contact, and forging relationships that are built to last.
Ortega worked as Sodexo's director of community relations for four years and turned his attention to the company's external relationships as a way to give back and increase awareness of Sodexo's commitment to community work. "I was able to build relationships with influencers and leaders and promote what Sodexo does in the realm of diversity and inclusion," he says. "By carrying that banner, I was able to access prospective clients, not so much as a salesperson, but really as a peer and partner, so someone would be open to talking to someone like me." It was an external-facing role, but Ortega also collaborated internally with Sodexo's sales team. In 2014, he helped Sodexo bring in more than $26 million worth of new business. He beat that number in 2015, bringing in more than $39.5 million.
In fall 2015, Ortega transitioned into the role of senior director of strategic account management. "I'm responsible for growing and retaining clients in our corporate services segment," he explains. Ortega works with nearly a dozen of Sodexo's top 50 corporate clients, including major brand names in the automobile and financial services industries.
While the position is much more client-focused than his last position, Ortega says the same principles he utilized in community relations apply to his new workload. An important responsibility within his role is to sustain positive client relationships through outreach and feedback. Each client has a vested interest in creating optimal work environments for their employees, and Ortega's job is to work with the decision makers to determine companies' needs and how Sodexo can improve the client's experience. "[Sodexo] wants to demonstrate that we're paying attention and adding value," he says.
I'm finding that I tend to be the guy that tees up opportunities for engagement. 
Adding value is about more than providing great service, and it's here that Ortega's past experience becomes critical. "I'm finding that I tend to be the guy that tees up opportunities for engagement," he says – the types of opportunities that mesh Sodexo's corporate personality with that of their clients. For instance, Ortega recently reached out to the chief diversity officer at one of Sodexo's major clients to discuss potential points of collaboration between the two companies. Since Ortega has a background in corporate diversity work, it seemed sensible to have a conversation about diversity-related initiatives and how the two companies could support one another. Ortega also plans to have a conversation with that company's head of global sustainability to get a sense for what the organization's priorities and values are in that realm.
As he navigates this new role, Ortega still prioritizes the community relationships he built in his first years at Sodexo. The company actively supports Chicago United, which brings Fortune 500 companies together with minority-and-women-owned business enterprises in Chicago, and the Chicago Commons, which provides education and support services to underprivileged Chicago children and families.
Ortega emphasizes that his work with these organizations is beneficial to Sodexo, as well as the organizations themselves: These initiatives help the company live out its diversity and corporate social responsibility goals, and relationships on a community level are important to the company's external and internal identity.
"Everything I do is on behalf of the company," Ortega says. "I always analyze relationships for impact, both for Sodexo and the community. Everything I support aligns with our business and fosters giving back to community."