If American universities want their diversity to be representative, they'll need the help of legislatures and the private sector.
---
By Mary Kenney
The most interactive portion of The Alumni Society's June leadership summit raised some of the most pressing questions in diversity today. Members of the audience were invited to ask a panel of experts for their insights into how Latinos can and should chase success in corporate America.
Those members who took the mic didn't mince words. One attendee asked the panel, "Demographics are shifting incredibly quickly, and people are concerned. Numbers are moving, but hiring isn't moving with it. What should colleges do to move that needle?"
Four Alumni Society members offered answers to this question; it's an important one, and it doesn't come with a single, easily implemented solution.
Anilu Vazquez-Ubarri, chief diversity officer and global co-head of talent development at Goldman Sachs, called it a "numbers game." Hernan Saenz, managing partner at Bain and Company, said we need to instill the expectation among Latino youth that they will work in white-collar jobs. Ricardo Anzaldua, cofounder of the Society and executive vice president and general counsel at MetLife, said specific goals, not big-picture ideals, need to be set. And Manny Sanchez, a managing partner and founder of a major Chicago-based law firm, said networking is a crucial part of improving those numbers.
Sanchez described the Society as "an unbelievable, unique collection of leaders and corporate stars in our community."
"I am hopeful that the Alumni Society will build on its momentum and fulfill its lofty goals," he went on to say. "Don't let it die here. Let's not leave it in New York in 2015. Let's keep this going."
All of these answers talked about what Latinos can do and what corporations should do. But we wanted more. We wanted to know, as the person who posed the question did, what colleges can do.
The Alumni Society doesn't exist solely to highlight problems; it exists to solve them. To try to capture the causes and solutions behind the numbers disparity, we sat down with Marta Tienda, director of the Program in Latino Studies and professor at Princeton University, to talk through these issues and search for answers.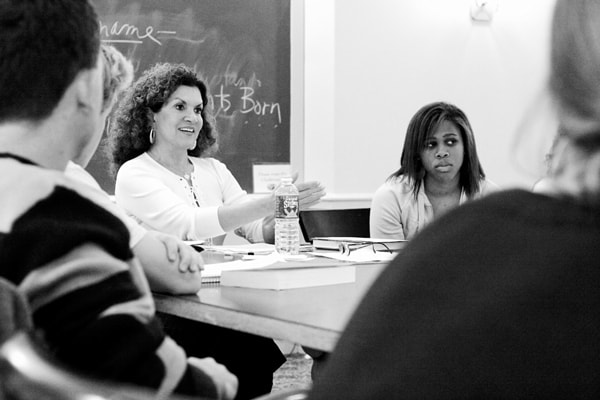 In the classroom, Dr. Marta Tienda plays a part in the promise of a Princeton education for these students. "Watching them catapult through all these new hurdles [is] one of the most satisfying experiences of my life," she says.
The Alumni Society: Let's make sure we start with an accurate view of current demographics. We know the overall Hispanic population is growing, and we believe the Hispanic populations in colleges and in "white-collar" jobs are also growing, though at a much slower rate. Is that true?
Marta Tienda: It's true that the Hispanic population is growing—and it's growing fast—but it's slowing. Immigration has fallen, so the projections are being adjusted. Still, even with adjustments, 17 percent of the population is Latino. By 2020, that should be 20 percent, so one in five.
As far as job growth, the market has improved recently. But in job statistics, Hispanics are still underrepresented in white-collar jobs, relatively speaking (other groups' numbers are improving faster). So, while we're making gains, we're not making as many as other groups.
Another point: the Hispanic population is still not evenly distributed among regions. The population is still largely contained to a few states. That's important because jobs and educational opportunities are not evenly distributed, either.
So, in 2016 and beyond—assuming there isn't another recession—this will matter. The problem? The projection of growth is in certain industries, such as IT, and Hispanics are very underrepresented in those jobs. Growth is also projected in lower-wage jobs in health care, such as orderlies, and the question becomes, who will fill those jobs? Do Hispanics have to fill all of those jobs? And the answer is no. Hispanics are a growing segment of the population, and we need to fill high-level jobs, as well.
Even with adjustments, 17 percent of the population is Latino. By 2020, that should be 20 percent, so one in five.
TAS: Who is talking about this?
MT: State legislatures and business organizations are taking note of these trends. I've read several reports in Texas about the investment, interest, and analytics concerning diversity. In Texas, the Hispanic population is growing faster than in any other state.
But what does it mean to take notice? They track numbers and write reports, which makes the question academic. The general population isn't thinking about this. They don't realize it's an opportunity we could take—or one we could squander, if we're not careful.
The fastest-growing group is the farthest behind in educational attainment. Think about that. The fastest-growing group is the farthest behind in educational attainment. Nineteen percent of two- and four-year degrees are earned by Hispanics, versus 26 percent for black and 42 percent for whites. The gap between whites and Hispanics is particularly large in places where there are many Hispanics, such as in California—which is a problem. Many of these states have college diversity rates below the national average. Texas, Arizona, and Illinois all fall below the national average.
It's important to look at state-level comparisons. That's where businesses operate, where they draw their labor force, and where they pay taxes. So, while the private sector should never replace the public, the private sector has leverage in pressuring the public sector to do the right thing. Many companies are writing reports and rendering these considerations academic. That doesn't necessarily result in policies to improve the numbers.
Look at it this way. We're an aging society—the benefits for seniors are guaranteed by the federal government, and the federal government is able to run a deficit in order to pay for programs like Medicare—and those payments always get made. Any time those issues are mentioned, they get answered, because AARP and similar organizations have a huge voice. But for youth who do not have a voice, who do not vote, their programs are cut whenever there's an economic downturn. And states can't run at a deficit; they have to meet their budget. So that creates a gap between seniors and young people—the seniors have the bigger voice. That's an issue.
The fastest-growing group is the farthest behind in educational attainment.
TAS: Who is working to improve these numbers at the college level, and what are they doing?
MT: Many universities are concerned about trends. Some are fearful of being sued, and some are being sued.Harvard (University) and (The University of North Carolina at Chapel Hill) are being sued. There's a single person bankrolling all of these initiatives and getting people to sign onto lawsuits to take on affirmative action. It's so narrowly tailored to dismantle affirmative action. That's an issue.
The (University of Texas at Austin) case made its way to the (US) Supreme Court but was remanded to the lower court. But now the issue has come up again, so we may see changes going forward. There is empirical evidence that at selective universities, such as UC-Berkeley and the University of Texas, when affirmative action is banned, the enrollment of Hispanic students does decrease.
Some universities are on the defensive. Many have tried to be careful and are doing outreach in their recruitment plans within the rules of affirmative action. My own institution has been very generous in financial aid and very progressive in its diversity initiatives. And at the undergraduate level, we're very diverse.
Where we (Hispanics) are lacking is in graduate school attendance. Hispanics tend to go to schools with fewer resources, where they don't perform as well, and then they can't get into top graduate programs. So both availability and outreach are important, and they're both about investment. States, especially Texas, have underinvested in higher education in relation to their populations. In fairness, Texas put out a plan in 2015 to set goals for diversity. The state achieved its goal for blacks, but not Hispanics, because the Hispanic population is growing so fast.
TAS: What is the private sector's role in responding to this?
MT: The private sector might, at least, call attention to the madness in public education. Most of the focus today is on admission because that's what gets attention in litigation. Litigation dominates the headlines. But universities make contributions to the business sector by graduating students, not just enrolling them. The dropout rate is a problem.
There's a lot that can be done, but the question is political. Will it? It doesn't all have to cost money. Mentoring programs—such as Big Brothers, Big Sisters—or company mentorship programs could work. Businesses could handpick the people they'll eventually hire and help mentor them through graduation, and that would help. I work with young people every day. And young people today, if you challenge them, they'll rise to the occasion.
TAS: One of the proposed solutions to grow the educated Latino workforce is to start in high schools. Does that work?
MT: That kicks the problem back to primary schools. Recently, among students who had been admitted to [University of Texas at Austin], those with lower test scores outperformed those who earned test scores in the top 10 percent. What was most predictive of success was high school grades. If legislators turn a blind eye to that, they're complicit in creating education gaps. We can use analytics to show that increases in Hispanic enrollment will increase tax revenues and stimulate economic activity. But if it just ends up in a report—filed, and released, and nothing happens—the United States will continue to fall behind.
If you compare 25- to 34-year-olds to 50- to 65-year-olds, educational attainment among Baby Boomers was higher, in context. We had a huge baby boom with those now aged 50 to 65, and that's when [our country] really kicked up its game and invested in higher education. We had the funding because we had the will. We had the will because we were in an ideological war with Russia after it launched Sputnik. That investment gave us a huge boost. But after the curtain fell, we came to a standstill.
Now we're losing it. The population aging, plus a loss of funding, means we won't invest in young people. Having all of these analytics is a necessary part of fixing this problem, but it isn't sufficient to bring about change. We can see it clearly; many states, as of 2014, haven't recovered the K-12 education budgets they had before the recession, including in states like Texas, which have huge populations and need the budget. It's discouraging, but I'm a fighter. This is where the business community has an opportunity to look down the pipeline and realize they won't have workers in 20 years.
What was most predictive of success was high school grades. If legislators turn a blind eye to that, they're complicit in creating education gaps.
TAS: Ultimately, do you think it's a big-picture disconnect causing the deficit in college diversity, or is it happening on a case-by-case basis?
MT: There's evidence for both. I've talked about the national agenda—funding for research and development goes back into the institutions, which leads to growth in state budgets and the expansion of whole system. But neither people nor politicians respond to big pictures. They respond to voters. They think about the next election, about certain issues. People don't respond to population ratios, even if they know about them. But we could affect these soon.
It's about politics versus policy. You can have a good plan and know why you need it, but if it doesn't get passed, you're back where you started. Many institutions are beholden to state legislatures. If businesses lean on them, saying we need those workers, and if businesses threaten to move if investments aren't made, that would help. Workers drive our economy.
TAS: What do colleges need from corporations in order to "move the needle" toward hiring more Latinos?
MT: The private sector has an opportunity to be very strategic in recruitment. If companies want a diverse workforce, they could develop internships in certain institutions and roles. Some of our schools are minority-serving institutions. There's a lot of talent there. So why not reach in and start mentoring college students, instead of just waiting to see who comes out at the end? Companies shouldn't just have a recruitment mentality. They can move the needle by participating in the cultivation of talent through internship programs. Many financial firms do that, and they use that to build up the talent they need.
The number of headhunters trying to find Hispanics for board positions is high. Companies are all scrambling to recruit the same people, but they're not going to appear magically. There's more availability than ever; there's an opportunity to multiply those numbers. The private sector has the opportunity to silence those who want to undo affirmative action, and it can be a voice that makes states want to reinvest in higher education.