Yasmine Winkler Celebrates 35 Years in Healthcare
UnitedHealthcare's Yasmine Winkler sits down with The Alumni Society to share the wealth of experience she's gained throughout her career
---
By Amanda Garcia
---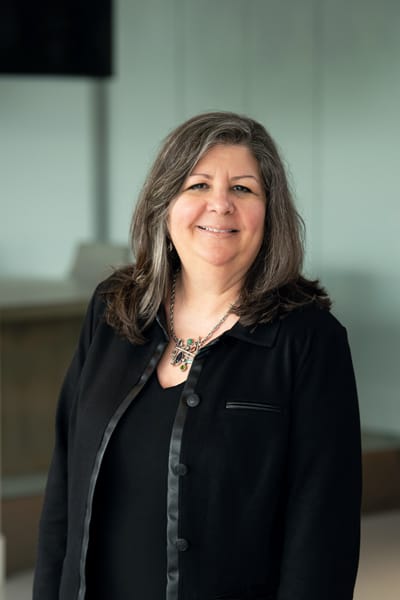 Thirty-five years ago, Yasmine Winkler had every intention of going to law school after graduation—but that was back when she thought a career path was a straight line from start to finish.
Near the end of her undergraduate education, Winkler got a part-time job at an insurance company in need of a Spanish-speaking customer service representative. She quickly excelled in the position, not only in clearly communicating the complicated aspects of healthcare to both Spanish and English-speaking clients alike, but also in truly listening to their concerns and genuinely caring about the stressful situation that poor health so often creates.
The position quickly grew to include more responsibilities, and after graduation Winkler opted out of law school and accepted what had evolved into a full-time job and the beginning of a long and successful career in healthcare.
Winkler has since earned a master's degree in health care delivery science from Dartmouth College, and worked her way through a wide variety of positions within the healthcare industry—most notably in product development and installation, and marketing. She recently served as CEO of Central Region for UnitedHealthcare Community and State, a position she held since 2015. Now, Winkler is the national leader of diversity and inclusion for the organization.
And yet, after all that impressive achievement and promotion, Winkler still thinks of her early years in customer service as a significant foundation that taught her to authentically and compassionately care for others—a characteristic that has been applicable at every stage of her life and leadership journey and could perhaps be considered both a capstone and a cornerstone of her thirty-five years (and counting) in healthcare.
Winkler spoke with The Alumni Society about where she thinks healthcare is headed next, the toughest challenges the industry is facing, and her advice for those starting out in healthcare.
What are some of the most significant changes to healthcare in the US over the past thirty-five years? 
Introduction of the HMO plan, the Affordable Care Act, the huge shifts and constant unpredictability of legislation have all been incredibly significant to the healthcare industry. But another major change is the idea that preventative care is covered 100 percent. It used to be that healthcare was about treating sickness as it happened, but more and more, healthcare is about educating and resourcing patients so that they don't get sick at all (or at least less). Along with that, the elimination of pre-existing conditions was a huge change for people with diseases, and the digitization of access to insurance has been a big change for all of us.
I'd love to hear an example of a question you never guessed you'd need to answer when you first started your career.
"When are you guys going to release an app?!" That is definitely a question I never thought I'd need to answer thirty-five years ago! But technology has changed the way we do everything, so UnitedHealthcare has an app. And it's truly excellent—a great way for customers to access and store their personal data, review claims, track deductibles/out-of-pocket expenses, and find in-network providers and medication. It may not have been a question I anticipated back then, but I am glad that it was asked.
What insights do you have into the future of healthcare? Any guesses to where we're headed next? 
If customers can order a movie, shop for groceries, and share photos of their kids on their phones, it's only reasonable for them to expect to manage their healthcare in the same way. This has already begun, but soon the healthcare industry will need to provide even more personalized, user-friendly, easy-access communication and information—even virtual treatment and pharmacy experiences—to customers as a standard. I believe that in the future, this could even apply to preventative care, meaning that as patients explore their own family histories, DNA, and chromosome configuration, we'll be able to recommend preventative medicine and care that's designed especially for their unique genetic make-up.
Tell me about one of the toughest challenges to the industry right now. 
The cost of healthcare is a notable challenge, and the opioid crisis is extremely significant, of course, but being able to take care of our most fragile populations is one of the toughest issues we're facing. Children and elderly fall into that category, as well as those patients who have more than one problem that are not all necessarily medical in nature. It's difficult for a sick person to get better if they don't have a home, food, job, transportation, childcare, etc. I think those of us in the healthcare industry are now faced with this dilemma: Taking care of health insurance is no longer sufficient because it only covers a certain percentage of patients' issues.
Looking back, what advice might you offer to someone just starting their career in healthcare? 
I would tell them that a career is less of a straight line and more of a zig-zag—which is why it's important to always say "yes" to opportunity, even when it's different than what you imagined. When I was in college, I never would have guessed that I'd end up here, but I was fortunate enough to have been given opportunities that allowed me to consider options I wouldn't have otherwise known about. Even after I entered healthcare there were chances to explore different aspects of the industry and my own interests. They didn't all have the same impact on my life, but each one had value and created experiences that I draw from every day.
As a leader, can you name a favorite or significant takeaway from the past thirty-five years that has informed your leadership style today?
You don't get anywhere by yourself. Everything requires other helpful hands, points of view, and ways of thinking. Remember where you came from and who helped you, and then pay it forward and bring someone else along. I would also say that empathy is imperative; it's important to remember that everyone has a story worth genuinely listening to—which is a takeaway from my customer service days that influences my approach to leadership even now.
---
Photo: Scott Amundson