The Alumni Society has come a long way—and has so much more to look forward to.
The Alumni Society was founded because we felt there needed to be a better way for companies to make traction on their public pronouncements around diversifying senior-level leadership teams.
That first casual conversation, in which we conceptualized an idea of what became The Alumni Society, took place over a glass of whiskey after a Hispanic Executive Top 10 Líderes dinner where Ricardo Anzaldua and other Latino leaders were recognized by the magazine. Energized and inspired by this event, we wanted to capture that magic and help galvanize the effort to advance Latino senior leadership.
Ricardo, an alumnus of Brown University and Harvard Law School, had always enjoyed the camaraderie he felt when he connected with other Latinos who shared a similar academic experience. He wondered if there was a way to bring together Latinos who were alumni from top schools—and somehow have that group also serve as a platform for blue-chip companies to recruit from. He'd been involved in informal alumni groups in the past, but those groups lacked the administrative infrastructure that is crucial for an organization to survive and thrive.
To this end, we spent a good portion of 2014 in the ideation phase. It wasn't an easy time. It took a big investment of resources—not to mention a huge leap of faith from many of the people involved—to make our idea a reality, and we certainly had our doubters. Many thought the group was too niche, too elitist. They said the model wouldn't work. That the name didn't immediately associate itself with Latinos.
But we persisted because we believed we were on to something special.
That first year, it was important us to enlist the help and support of our university alliances and to create a founding board. Crucial to our growth strategy was partnering with private companies that would sponsor our efforts, and we were fortunate to secure four major companies that saw the vision of The Alumni Society and the value of aligning themselves with this initiative.
These relationships paid off in many ways, but the first real turning point came in 2015 when we had our first Leadership Summit. This inaugural summit was the catalyst for getting The Alumni Society off the ground. It was the anchor for our community, and that day was electric. We managed to get over 250 members to join us for our first summit, and what we heard from many of those members was powerful: contrary to those who had said that the group was too niche, those at the summit told us that The Alumni Society was "exactly what they were searching for."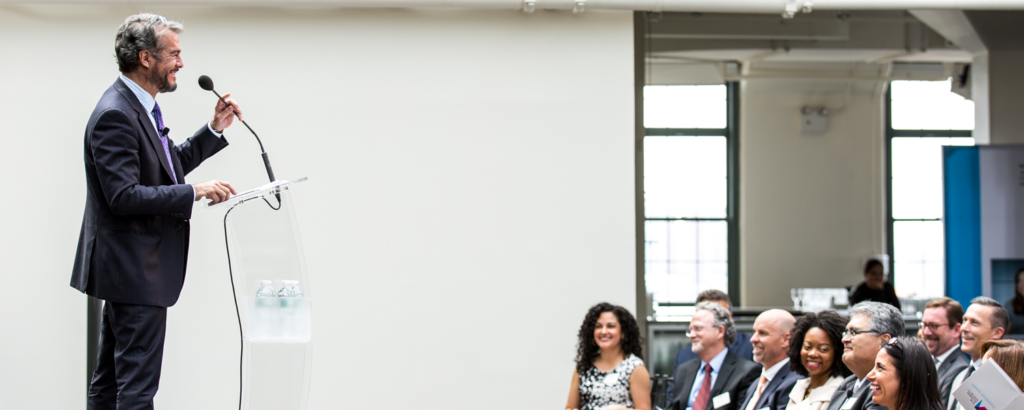 Major milestones followed in rapid succession. The 2017 Leadership Summit in San Francisco featured one of our best panels, Latinas in Tech. In 2018, we launched our first podcast. In 2020, we helped Facebook hire fourteen members. And, like so much of the world, we pivoted to online in 2020. It's been an inspiring journey, and we continue to develop new initiatives and put new ideas into play.
Today, The Alumni Society boasts five thousand members, over twenty corporate partners, eighteen university alliances, and eight network partners. Our membership is kept abreast of news and events and opportunities via two newsletters, robust social media channels, and a private, members-only Slack channel. Significantly, word of mouth has contributed to the growth of our organization. And in 2022, we will come together again in Manhattan for our annual Leadership Summit after two years of being fully virtual.
The next step in our development involves the launch of The Alumni Society Foundation. A common denominator amongst The Alumni Society members is the desire to give back to something greater. We want to leverage this network to help the greater Latino community achieve that, and with the establishment of this foundation, we will be able to. We are proud of this initiative and will share more information about it soon.
It has been an incredible journey, and we are excited for the future.
We owe a debt of gratitude to our members. You too saw the vision of The Alumni Society and because of that shared belief and engagement, you have made this group unique amongst its peers. We thank you for your enthusiasm, your participation, and, above all, your commitment to elevating Latinos. Together, we will reach new heights and show the world the talent found in our community.
Sincerely,
Pedro A. Guerrero and Ricardo Anzaldua, Cofounders, The Alumni Society