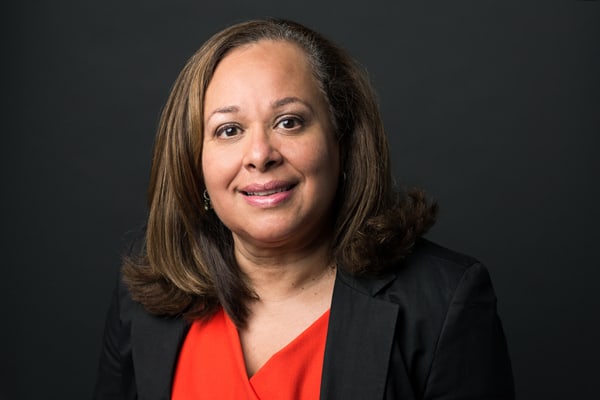 When Adela Cepeda's husband passed away in 1995, she suddenly found herself the sole breadwinner providing for three children under the age of ten. Cepeda met this new challenge with a familiar choice: she launched a company.
Four years earlier, Cepeda co-founded Abacus Financial Group, a business managing fixed-income portfolios. When she founded A.C. Advisory, she focused on the municipal advisory business.
"I would have to provide in a way that I hadn't expected before, so there was the energy to establish the business and make it work," Cepeda says.
A.C. Advisory proved successful, eventually becoming one of the top advisory firms for municipalities in the country. As the company grew, Cepeda found new ways to share her financial expertise and increase diversity both within the company and as director of corporate and philanthropic boards. In 2016, she sold A.C. Advisory to the asset management and advisory firm PFM, where she now serves as a managing director.
Cepeda spoke with The Alumni Society about how she has embraced opportunities and used her leadership positions to help open doors for minorities.
You started A.C. Advisory at a difficult time in your life. Were you concerned about making this leap?
When you have a dramatic change like the one I went through of losing a husband at such a young age—I was 37 when he died—nothing is really scary. You've already lived through the scariest experience. Since that time, work for me has had a different perspective, and it's been extremely positive. It was a way for me to re-engage, and to have this time where I wasn't thinking about the reality of my life. So I went into it with tremendous enthusiasm, a desire to charge forward, and a commitment to do that for my family.
Along with running a business, you have served on numerous corporate boards. How did you first become a board director?
I was asked if I wanted to interview for a seat on a corporate board of closed-end mutual funds for Lincoln National. One of them involved investments in convertible securities. I had structured and marketed convertible securities at Smith Barney, so I felt comfortable as a director of a fund that invested in these products. I came to understand the oversight role and strategic role that a director plays, and I loved it. Some of the directors that I originally sat with invited me to join other boards, and that's been how I've expanded to boards as well as organizations that were trying to diversify boards with women.
How did you feel being the first woman on many of these boards?
Somebody has to be first. I grew up the only Latina in an honors class, and one of the few Latinas on campus. You just accept that and try to get in a position where you can help other people come and be part of the experience.
How have you worked to bring more women and minorities into the boardroom?
As a director, I've been a very strong advocate of women in the C-suite and of including women and minorities in searches when there are openings for board positions. I've tried to be the governance chair when that's available so that I can bring diversity to the board. I think it's not coincidental that in almost all the boards that I'm on, there is diversity—and significant diversity. 
Has diversity also been an important feature in your organization?
My door has always been open to everyone, but I positioned A.C. Advisory as a minority firm. It was owned by a Latina, 100 percent. I prided myself in having employees that reflected the diversity that is America. People knew this, and I had the good fortune to be able to hire people with incredible experience and skill beyond what would be expected in a small firm. That enabled us to be extremely competitive and to be very strong advocates for our municipal clients, going toe-to-toe with the large Wall Street firms when it came to negotiating on our clients' behalf.
How did you balance running your own business with your board and philanthropic work?
Having my own business helped a great deal because I could decide how to schedule my time in a way that I wouldn't have been able to working for someone else. I was able to serve on the board of the executive committee of the Chicago Community Trust for ten years and went on to be co-founder of Nuestro Futuro, an endowment for Latino projects and initiatives. That has been extremely meaningful. Now, the endowment has reached over $5 million, making it one of the largest Latino target funds in the country.
What is one of the key takeaways of being a corporate director?
Having worked for over a decade as a corporate finance banker, I understand the economics that made mergers work on paper. As a director, the melding of corporate cultures will usually determine the success of a merger. Asking the right questions and supporting management actions that can facilitate a corporate combination is often critical to a company's growth.
A key part of success is building a strong network. What is one way you cultivate your network?
I always tried to participate in a lot of activities. Lots of days, everyone goes home—and I want to go home too—but I go to a women's dinner or an Economic Club dinner. It's so great when I do go. That's how you meet people that may be interested in meeting you too and introducing you to new projects and organizations.
What do you wish you had known at the beginning of your career?
I wish I had understood that not knowing the language of finance was normal. It didn't indicate that I wasn't qualified or able. For a few years, I didn't want to say very much. When I started on Wall Street it was a little bit intimidating, and when you're intimidated, it's not the best environment for learning. So I had to get over that and just accept that there's a lot I didn't know, I had to learn it, and I would learn it.