PARTNER SPOTLIGHT
"HR Leaders Need to be Change Agents"
A conversation with Emma Phillips, ADP's division vice president of HR for Worldwide Sales and Marketing
---
By Frannie Sprouls 
---
---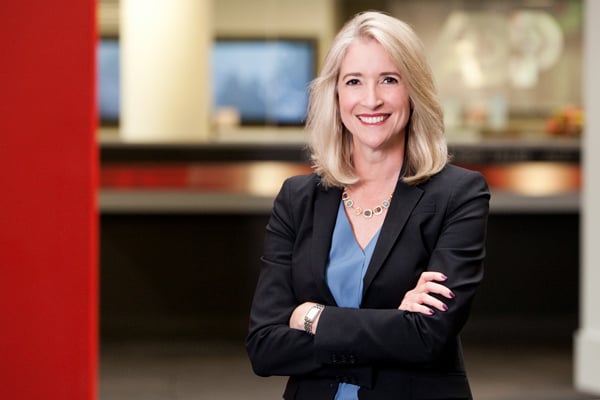 Emma Phillips first learned about the practice of human resources from her high school guidance counselor. After encouragement from her counselor, Phillips applied and got accepted to a summer program called Leadership, Education, and Development (LEAD), which was sponsored by different MBA schools. For four weeks during the summer before her senior year, Phillips took numerous business courses—including human resources management—at the University of Virginia's Darden School of Business.
"Everything I did in terms of my extracurricular activities was very much involved in leading, volunteering, project managing, and rallying my peers to get something done," she says. "In HR, I saw that deep connection around motivating, developing, and leading that played to my strengths."
That fall, she looked into schools that had an exceptional HR track record, and Cornell University was at the top with its Industrial and Labor Relations School (ILR). "I didn't even think twice about it," Phillips says. So, she left the island of Puerto Rico where she was raised to earn her bachelor's degree from Cornell.
Phillips began her HR career at manufacturer Ingersoll Rand, where she not only traveled on international assignments but also worked at the corporate headquarters to support the CTO and CIO. She then moved on to work with Medco Health Solutions, where she grew her career while starting a family. "I knew that I was going to stay and be a career mom," Phillips says. "That was never a question for me. Medco gave me a lot of flexibility and support."
The catalyst sending Phillips to ADP was when Express Scripts acquired Medco. Phillips stayed with the combined entity for one year after the acquisition, but ultimately chose to part ways. She joined ADP as senior director supporting the client services team for one of the company's largest business units, and was then promoted to vice president supporting both client services and implementation functions for that same business unit. She was promoted again to become the division vice president of HR for Worldwide Sales and Marketing in September 2017.
In an interview with The Alumni Society, Phillips shares her ADP successes, what keeps her motivated, and what skills every HR leader should have.
Tell me about your new position.
I am thrilled that my new role has truly challenged me in many ways.  I remember having initial conversations with Tom Perrotti (president of the Worldwide Sales and Marketing) and he would say to me, "You have no idea. It's so much fun on the sales and marketing side." In service and implementation, the business has already been sold. Most of the time, our customer service operations are talking to our clients to better understand and guide matters relating to their experience. In sales and marketing, you are talking with a client at a point where they want to engage with you. It's very different in that sales people are motivated and driven in unique ways. This is the first time in my career that I have supported sales, and it's been an incredibly rewarding experience.
What are some of your successes since you joined ADP?
Service and implementation used to be two separate functions, led by two different leaders within the business unit I supported. We shifted the organizational design to have end-to-end responsibility for both implementation and service. In collaboration with the business leaders, I drove the planning and execution of the successful transformational change supporting the market realignment of our services and products. The work included organizational design, talent identification and selection, role definition, job evaluations, compensation strategy, change management and communications.
Another more recent success falls within my experience leading HR for worldwide sales and marketing.  Our approach to diversity and inclusion has been sporadic at best. It has historically been driven by a few leaders who are passionate about the topic, but not necessarily knowledgeable on Diversity & Inclusion (D&I) best practices, or how to align specific D&I deliverables to the sales and marketing opportunities. There's never been a broad D&I umbrella that connects the dots across the initiatives. I challenged Tom to think about D&I in a very different way. Our conversations lead to the inception of Win It Together. This new initiative is business-led, with sponsorship from two high-potential leaders (one international and one national). These sponsors oversee a dedicated group of leaders under a formal infrastructure, who meet weekly to drive Win It Together outcomes.
What are the three skills any HR leader should develop?
In my opinion, it starts with business acumen. Strategic HR business partners must have an intimate understanding of the business. This is one of the most powerful ways that HR can influence business decisions.
You also need to possess a persuasive communication style. This means understanding the political landscape and the stakeholders so you know how to influence. Most of what we accomplish in HR are results that require partnership with business leaders. The business must be in the driver's seat, and the accomplishments and decisions are business-owned. This compelling combination drives more successful outcomes.
Third, you really need to understand and know how to develop and coach strong leaders. Fostering diversity and inclusion is extremely important because that's a proven method to maximize business results. How you coach leaders to understand this and make it part of their belief system is extremely important.
As companies transform, HR leaders need to be change agents. This is a critical competency needed to challenge the status quo and help business leaders really think differently about what and how they are doing things. You have to be a voice of reason, recommend new solutions, and serve as both a sponsor and champion to lead the organization into sometimes unchartered territory.
What inspires you to come to work every day?
I have always had a passion for leading. I often tell my team, "We're in this together and I can only be successful if all of us are successful together." My success is directly tied to the team around me. We can be wildly successful together, especially when we focus on our collective strengths.
If there was one thing that companies could do to help working mothers, what would it be?
Flexibility, flexibility, flexibility. I am grateful that I have always been given the freedom throughout my career to set my own schedule. In life, things happen unexpectedly. This applies equally to everyone, and working mothers definitely see their share of unplanned events. I was telling someone the other day that between 8:00 and 3:00, my schedule is manageable. No interruptions. Beginning at 3:00, the daily ritual begins and my phone blows up. If I'm at a meeting during that time, I know I need to look at my phone. You have to have people around you that understand. There's no intent to be rude; I have to fulfill my obligations as a mom.
I also believe that when you are offered the benefit of a flexible work schedule, you must be committed to getting back to your work. That commitment drives me to return to anything I need to close out for the day, usually around 8:00 p.m. every evening. A give and take is crucial for this arrangement to remain balanced and work well.
This interview has been edited and condensed. Photo by Craig Toron.
---