Amy Hernandez Turcios speaks to her journey within the business community and the insights she's now leveraging in her role with The Alumni Society
By the time Amy Hernandez Turcios sat down in her first class at Harvard Business School in 2018, she had already secured her bachelor's degree from the University of Pennsylvania's Wharton School, completed prestigious finance internships on Wall Street, and spent five years working within the investment banking and internal strategy teams at Bank of America. Yet Hernandez Turcios still didn't trust her own voice when it came to speaking up in her MBA courses.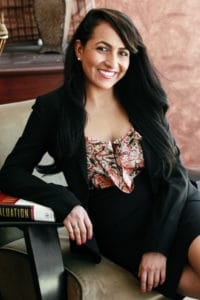 "Harvard uses a form of teaching called the case method, which you have to participate in because 50 percent of your grade is based on it," she explains. "Basically, every other class or so, you have to raise your hand and make your case—you have to react to someone else's comment, or introduce a new concept, and you have sixty seconds in which to do it.
"My first semester was rough because I was just paralyzed with fear that nothing I had to say was worthy of that sixty-second spotlight," Hernandez Turcios recalls. "But like with everything else, you get better with practice, and by the end of the year, I felt like such an empowered Latina because I knew the strength of my own voice and had gained the confidence that what I had to say really did matter."
While Hernandez Turcios may have had doubts about the value of her voice, those around her certainly didn't. Having been introduced to The Alumni Society through the 2017 Leadership Summit, Hernandez Turcios spent the year leading up to her first semester at Harvard building connections between the Society and the organizations she worked with.
Hernandez Turcios proposed hosting a cross-collaborative happy hour for Alumni Society members and the NYC chapter of the Penn Association of Latino Alumni—people listened. Then she introduced Bank of America to the Society as a potential corporate partner, and both sides quickly acted to build a bridge. And later when Hernandez Turcios was serving as copresident of the Harvard Business School Latino Student Organization (LASO), she invited the Alumni Society to become a media partner for LASO's annual Adelante Conference and each organization recognized it as an opportunity that couldn't be passed up.
Today, Hernandez Turcios continues to foster such relationships—and build new ones—as The Alumni Society's strategy MBA intern. In this role, she aims to help expand the membership base and increase talent placement with the organization's corporate partners. And to her mind, the importance of these efforts directly relates to her experience at Harvard Business School.
"The Alumni Society has a superpower—that of a collective Latinx voice," she explains. "So for me, what's top of mind is the question of how we can increase the number of members.
"We are so much strong together," Hernandez Turcios continues, "and the more members we get, the more opportunities we have to not only help one another but also to use the collective voice of the Latino population to drive change in the nation's top companies."
---
"TAS has a superpower—that of a collective Latinx voice."
---
Hernandez Turcios has also made it a goal to help enrich and reimagine the membership experience, which she says ties back to another of her key takeaways from her time at Harvard: the importance of community. "It was so incredible to see the community, and just the sense of family that we had at the Latino Student Organization," she says. "It was the first time I had felt like I was part of a family in an academic environment, and it was so beautiful to be part of creating that as a leader.
"I really want to understand how we can make that sense of community clear to members," Hernandez Turcios adds, "and understand how we can encourage it through planned forums and events as well as through organic meetings and conversations."
But to Hernandez Turcios, her internship is about far more than simply building on takeaways from past experiences—in fact, she says, the internship is a way for her to begin realizing a life goal.
"My mission is to elevate Latinx leadership," she says. "The Latinx talent pipeline is like a funnel: you start with all the Latinos who graduate from high school, but then as you progress in the career pipeline—looking at the people that go to college, those that enter the professional world, those that go to grad school, those that one day become C-suite executives or board members—you get fewer and fewer Latinos."
Hernandez Turcios has already begun driving her goal to increase the output of that talent funnel by creating an Instagram account (@hazruidoamy ) dedicated to leveraging her story as a first-generation college student and encouraging others to pursue higher education. In fact, she describes the account as a platform much like the Alumni Society Leadership Summit she attended nearly three years ago to the day.
"Being surrounded by all these incredible mid- and senior-level Latino executives, it really gave me hope. The Summit was the first time where I thought, 'I want to be like that senator, or that executive,'" Hernandez Turcios recalls. "It just blew my mind because I knew that if they could do it, I could do it too."