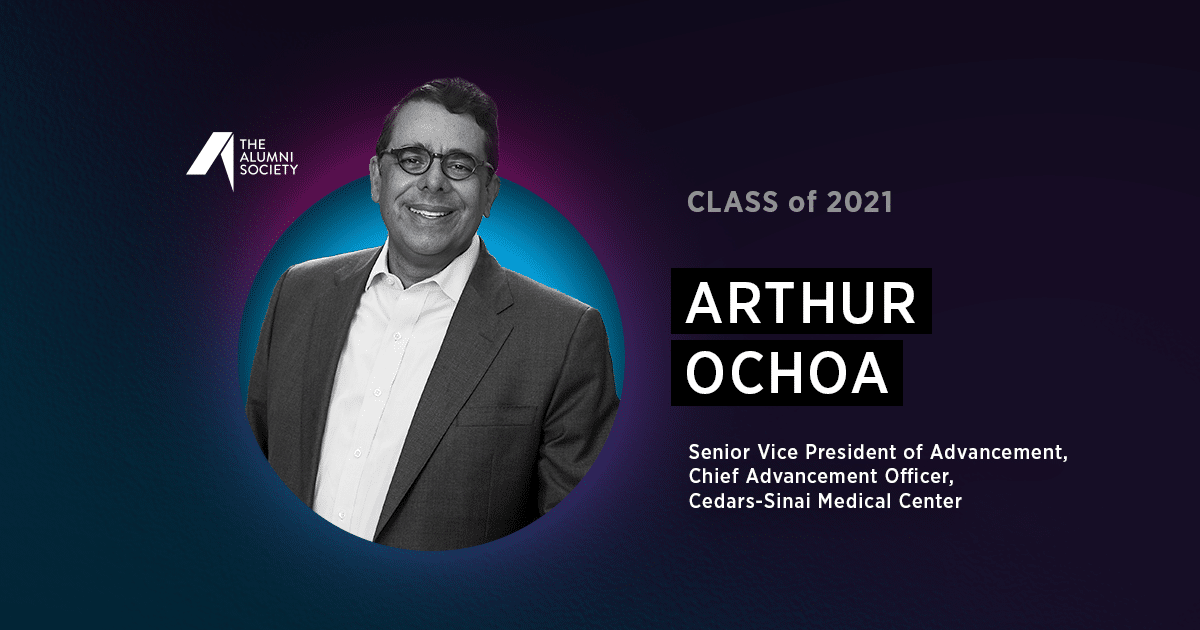 If anyone can speak to the healthcare disparities that communities of color experience, it's Arthur Ochoa. As the senior vice president of advancement and chief advancement officer of Los Angeles's famed Cedars-Sinai Medical Center, not only is Ochoa fully aware of the many challenges these communities face, but he also had a front-row seat to the dramatic and tragic roller-coaster ride that has been COVID-19.
He's had an exceptional year, to say the least—one that has reminded him even more of the direct impact he and everyone else throughout his organization have on the communities they serve.
"Cedars-Sinai continued to serve the Los Angeles community throughout the pandemic, including the very dark days of last winter," he says. "At the same time, our marketing and communications team rose to the challenge and helped internal and external audiences navigate the ever-changing maze of COVID-19 information, including the issue of not delaying important care during the pandemic. Our fundraising team raised more philanthropic support than ever, and our community engagement team's external grantmaking provided much-needed capacity-building support to community-based organizations throughout Los Angeles."
While there were plenty of professional challenges, Ochoa has also had much to celebrate on a personal level. He and his wife officially became empty nesters, as their younger daughter started her freshman year of college on the East Coast. In his civic life, he completed three years of chairing the historically Black graduate institution Charles R. Drew University of Medicine and Science in Willowbrook, California. The university is a member of the Hispanic Association of Colleges and Universities.
"I am the first Latino, and the first person who isn't Black, to chair this board," he says.
When asked what he reflected on most over the past year, Ochoa mentioned health and community. The pandemic, he says, exposed longstanding health disparities for communities of color, rural and poor communities, and others. He sees more work ahead to build better and healthier communities, he says.
"I've also spent a good amount of time and energy in the past year thinking about what it takes to build and maintain a civil society and the role that healthcare and education play in strengthening our communities and the broader world," he says.
This is not to say he's disheartened. On the contrary, Ochoa feels energized and ready to take on more challenges. The way he sees it, opportunity continues to lurk around every corner, even during a pandemic, and especially for the healthcare industry.
"I also think we learned that large portions of our workforce can work remotely, in whole or in part, and that their productivity and engagement is higher than ever. The longer-term effects on things like mentorship, culture, and career advancement are open questions for me, however."
He notes that the ever-changing nature of the pandemic makes predictions risky, but he's optimistic the worst of it is behind us.
"For the healthcare field, there are many challenges and opportunities, including potential payment model reforms, expanded insurance coverage, reduction of health disparities, and better coordination of care through integrated health systems," he says. "The corporate social responsibility efforts that have occupied the focus of the corporate world for the last few years are also ramping up for large nonprofit institutions, including hospitals and health systems. I am pleased to have a leadership role for Cedars-Sinai in our efforts."
To this end, Ochoa plans on taking advantage of more opportunities in the future.
"I love my work, and, more than ever, I believe in the critical role of academic health systems in caring for their communities and bringing a broader understanding of medicine and health to the larger world," he says. "The events of this past year have reminded me that life is short, and I would be foolish not to be open to new adventures and opportunities, including corporate and foundation boards."
With Ochoa's continued focus on communities affected by health disparities, a reinvigorated appreciation for life, and a keen eye on the future, it's clear that Cedar-Sinai, Los Angeles, and the Latino community are all very lucky to have him.