Make the Most of Your Mentor and Sponsor Relationships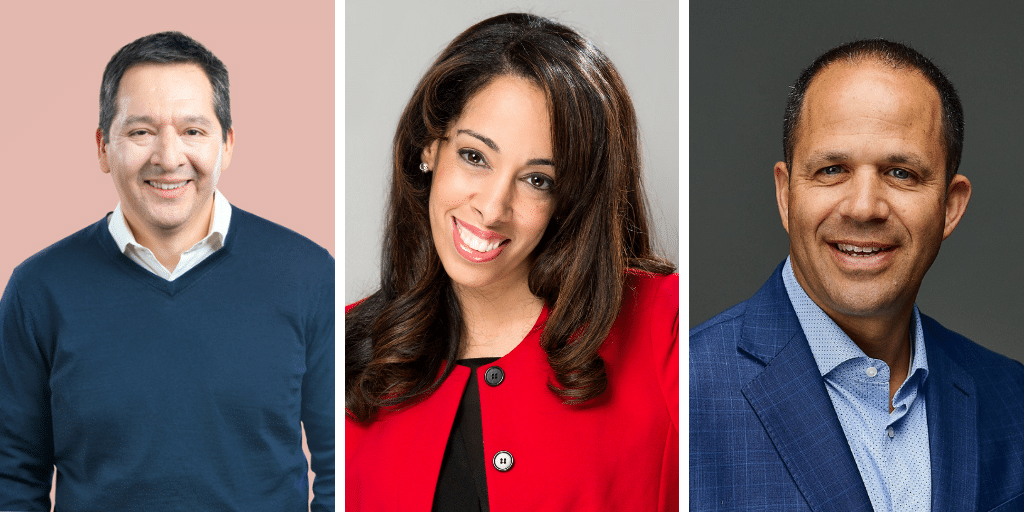 From left to right: Adriel Lares, Lizette Williams, and Victor Nieves.
Four executives got into the nitty gritty of effective—and ineffective—mentorship and sponsorship relationships at an Alumni Society executive forum held in partnership with BNY Mellon.
BNY Mellon Director and Digital Asset Lead George Bonano moderated an intimate and refreshingly frank conversation between three high-level Latino executives working in finance and tech: Stash CFO Adriel Lares, Meta Global Head of Vertical Solutions Marketing Lizette Williams, and BNY Mellon | Pershing Head of Enterprise and Product Consulting Victor Nieves.
Lares, Williams, and Nieves have one critical thing in common: mentorship and sponsorship have proved to be pivotal for their career growth. Here are three of our top takeaways from their discussion:
The Key to Mid-Career Growth
Just about any professional can benefit from a positive mentor and/or sponsor relationship, regardless of their career level. But the way Nieves sees it, it's particularly important for mid-career professionals and executive-level professionals to have mentors and sponsors.
"Unless you have the career support, you're not going to excel the way that you want to," Nieves explained, adding that it's important to have those relationships "as you get to the higher levels of an organization. It's that sponsorship—that at times can seem like mentorship—that's going to help you continue to grow."
Williams agreed. She started her career at PepsiCo and later worked for giant companies such as Kimberly Clark, McDonald's, and now Meta (formerly known as Facebook). She noted that every single role she landed after her stint at PepsiCo happened because of a mentorship or sponsorship relationship. Mentors have even supported her as she negotiated compensation packages.
"The more seasoned you are in your career, the more important relationships become," Williams said, "and the more important credibility becomes in terms of your career brand and your personal brand and who's investing in you and really pulling you up as you navigate things."
Full-Circle Relationships
Mentorship and sponsorship aren't about one person—and that person only—supporting and helping another person. Those relationships are a two-way street, and some mentors and sponsors even end up working for those they've helped in the past. That was the case for Lares, who—in one of his previous roles—acted as a sponsor for an intern. Today, that intern is the lead investor for Stash.
It's important to maintain connections you've made and bridges you've built during your career, because those relationships may serve you later on, Lares said. He also recommended fostering as many relationships as possible.
"Don't be afraid to expand beyond a small group—there are so many people that are more than willing to devote their time and energy to help you because they believe in you and they believe in what you can be," Lares said.
Carve Out Quality Time
One crucial aspect of a successful mentor and/or sponsor relationship is not wasting either party's time. Williams provided one particularly insightful tip: she carves out time, usually Friday afternoons, to follow up with people in her network.
She makes a special point of checking in with her mentors, providing updates on what she's up to and (where possible) sending them resources that relate to projects they're working on. "I try to make sure that I'm not just taking, but also figuring out a way to support them and the things that they may be engaged with," she explained.
And if she asks someone for advice on a specific matter and then makes a decision based on that advice? She'll keep that person posted on what ultimately happens.
"They've invested time into the relationship to help coach me," she pointed out. "And I want to make sure that I'm being respectful of the advice by circling back with them to let them know where I've landed."
Williams encourages everyone who is able to meet with their mentor and/or sponsor to come to those meetings with an agenda. There needs to be an intention, she emphasized, a key focus of the upcoming discussion. For example, she's had mentees come to her asking for help with concrete needs such as preparing for a performance review.
"The best mentoring relationships I've had have been with people that have been intentional in their relationship with me," she said. "We're all busy and I do carve out time, but I need to know where this is going and what you need to get out of me."