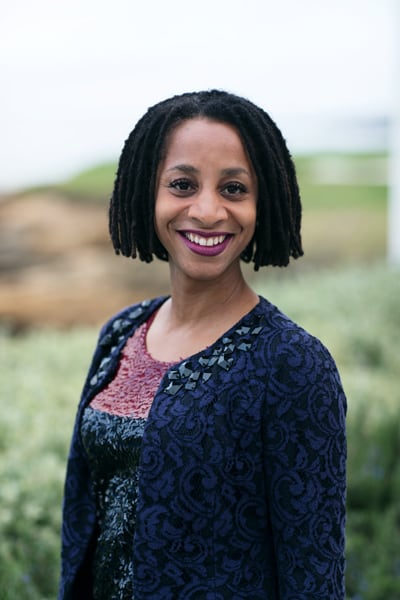 Years before Carla Vernón became president of Annie's and several other General Mills natural and organic food brands (including Cascadian Farm, Epic, and Muir Glen), she worked at the Nature Conservancy in Chicago.
The job was her first out of college at Princeton University, where Vernón majored in ecology and evolutionary biology. Drawn to fighting climate change, Vernón pursued work in the nonprofit and government sectors after graduation, but ultimately felt she could have a broader impact at a larger corporation.
So Vernón went back to school to get her MBA and began looking for the company that would be the right fit for her talents, passions, and culture. She found that fit at General Mills.
"I saw people of color and people from unique backgrounds in the senior-most positions, and that made me feel very optimistic about starting a career there," Vernón says.
Now, Vernón is in the executive ranks that she once aspired to, and her own unique background—career path, interests, and experience as an Afro-Latina—proved foundational to her success.
"We're in an era of change and disruption, and the same old answers and same old strategies will not allow most of our big enterprises to succeed anymore," she says. "I've always been really confident that everything from my different cultural background to my unusual career beginnings offer me perspective to bring some different answers and different tools to problem solving."
She sat down with The Alumni Society to discuss the many ways her path influences how she leads today.
How would you describe your leadership philosophy?
I love watching people blossom and lead with their own independence and authenticity. My leadership philosophy is that we all have unique gifts to give, and the best leaders allow others to deliver their unique gifts to the absolute fullest capacity possible.
How do you develop and grow the leaders under you?
I like to encourage my team to remember that ambitious, hard-charging people love to work hard, and that they want to because they're trying to demonstrate all the horsepower, brainpower, and leadership power they have. One of the best gifts we can give to people is to give them the tools, have their back, and get out of the way.
What is one unique experience that influences your leadership?
I have a very strong passion and very strong background in the arts. I grew up in a ballet studio where my ballet teacher would tell us that it's as important for the people in the corps to be in exact precision with each other as it is for the star to be great at what they're doing. Anybody who's out of step is going to take away from the whole. I use that metaphor with my team when I feel like we're maybe starting to get a little bit too many points of view that are different and pulling us away from reaching the goal.
How does your experience as an Afro-Latina inform the way you lead?
When I grew up, people weren't really using the descriptor Afro-Latino. It was a time when it was the cultural norm that in America you had to pick one racial or cultural affiliation. Even when I came to General Mills in the earliest parts of my career, there wasn't quite an openness to the interesting mosaic that people could be. In my own personal journey, as I started to really want to recognize how much I love my Panamanian side, I reclaimed my Latin heritage for myself as an adult. I've heard from other Afro-Latinas and Afro-Latinos that when I'm on stage and I say those words, it stirs up such an affirmation in their own heart. And not only for them—it's stirring for other Latinas and Latinos who feel they've been oversimplified. They may be Jewish. They may be Muslim. They might be blond and blue-eyed. All of the people who have been saying, "I can authentically show up to this place and tell you who I am instead of having society tell me who they think I am."
What advice do you have for minorities who are seeking leadership positions?
We are in a time of change and transition and disruption. It is built within our cultural heritage as children of immigrants, or children of communities that were not in the mainstream, or children of a legacy of policy and legislation that didn't treat us like we were a part of the norm. This is when our gifts are the most potent because everything that was conventional, traditional, and classical is running out of runway, and we know how to think about things differently. We have experience in having to have been flexible, nimble, creative, tenacious, and resilient, and we need to bring all of that to our leadership, organizations, and teams. We have a very bright light to shine in a moment like this.
A key part of success is building a strong network. What is one way you cultivate your network?
I always tell people—especially people of color and working moms who can sometimes have a bit of an aversion to networking—that taking the time to be mentored and to be with people who can help you grow is a form of investing in yourself. I have something I call my personal board of directors. These are the people who you would say are invested in your success and who understand you and feel comfortable giving you both the loving truth and the tough love that makes you better both as a person and as a leader.
What do you wish you had known at the start of your career?
You're just as good as everybody else.