Capital One's Kleber Santos Shares Leadership Insights at Catalyst New York
Alumni Society members and Capital One leaders gathered at the Mezzanine NYC to hear Kleber Santos in conversation with Carlos Maymí of Moody's Investors Service
---
By Frannie Sprouls, Photos by Sheila Barabad
---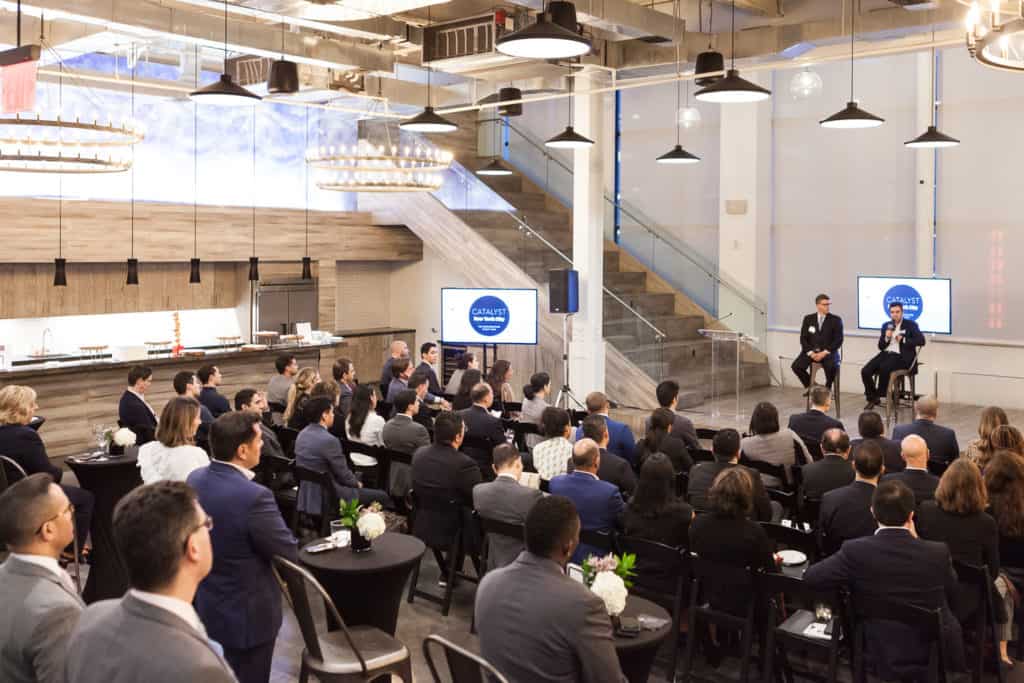 More than 60 people gathered at the Mezzanine NYC for The Alumni Society's Catalyst New York event on Wednesday, September 26. It was the second Catalyst event hosted in New York City, and this year's event was hosted in partnership with Capital One.
The night's featured speaker was Capital One's Kleber Santos, president of retail and direct bank. He spoke on stage with Moody's Investors Service vice president Carlos Maymí, who is a member of the Class of 2018. Santos shared how his military experience informed his leadership skills, his four-part leadership philosophy, his drive to serve Capital One's customers better, and the path to increase Latino representation in executive leadership.
Below are highlights from the evening's conversation.
How serving in the Brazilian military influenced Santos's leadership
"First and foremost, structure. Everything in the army is very structured. When you give somebody guidance, that guidance needs to be crystal clear in order to execute. I have found that when you're managing and you have to delegate, you have to carry structure and clarity. You're giving them the definition of a problem, with a lot of detail, and the resources available to solve the problem. It becomes easier for people to solve the problem and to grow and learn within that framework.
"Secondly, you realize pretty quickly that you cannot get anything done in the army by yourself. The tasks are incredibly complicated, and you learn to count on your team. You have to, in some ways, be a servant to the troops you are leading versus being the dictator, telling people what to do."
Santos on his leadership philosophy
"Number one is to recruit the very best talent. Go get the best talent where they are, and create an environment in which they feel they can entrust the next chapter of their career to you. That requires a lot of time hitting the ground and spending a lot of time not only attracting talent but also developing talent.
"Number two is understand that the two things that highly talented people hate is (1) being micromanaged and (2) not having clarity. Therefore, get out of your team's way. Leaders like to believe that they can add a lot of value; you really can't. If you hire the right type of talent, they are a lot closer to what's happening on the ground. You need to learn to get out of their way.
"Number three is that your main role is to set the strategic direction. That you cannot outsource. You need to sell that strategy, in consultation with a lot of your team members, but then you have to declare that and be consistent. So I spend a lot of my time repeating the strategy. I want to make sure a toddler can memorize and repeat it, because it's very simple and it's not going to change.
"Number four is understanding that you need to be the point of escalation. Your role is to remove barriers instead of being a barrier."
Playing tennis versus golfing
"I've always felt like I was very driven, but I have never been competitive. The language that I use is the difference between playing golf and playing tennis. When people are playing tennis, for you to win, somebody needs to lose. In golf, you see golfers constantly trying to improve their own handicap. They're not actually competing with anyone; they are competing with themselves. I'm a lot more into the golfer mentality.
"I want to do things in life, and I believe that I am working hard to get to those objectives. This summer, I realized that technology has become an integral part of everything that we do. So I decided I wanted to learn programming languages. I enrolled in a JavaScript class, and I learned Java in three months. It was brutal. That is my point on drive: I picture the business need and I am willing to put in the hours and do the work to serve our customers better."
The path for Latino representation in executive leadership
"The good news in my mind is just the sheer power of the demographics will make the problem take care of itself to a certain extent. It may not be pretty, it may not be linear, but I sense that corporate America is really waking up to diversifying more broadly. The number of conversations that we have at Capital One now versus five years ago is remarkably different. I am convinced that progress will be made. It may not be as fast as we would like, but progress will be made.
"The bad news is that a lot of that is rooted in education, and that is a much more complicated issue. A lot of Latinos are not going to the top private schools in the nation. They are not going to Ivy Leagues. At some point, education will be the biggest determinate dictating what type of career you will have. I think corporate America can play a role, but it would be disingenuous for me to say we can solve that. There's a gigantic role that government needs to play. We need to organize our community to make sure we have a concerted effort toward holding our elected officials accountable for how we close the education gap."
---
Photos from the event can be found on the Alumni Society Facebook page.