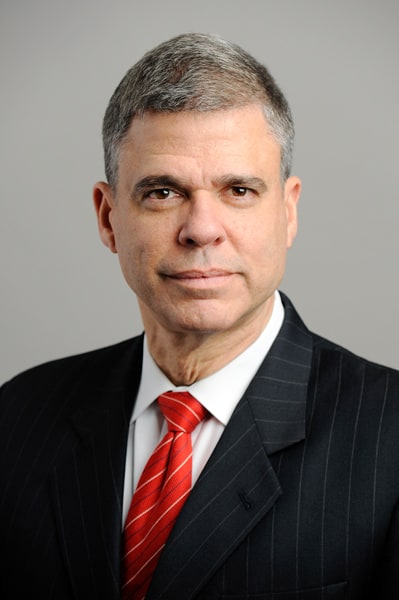 Carlos Maymí is a native of San Juan, Puerto Rico. He moved to the United States when he transferred to Cornell University after completing a semester of training with the US Navy to become a seaman apprentice, cryptologic technician collector.
Maymí has been a reservist ever since and currently holds the rank of commander in the Navy Reserve. Active-duty assignments have included serving as an expert analyst at the National Security Agency and director of manpower and personnel (N1) at US Fleet Cyber Command.
In civilian life, Maymí is vice president at Moody's Investors Service, where he specializes in structured finance. He has also worked for J.P. Morgan, UBS, ING, Salomon Smith Barney, the Securities and Exchange Commission, and as a consultant to the World Bank.
While studying mathematics at Cornell, he took elective classes in finance and marketing. They piqued his interest in the financial markets, which he perceived as combining technical skills and enterprise management while producing profitable results. During his MBA studies at the Stern School of Business at New York University, he discovered structured finance. This allowed him to blend his mathematics background with his interest in using capital markets to develop solutions for complex problems.
In an interview with The Alumni Society, Maymí shares how his dual careers in the Navy Reserve and on Wall Street have helped him find success.
How have you balanced your military and civilian careers?
They've been running in parallel for thirty years, and my employers have always been very supportive to help make the balance possible. When I re-joined Moody's in 2015—I had been with the company previously from 2001 to 2007—I was notified I'd been selected for a yearlong deployment to Djibouti three months after I started. The Moody's culture is very receptive to veterans and reservists, so we found a way to make it work. Now I'm involved in reviewing company benefits to help make them meaningful and appropriate for other employees who serve in the military.
How do the two different areas of your professional life complement each other?
From my Navy experience, I know the importance of implementing the objectives of the person in charge. Part of that involves recognizing and acknowledging the interests of other stakeholders while still ensuring that decisions are made appropriately—and by the right person—so they address the original objective.
That's been a beneficial skill to apply to business, as well. In civilian work, consensus-building is very important, but it's not traditionally the military's focus. I've still implemented it when I'm on duty since it helps build morale when everyone feels their opinion matters. That's something we emphasize at Moody's: making sure that even junior staff is listened to. It broadens our perspectives from a business point of view, but also helps develop individuals' sense of value to the organization and their commitment to the tasks at hand.
Did serving overseas change how you view your "day job?"
Being in Djibouti changed how I look at society. We were providing assistance in a number of countries in Africa, some of which had struggling democracies. It helped me recognize how fragile democracy can be, and I committed to doing what I can to get more citizens involved in ours so it works at its best. I encourage people in my community, friends, and colleagues to participate, and I'm still looking for other more formal ways to follow through on that commitment.
What is the biggest challenge that Latinos in finance face?
This goes beyond the finance industry, but we still bump into areas where the idea of "the other" creates barriers. As a society, we all still face the challenge of not partitioning our communities and teams. That's true not just for Latinos, but also for others, including African-Americans, women, and the LGBT community, for example.
To what behavior or personality trait do you most attribute your success?
I'm very loyal to the people around me, but also dedicated to being honest about my views while still acknowledging the interests and needs of others. Over time, people learn they can trust me and that I consciously live with integrity. Even in the military, I'm very candid with my bosses and let them know that I feel it's my job is to offer the benefits of my expertise and experience. That means I'll let them know if I see a problem with decisions they are making—respectfully, of course. Even when I've worked for four-star generals and admirals, I wouldn't be doing my job if I didn't give them important information just because of their rank.
What do you know now that you wish you had known at the start of your career?
Our social networks can create amazing and unexpected relationships and opportunities that, if cultivated appropriately, can add to our quality of life in many ways. Soon before I left for Djibouti, Moody's hosted an event for me and another employee who was being deployed. I met another colleague at that event whose best friend was working at the U.S. embassy in Djibouti and he put us in touch. Months later, I was invited to embassy receptions where I met officers and diplomats from a number of other countries. Later, there were some difficult, work-related situations in which those connections helped us work more effectively with the embassy to resolve the issues.