Latina CEOs Share Their Leadership Advice at The Alumni Society Summit
Consumer Reports' Marta Tellado and UnitedHealthcare's Yasmine Winkler discuss their philosophies and guiding executive teams during the CEO Roundtable at annual Leadership Summit in New York
---
By Megan Bungeroth // Photo by Caleb Fox
---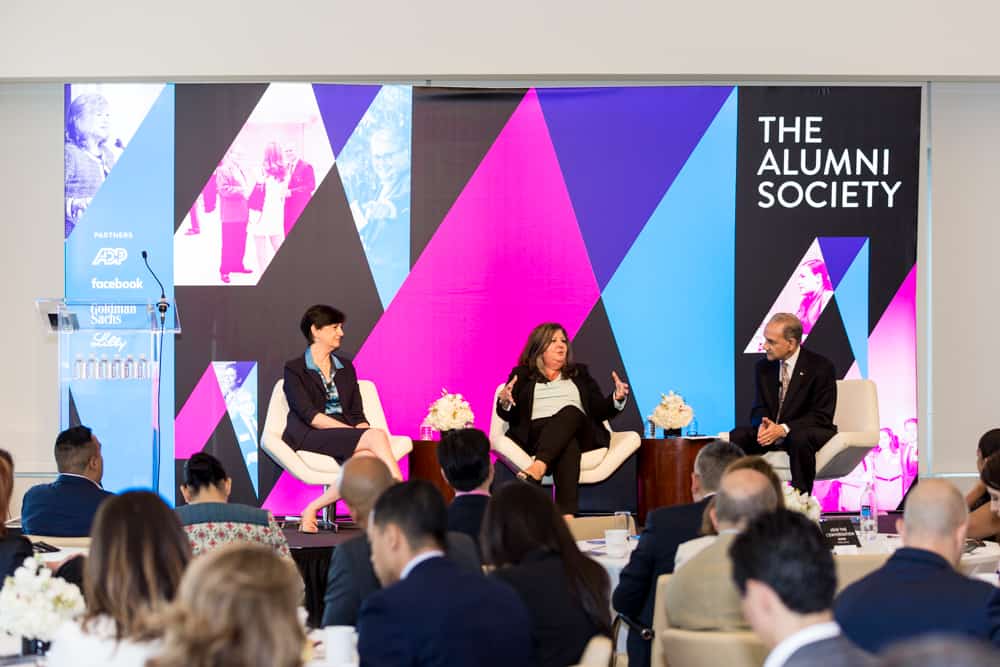 On June 23, 2017, almost two hundred Latino executives joined together at the Time Warner Center in Manhattan to meet, share, and learn from one another at The Alumni Society's annual Leadership Summit. Continuing one of our most popular programs featuring prominent CEOs, at this year's CEO Roundtable, we heard from Alumni Society members Marta Tellado, president and CEO of Consumer Reports, and Yasmine Winkler, CEO of central region for United Healthcare Community and State. Their discussion—moderated by Michael Montelongo, president and CEO of GRC Advisory and a career solider, public officer, and corporate executive—covered topics from leadership strategy to how they keep their teams moving in the same direction to what drives them personally to succeed. Here, we share a few key takeaways from their conversation.
On leadership philosophy:
"I think about my role as trying to infuse meaning and purpose into the work of everybody who comes to Consumer Reports every day," Tellado said. "Of course, all of us spend our lives pursuing a career that gives us purpose and meaning, but more importantly […] I see my job as a leader as making sure that I'm giving others purpose." She explained that she views leadership through the transactional versus transformational lens, an idea first posited by theorist James MacGregor Burns. "There are important things to do on the transactional side, but I like to set the bar high and to give people a line of sight on how can we transform this endeavor we're all doing together, and by that, transform each other."
Winkler, whose views on leadership were heavily influenced by her upbringing in the barrio of Chicago, says that she thinks about how she can work to help others, and that informs her leadership style.
"If you are taking a role with our organization and on the team, you're willing to show up to solve problems every day," Winkler said. "Because the business that I lead is with Medicaid, the most indigent people, the most fragile in our country, it is important to show up with an idea that you have to walk in their shoes and understand how you're going to solve their problems every day. Not your problems, not the problems of running a business and a P&L; […] it's a pay-it-forward kind of thing."
On what makes them passionate:
"I ended up here because it wasn't a decision we made, it was following our values," Tellado said. "We were Cuban refugees. We believed in a free press. We believed in voice and choice. I grew up hearing a lot of that at dinner conversations. […] I learned that [democracy] is not something that lives in a book or in a constitution. It lives through us and the actions and the choices we make every day, whether they're in the school board or on a national level." It was that upbringing and sense of service that has guided her life as well as her career, she continued. At Consumer Reports, she finds fulfilment in the nonprofit's mission to educate and empower consumers.
"[We're not just] offering advice to people about the kinds of products and services that are safer and healthier; it also saves lives. If you publish a story about child safety seats, where you uncover that half of the market out there is not safe, and if you do buy one that's safe but you don't know how to install it in your car, your child is at risk," Tellado explained. "That kind of commitment and sense of service that I took from my personal life, I've been able to make choices to have it be part of my professional life."
Both women spoke about the importance of curiosity in their careers, and how asking questions and learning is always driving them.
"Whenever I'm mentoring a young person or giving advice about their career, [they ask me] 'When should I leave this job?'" Winkler said. She throws a question back to them: "'Do you still have butterflies in your stomach every day when you go to work, because you don't understand something?' As soon as those butterflies stop, I need to do something else. I need to expand my horizon. It is okay to be in a room and not get all of it. That means you're stretching and challenging yourself. […] You want to learn how to love those butterflies and that sense of yourself that doesn't know everything."
On how to guide an executive team to work independently while sharing a unified vision:
Tellado recounted her experience arriving at Consumer Reports and facing an executive team that was working in silos. Everyone understood that they were expected to collaborate, but no one went beyond the buzzword to actually get input and buy-in from their executive peers. "I talked about this with my team and I said, 'You're not just responsible for your function.' They'll say, 'I'm in marketing, I hit my KPIs, and those guys are screwing up. I try to say no, actually, I'm holding all of you accountable as enterprise leaders."
For Winkler, working in the healthcare industry presents particular challenges to her executive team, and she grounds them by focusing on UnitedHealthcare's mission to help people live healthier and better lives. "The thing that I really encourage the team to do is to not be satisfied with the first answers that they get," she said. "I believe that there is always a next move, even in the face of despair sometimes—when you can't get your idea funded, when you can't get someone to actually give you a response on an email for something that you feel is dire. […] There is another way to do it."
Sometimes, Winkler explained, that better way involves leaning on people on the team who have different perspectives and areas of expertise. "I always think there is another [solution], and I encourage [my team] to be informed, to think about who are the people who can help them to solve for that."
On advice they would give to the next person in their role:
"When you're a CEO, you are not the center of the universe," Winkler said. "Regardless of the fact that it has that C-suite, that kind of gravitas to it, it is really about all the people that actually help you to be successful every day. And you have to get out of your office […] go meet with people who are in the call center and on the front line. They're the people who actually support your brand and reputation and how you show up and are perceived every single day."
Another piece of advice that Winkler would pass on: "Kindness is not a weakness." She explained that while some people might expect a CEO to be ruthless and harsh, kindness and compassion actually go further to make an executive and a business successful. "You actually end up surprising people, because they expect you to show up like a shark CEO and that's not how you actually have to show up. That doesn't mean [people] should underestimate you for how your smart you are and how great you can be at making decisions. But I really do believe that kindness can make a very, very big difference in terms in how you lead a team and how you can lead your organization to success."
Tellado said she would warn a theoretical successor not to rely too much on others telling them what to do. "No matter how many leadership books you read and how many things you think you might know, what I have learned is that the job reveals itself to you," Tellado said. "You just have to set aside all that advice in all those books and let aspects of the job reveal themselves. And that means listening. It means sometimes taking advice with a grain of salt. It means you know decisions aren't usually black and white, they're gray. So no matter how much preparation you do, in the heat of the moment, you have to rely on some inner resources. And enjoy it. Just make time for the joy, because that gives purpose and meaning to your life. And people see that and it gives purpose and meaning for theirs."
---
Join the conversation!
Share your reactions and stories about Latino leadership from the C-suite on our Facebook page.
---