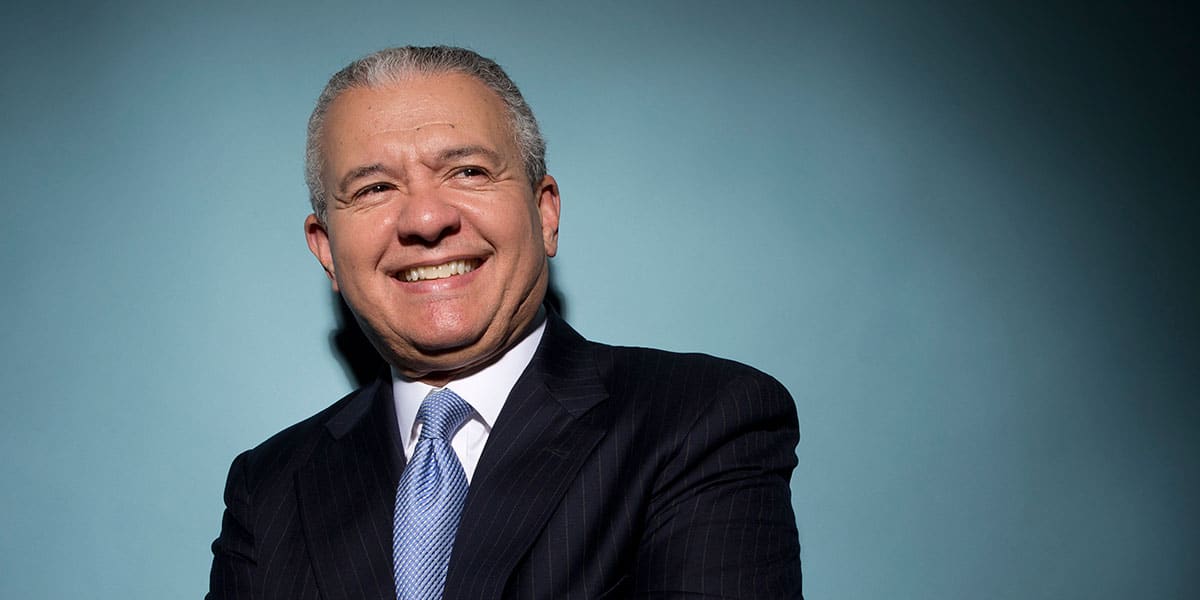 Chairman  |  OMNITRU
---
YALE UNIVERSITY, UNIVERSITY OF PENNSYLVANIA
---
From a young age, Gilbert Casellas learned that when you are given an opportunity, you must take it. Casellas grew up in 1950s Florida, where laws forced people to officially separate themselves along racial lines. He couldn't go to the local boys club, the closest school, or the movie theater because he wasn't white. He attended a segregated school until he was 12 years old. "When I got the opportunity to go to school with white kids," he recalls, "I was intimidated, but motivated."
Casellas was determined to rise above the discriminatory society of his youth. That would become the driving force of his life. He approached everything he did with a mind-set to be the best he could be, squandering no opportunities.
A priest at the Jesuit high school he attended encouraged him to apply to Yale University. He says his education there and his subsequent studies at the University of Pennsylvania School of Law were major turning points for him.
After clerking for a federal judge and civil rights advocate, Casellas worked as a civil litigator at the firm Montgomery, McCracken, Walker and Rhoads—an experience he says rose him to a different level. "It was one thing to be a lawyer at a big corporate firm, but you could count on one hand the number of Latino lawyers," Casellas says. "It gave me status. They crafted me as a lawyer. I will always be indebted to them."
While he was working hard to make partner, he balanced a slew of extracurricular activities, including serving in leadership roles at numerous bar associations and as counsel on civic and public matters involving Latino affairs—something he argues is crucial for Latinos. "It's important that you go beyond what's traditional and do things that matter," Casellas emphasizes. "Don't just stick with moving ahead in your job."
Casellas's work ethic and reputation eventually brought him one of the biggest opportunities and risks of his career. In 1993, after 20 years in Philadelphia, he moved his family to Washington, DC, for a position at the Pentagon as general counsel of the US Air Force, where he oversaw 2,000 lawyers worldwide. When President Bill Clinton first reached out to him about the job, he declined the offer. He'd become a partner in his firm and made significant strides in promoting diversity. "I thought, 'I've got the brass ring. Why should I leave this?' I was living in a bubble," Casellas admits. "It was hard to see what was outside."
Eventually, he rethought that stance and was moved by the realization that such an opportunity wouldn't have been possible a mere 20 years earlier. He felt an obligation to take it.
His work at the Pentagon eventually catapulted him in a different direction. He made history a year later, when Clinton appointed him the first Latino chairman of the Equal Employment Opportunity Commission. His streamlining of the agency's case-handling system and expansion of alternative dispute-resolution methods set an important precedent. Clinton credited him with restoring the public's trust in the agency.
Since then, Casellas has been sought after for his advice on a range of diversity projects. At Dell Inc., he created an integrated and global diversity, sustainability, and corporate giving function.  He has served on corporate and institutional boards at the University of Pennsylvania, Toyota Motor North America, Comcast Corporation, Prudential Financial, and the Congressional Hispanic Caucus Institute. He is currently chairman of OMNITRU, a Washington, DC-based investment firm.
Casellas traces his success back to his principle of building relationships, which he advises younger generations to practice if they're interested in senior-level leadership and boardroom opportunities.
"People think networking is about going to meetings and handing out business cards, but it starts with doing the best job you can do," Casellas says. "As a lawyer, I learned to have many opponents, but few enemies. Be supportive of the folks you're working with, and build relationships."
---
Words by Katherine Tolford   //   Photography by Mark Finkenstaedt
EDITOR'S NOTE: Casellas currently serves as a board director and consultant. He serves on the board of directors of Prudential Financial, Inc. and on advisory boards for Toyota Motor North America, Comcast Corporation, T-Mobile US, and the Millstein Center at Columbia Law School. He is a trustee (emeritus) of the University of Pennsylvania, a member of the Council on Foreign Relations, and a Life Member of the American Law Institute.