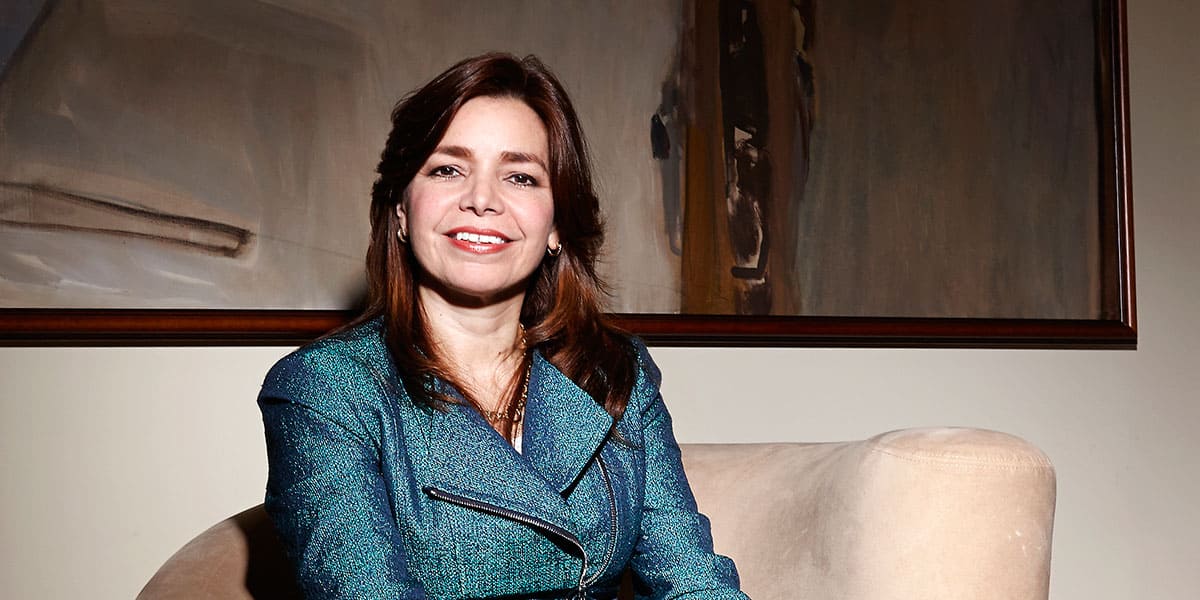 Cofounder & CEO  |  Altura Capital Group
---
COLUMBIA UNIVERSITY
---
When corporate board members sit down for a presentation, Monika Mantilla is rarely the person they expect to see. Knowing that hasn't stopped her. "I've been told by board members of Fortune 50 companies, 'You're the first Latina to ever present to us in the investment arena,'" she says. "There are a lot of roads that [Latinos] still need to travel, and there are a lot of networks that we need to build in the financial industry. At times you find biases and stereotypes that [suggest] you don't fit the mold, but the mold is changing. We're changing it. So I feel very comfortable being an agent of change."
Mantilla, president and CEO of New York-based Altura Capital Group, is working to increase access to capital, thus changing the financial landscape for Latinos nationwide. Her firm focuses on small entrepreneurial money managers and emerging domestic markets, specifically areas of investment opportunity that arise from changing demographics.
Recently, Altura cocreated an impact debt fund for small businesses. "Capital is the blood of our economic system," she says. "It is imperative for any community to be an active participant in society and in the economic system."
Mantilla was born and raised in Colombia and moved to the United States 22 years ago with her husband, Jay Garcia, who was starting his career on Wall Street. "It was like a tsunami of blessings," Mantilla says of the year she changed countries, came to live in New York, married her husband, and started her MBA program at Columbia University.
Mantilla had worked as a lawyer, then in managerial roles, for a company in Colombia. After moving to the United States, she ran the same company's North American operations and developed a deep interest in finance. That fascination led her to Columbia Business School.
She became a partner at an investment-management consulting firm and was a partner with a firm that made investments in Latin America before founding Altura Capital with her husband in 2005. They, along with two other partners, also founded the impact debt fund Small Business Community Capital. The fund invests in senior and subordinated debt in small businesses and emphasizes minority-owned firms and entrepreneurs in low- and moderate-income communities. The fund's leaders have applied for it to be licensed as an impact small-business investment company (SBIC) with the US Small Business Administration. Mantilla has been told she will be the first Hispanic woman to obtain an SBIC license.
She says her Latina background gives her a unique perspective on how and where to invest. The strength of the Hispanic market is truly mind-boggling, she says, but the mainstream market doesn't fully understand the opportunity yet. She credits organizations such as the Hispanic Chamber of Commerce and New America Alliance with moving the needle, but she says more needs to be done to convince corporate America of the competitive advantage it stands to gain by teaming up with Hispanic leaders and business owners. "The conversation needs to deepen; the conversation needs to have metrics," she says.
Mantilla wants to see more entrepreneurs and corporate leaders work together with companies and investors to help the Latino community build its own capital solutions and robust business network. Within companies, she says, employee resource groups have the potential to boost the pipeline of Latino talent in senior-level positions as long as the groups effectively organize themselves and the companies' senior leaders place a high degree of importance on them.
"We don't need to wait for public policies to happen," she says. "We don't need to wait for the world to change. We have that ability within our community today." 
---
Words by Melissa Anders  //   Photography by Ed Estrada