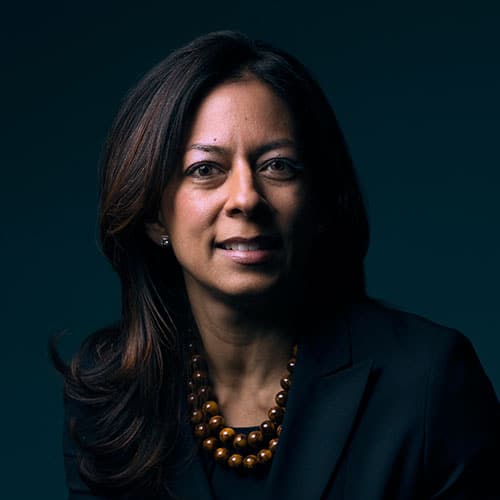 Vice President, Chief Compliance Officer & Assistant Corporate Secretary | Hess Corporation
---
PRINCETON UNIVERSITY
---
By Zach Baliva   //   Photography by Sheila Barabad
Indrani Franchini needs more room on her business card. This year, Hess Corporation's vice president and chief compliance officer added assistant corporate secretary to her title. But for Franchini, change is the only constant—and her ability to navigate transitions has shaped her legal career.
Franchini grew up in a biracial household with a Puerto Rican mother and a Guyanese father. Parents with different cultures and religions taught her to remain open to change and respect differences.
After interning at the prosecutor's office in Detroit, she discovered a passion for law. She attended Princeton University to earn a degree in Asian studies and political science before conducting research in Japan on a Fulbright fellowship. She spent two years there and is fluent in English, Spanish, and Japanese. Time spent in Asia drew her interest to international law, so Franchini headed back to the United States to complete a law degree at the University of Michigan. She started her career at Milbank, Tweed, Hadley & McCloy, where she worked in the firm's New York and Tokyo offices.
After five years, Franchini found the opportunity to change gears and join the new compliance group at Pfizer. To do so, she'd have to make the leap from transactional law to compliance. "I thought I would do that for a few years and then move back to transactions," she recalls. "Little did I know that taking this very different path would change my career forever—and for the better."
That was 2003, and the move marked a new era for Franchini. She loved working in compliance, but after almost ten years at Pfizer, she was ready for a new challenge. She joined Hess in 2012 to become the oil and gas company's first chief compliance officer. "I've gone from firm life to in-house; I've switched companies; and I've changed industries, but skill sets are transferable," she says. "You simply develop your skills, bring your core knowledge, and stay open to learning along the way." Now, Franchini is facing another transition as she adds assistant corporate secretary duties to her roster.
It's a natural step for the aspiring general counsel, who has added governance to her experience in litigation and corporate transactions. As companies like Hess rely on the assistant corporate secretary to take on more responsibility, she looks forward to creating a strategic role with business partners.
Franchini credits her network of colleagues and mentors for helping her navigate change successfully, even back to her time at Princeton and the University of Michigan. "I've learned to rely on people who have done similar work," she explains. "Whether it's other students, firm partners, or counterparts in other industries, it's important to ask questions and leverage your contacts who can help you succeed." In each new company or role, she looks to spend the first ninety days meeting with key stakeholders to understand plans and expectations.
While change can be daunting for some, Franchini says each new step is a chance to grow and develop professionally. "I knew little about pharma when I joined Pfizer, and I had to learn oil and gas when I joined Hess," she says. "Transitions are exciting because they represent the opportunity to learn something new and challenge yourself." She advises others facing similar transitions to rely on their core skill set, ask questions, and listen.
It's just as important to speak up. Franchini joined Hess to formalize the corporation's compliance program. As she developed an interest in corporate governance, she told others about her interest—and when the need arose, leaders asked her to fill that role. "You have to vocalize your desires and express to your mentors and leaders what things you might be interested in exploring. It's the only way they'll know."
Going forward, Franchini will focus on empowering her teams. "I need to make sure my global compliance people have what they need to perform well so I can take on my additional work," she says. It will be a big pivot, and for some, it might seem intimidating. But Franchini is ready—she's mastered the art of transition time and time again.
---