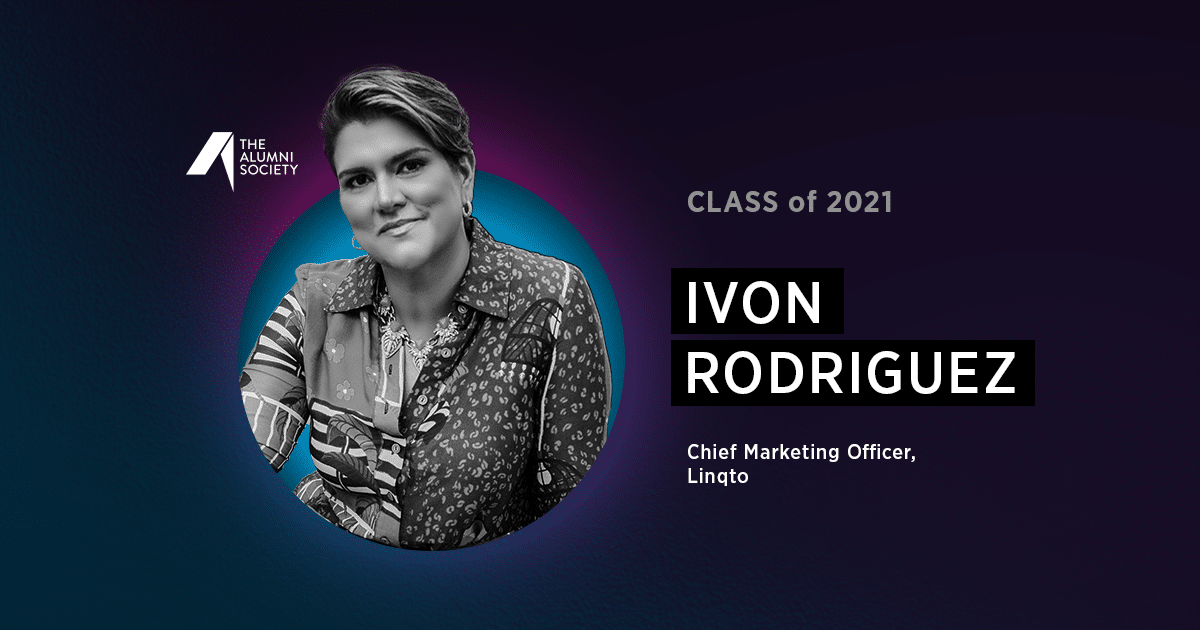 Much of the world began 2021 with a weary sigh, but Ivon Rodriguez started it with a bang. She joined fintech company Linqto as its chief marketing officer in January, which puts her front and center of the action in the increasingly digitalized world of finance.
The timing could not be more opportune. Rodriguez is soaking it all up and expanding her already solid knowledge base at Linqto, which she describes as a company that aims to make private investing simple to accredited investors worldwide. Many people meet the requirements to be considered accredited investors, but many have also not been thoroughly informed or educated about their options, she says.
"At Linqto, we aim to grow the understanding in this space through our community of partners and investors and through engaging conversations, virtual sessions, and a complimentary and quarterly Global Investor Conference," she says. "Although most of my career has been spent in marketing and management, taking on a role in an organization with both finance and technology at the core has been both exhilarating and eye-opening as much of finance has experienced a rapid digitization over the past year."
The way Rodriguez sees it, digitization and innovation across all industries is inevitable, and this is especially clear in the world of finance, which she noted made some of the greatest leaps during the pandemic. When asked about the future of her industry, she believes the focus around financial inclusion and cryptocurrency acceptance will continue to make waves.
"Out of necessity, many individuals had to transfer their banking and finance to online options," she says. "Others have chosen to diversify their holdings and investments at a time when decentralization of finance is becoming more prevalent. Whether it was going online with your banking statements, downloading digital wallets, or investing in cryptocurrency, much of the finance industry took a turn towards increased technology and the continued growth of digitization and fintech is still palpable."
Cutting edge. Rapid. Fast. But through it all, Rodriguez makes time to reflect. This has been one of her biggest takeaways from the pandemic, as working remotely has freed up more time for reflection and introspection.
"These times also made us reflect as individuals in a more elevated manner and in turn made most of us seek the connection of old friends and loved ones differently," she says. "In my case, virtual meetings and reconnection allowed me to still feel united with those I care about.
"No longer stuck in traffic, or in the buzz of walking back and forth to meetings, we had more time to think," she continues. "It allowed us to pause and reflect on the importance of the various types of relationships in our lives. Continual reflection and introspection are things I'll keep."
Never one to rest on her laurels or stop taking chances that will help her develop as a leader, she's currently pursuing a PhD in business at Virginia Tech in addition to her full-time role at Linqto. She's thrilled at being able to pursue two different but complementary ventures at once that help her finetune her expertise.
Through the past year, she's reflected the most on the legacy she wishes to leave behind. To this end, education and mentoring remain as important to her as ever.
"With such uncertain times, some days seemed longer than others," she says. "I reflected most on what I wanted to do 'now,' in the present, and how I wanted to spend my time, both in terms of professional development and my personal journey.
"Education and mentoring are at the core of what drives me regardless of what role I hold," Rodriguez adds. "Knowing the professional and volunteer work I do benefits so many aspects of our community is among the most rewarding aspects of my day-to-day. Information sharing and community building continue to make my personal and professional journey rewarding."
With a dynamic full-time role, a competitive graduate education pursuit, and a commitment to elevating others, Rodriguez has many more professional and personal victories in her future.