Jacob Arias: Product of His Father's Love, Support, and Wisdom
Jacob Arias, head of strategy at NxTStop Apparel, is the son of Victor Arias, senior client partner at Korn Ferry International and advisory board member at The Alumni Society. Jacob shares with us how his accomplished father is a dedicated family man who instilled the values of love, faith, laughter, and wisdom in all of his children.
---
By Martina L. Smith // Photo courtesy of Jacob Arias
---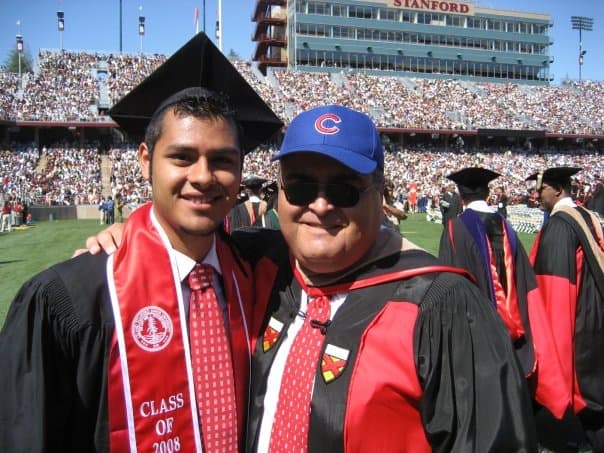 The Alumni Society: What does your father mean to you?
Jacob Arias: My father represents three things to me: Love, Faith and Laughter.
Love: He loves his family and his community. He has always made his family his priority in every decision he has made, and since I was born until this very day, he has showered me with unconditional love and cariño. My father also comes from humble beginnings, but he worked his way up to his current success. Yet, he never forgot where he comes from, and he is constantly looking back to see who he can bring up with him.
Faith: My father has always been a strong man of faith, and it has been his guide on how to be a man and a father. He has instilled that faith in me, giving me the best example of how to be a good father.
Laughter: He also represents laughter to me. Our family is constantly laughing, mostly at each other, and he is usually at the helm. He brings the gift of laughter everywhere he goes.
TAS: How has he impacted your life, academic choices and professional pursuits?
JA: My father has been my coach (guitar, basketball and track), my mentor and my foundation for support.
Academically, he always pushed me to achieve the best I could. He helped me where I needed it, but he also gave me complete independence when it came to choosing the college I wanted to go to. He never pressured me to go to any particular school and always supported me to pursue the career I wanted.
Professionally, along with many other lessons, he taught me the power of genuine networking. When people meet my father, they remember him for his humor, humility and warmth. At the same time, he treats people with respect and always finds time to follow up and build relationships.
TAS: What's the best advice he's ever given you? 
JA: "Never give anyone an excuse to call you lazy." 
It really does not matter where you are in life or in your career, everyone can find something to make you seem less than who you really are. My father always taught my siblings and I that if we always worked smart (not hard) and constantly strived to be better, no one can doubt who we are and what we can achieve.
"Concentrate on what you can control."
He always told me that I cannot control the way people think or act, and as long as I concentrate on doing well at the things I can control (i.e. your job responsibilities), no one can touch me.
"Take the high road, and you never lose credibility."
Once you let your emotions get the best of you with a coworker, client, superior, subordinate, etc., you lose all credibility and trust from everyone. Keep your emotions in check. People may not always remember when you are your best, but they never forget when you are your worst.