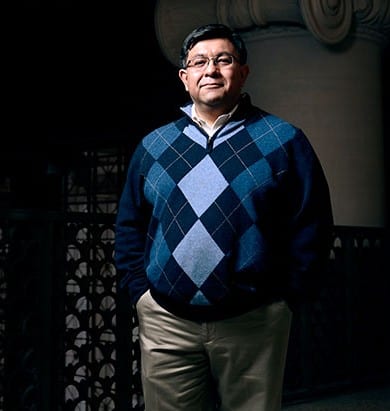 Codirector, Master of Engineering in Manufacturing | Massachusetts Institute of Technology
---
MASSACHUSETTS INSTITUTE OF TECHNOLOGY & STANFORD UNIVERSITY
---
By Michelle Markelz // Photography by Webb Chappell
Every single workday, José Pacheco sees the future. As the codirector of the master of engineering degree in advanced manufacturing and design at the Massachusetts Institute of Technology (MIT), Pacheco doesn't have to look far to see the inception of tomorrow's innovations.
Walking the halls of the university is like being a kid in a candy store, he says. It's the reason he returned after seven years in the business world, and it's what's kept him there for the last thirteen.
To Pacheco, a confluence of the environment at MIT and his openness to opportunity have allowed him to bring to bear all of his experiences—from his upbringing in Mexico to his background in economics and biology—to help entrepreneurs shape the future of their businesses and communities.
Pacheco learned the power of connection while busing tables in an Italian restaurant near Los Angeles, California. A bright seventeen-year-old, he planned to attend the University of California-Los Angeles or the University of Southern California the fall after his senior year—that is, until a couple of regulars at the restaurant, both MIT alumni, sent away for an application for him. Another local MIT alum interviewed him, and Pacheco was impressed by the ethic that seemed to permeate the university's network. "There's a saying that entrepreneurs get to choose the hours they work, which is all of them," says Pacheco, recalling how he biked to that interview at 10 p.m. after a Friday night shift. "That was my first taste of the MIT culture, where it doesn't matter what time it is—you just do what you need to do."
While working on his undergraduate studies, he realized he wasn't sure which career path to follow. "This is where having a network was the clarifying point," he says. An MIT graduate invited Pacheco to do some consulting for small, family-owned manufacturing businesses. The experience piqued his interest in business and led him to Peter Senge's office in the Sloan School of Management. True to the MIT tradition, Senge, an author and lecturer, gave Pacheco a list of contacts and permission to say, "Peter sent me." That was his ticket to working with an auto manufacturer, where he caught the eye of another MIT graduate at Andersen Business Consulting, where he joined the simulation unit.
Pacheco traveled internationally for the first time—outside of his original home in Mexico—and was fascinated by the emergence of start-ups and angel investors. It was the height of the dot-com boom, and he was like a scientist in a lab as he watched entrepreneurs experiment with business. "Though I'd seen it in my own work, I didn't realize how important struggling through failure is to success," he says. "I saw how people would run up against a brick wall, fall down, and try to go around it again and again." He eventually worked with an angel investor helping IT start-ups in Asia.
With the pop of the Internet bubble in the early 2000s, Pacheco returned to MIT looking for a new opportunity. He found it on his morning commute on the train. A casual conversation with the administrative assistant of MIT's Entrepreneurship Center on a Friday turned into a job offer from the center's director the following Monday.
Pacheco reported for work with the intention of building up funds for six months and continuing his studies. He stayed for seven years. "It was just like being in a start-up," says Pacheco.
This time—as the subject of the experiment—he created programs, met with venture capitalists, and helped the center's founder establish a new degree concentration in entrepreneurship and innovation.
Pacheco returned to the classroom to earn a master's degree in business as an MIT Sloan Fellow in Innovation and Global Leadership.
"It was fascinating to learn about the important roles design and manufacturing play in transforming innovative ideas into tangible, valuable products," says Pacheco. "Making things efficiently, sustainably, and responsibly is the platform for developing new industries as economies evolve." After completing the program, he approached his professors and asked how he could contribute. Their answer: his current occupation.
Pacheco is once again helping MIT shape future problem solvers and the bearers of tomorrow's business solutions. MIT aims to address issues such as water scarcity, food production, and sustainable energy production. This work calls on all of the experiences Pacheco gained along the way and proves the accuracy of the compass that guides him.
"Synchronicity, openness, and being part of a community that gives back got me here," he says. "Being surrounded by people who are creating the future is amazing. That is the reason I stick around."