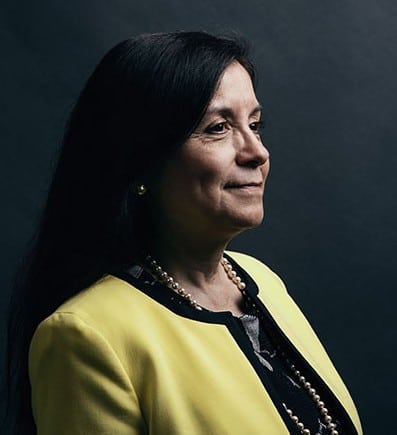 Chief of Staff & Head of Business Operations | Intel Corporation
---
STANFORD UNIVERSITY
---
By Amy Kraft // Photography by Saroyan Humphrey
The late 1970s were the cowboy days for Silicon Valley. White men dominated the tech industry, but one young Latina named Isaura Gaeta, a 1982 Stanford University graduate with a master's degree in engineering, worked her way into the field.
She took a job as a semiconductor engineer at Fairchild Semiconductor in Mountain View, California, and became part of the roughly 5 percent of female engineers in Silicon Valley at the time. "I had to fight to get my voice heard," Gaeta says. "I'd make a suggestion and get toppled."
At one point, she had an idea for a new process technology using an analog technology that integrates bipolar, CMOS, and high voltage DMOS transistors. "The males in the room took over the conversation and said that I proposed a bad idea," Gaeta says. But when a paper was published on the technology in 1984, it cited her name. Gaeta was listed as the third author on the paper, but she was not given credit for naming the technology.
In the forty years since then, not a lot has changed, Gaeta says. "It comes in cycles. Every time you go into a new work group or enter a new job, you start the whole thing over again."
But her tenacity and success in the field have helped her etch a name for herself at the "boys' table." In 1984, she moved from Fairchild Semiconductor to Intel Corporation, where she was a technology integration manager.
Gaeta has been promoted a number of times within the company, holding two director titles before taking over as Intel engineering leader.
In addition to her work at Intel as chief of staff and head of business operations, Gaeta works to improve her industry and encourage other Latina women in STEM careers. She volunteers with the Women in Engineering ProActive Network and Stanford University El Centro Chicano y Latino.
The semiconductor field is a fast-paced, innovative industry in which scientists are pushing the boundaries of technology to build transistors—electronic devices that act as an amplifier or a switch, but are fast, reliable, and small enough to fit into things like cellphones or watches.
As an engineer, Gaeta says she is constantly pushing herself to think creatively. "It's an opportunity to try new things and be willing to fail," she says. Because the industry is dependent on creative thinking and diverse perspectives, Gaeta believes it is of fundamental importance to maintain a diverse group of scientists working on projects. "If everyone went to Caltech and were white males, you would have similar solutions around the table," Gaeta says. "With a diverse perspective, someone can come up with an idea that didn't occur to the group."
From 2003 to 2005, Gaeta helped develop silicon technology that allowed her company to launch Centrino wireless technology, a package that allows users to connect wirelessly to the Internet. "The technology was first launched at Intel, and now it's pretty much universal," Gaeta says.
Gaeta believes her heritage has helped her successfully manage initiatives and operations in the United States and abroad. "Growing up Latina positions me well for being able to understand people from different cultures and make them feel included," Gaeta says. She says she is sensitive to making sure that she and her team members are all on the same page. She takes time to listen to different perspectives. "Communication is [at the] core."
Gaeta is passionate about encouraging Latina women and children to enter STEM careers. She works with Intel to make sure teachers not only have access to technology, but that they know how to use it as well. Programs like Intel PC Pals help close the digital divide by pairing someone with a child through e-mail so they can begin a dialogue about technology, and children receive hands-on experience about how to use it.
When Gaeta was on the board of the Women in Engineering ProActive Network, she helped the organization reach toward its goal to have an engineering industry of 50 percent women by 2050. "I want to break down barriers that are keeping women from university studies in engineering and from choosing and staying in the industry," Gaeta says. She worked with professors at engineering schools throughout the country to make the learning environment more comfortable for women. The network also worked with faculty to help recruit more women in the field.
Gaeta agrees that challenges remain in recruiting and retaining women in STEM, but she believes it can be done. "You have to be willing to have a little bit of a struggle," she says. "It's not going to be easy, but it's going to be worth it. Science doesn't discriminate."