PARTNER SPOTLIGHT
Grounded in T-Mobile's Culture
How Martha Ventura lives and leads by the Un-Carrier's core values
---
Listen first—to customers and employees. Deliver results. Use your voice. Count on your team. Make sure your team can count on you.
These are just a few of the core values that resonated with Martha Ventura when she joined T-Mobile more than a decade ago. "Their values were truly integral to the organization—not just a poster on a wall," Ventura says. "T-Mobile had created a common language and understanding about these guiding principles, and everybody made an effort to live by them."
Ten years later and these principles are still woven throughout the company culture, even inspiring the company's "Un-carrier" strategy. "Ours is a dynamic environment, but we have stayed rooted as we've evolved," says Ventura, who is now vice president of engineering and operations. "That's what keeps me here: our unique culture and the people who contribute to it every day."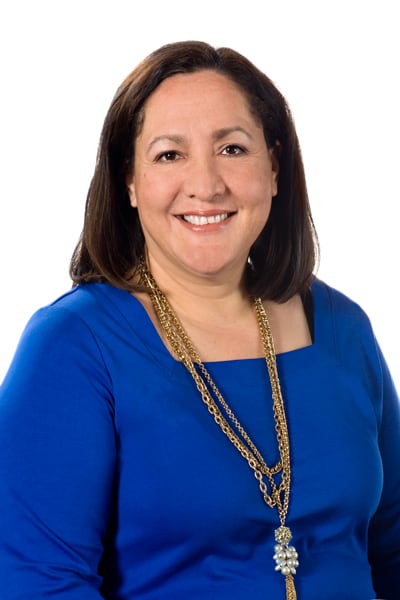 When Ventura first came to the organization, her greatest challenge and primary concern was strengthening the T-Mobile culture among her engineering team. Rather than encouraging them to solely focus on completing tasks, she wanted to instill ideas like raising the bar, being accountable, thinking strategically, and always doing what's best for the customer. "These goals are not necessarily instinctual for engineers, so it was a unique and challenging road at the beginning," Ventura says. "But the persistence paid off and, looking back, that work around culture has been the most fulfilling part of my job."
Technology is also an undeniable part of Ventura's current role. When she first started in 2008, 3G technology was in its infancy and text messaging was the new big project. Ten years later, customers are live streaming, browsing, and talking on the phone at the same time, and 5G technology is in development.
Another significant project of Ventura's T-Mobile tenure was the "modernization" of 70 percent of cell site equipment five years ago. Disruption of service had to be kept to a minimum by completing the work in an incredibly short window of time. To do so, Ventura devised a new plan: rather than restricting teams of technicians to their designated geographic areas, Ventura eliminated those boundaries and divided the entire pool of work evenly, regardless of population density.
The new strategy wasn't popular at first, and it required building trust and new relationships among teams. In the end, Ventura's team produced the top results in the fastest time of all regions in the nation. "After that, the teams were willing to do it again, so we've duplicated the model repeatedly," she says. "I had to push them to trust me and believe that I have their best interest in mind, but it was worth the effort to shift the paradigm."
As an engineer, Ventura looks at data, dashboards, and key performance indicators, but as a leader she also looks at less tangible things that are more difficult to measure. One such example happened four years ago when Metro PCS merged with T-Mobile. Having already been through three mergers in her career, Ventura was familiar with the unique challenges of bringing two companies together: organizationally, culturally, technologically, etc. But most of all, she was aware of the delicate process of bringing two groups of employees—people with fears and feelings—together to form a new team.
"It's difficult to do that successfully, so I wanted try something different to integrate better," Ventura says. Lots of planning ensued, including conversations about empathy and compassion. "'How would you want to be treated' became our mantra," she says. "It wasn't perfect, but of the now four mergers I've been through, it was definitely the most successful, and I truly believe it's because we put the people first."
Moments like these, when the work goes beyond the task to reach the people behind it, are ones that Ventura celebrates the most as she looks back on her ten years (and counting) at T-Mobile. "I was recently trying to solve a problem with my team of engineers and asked what they thought we should do. When one of them proposed a solution because it was the most right for the customer, I knew that all that work around culture that we started ten years ago had paid off."
And in more ways than one.
---
"I had to push them to trust me and believe that I have their best interest in mind, but it was worth the effort to shift the paradigm."
---
In spring 2018, Ventura was promoted to her current position of vice president of engineering and operations—a position that was created in recognition of her responsibility and team size. Having a role without pre-defined expectations has posed a new set of challenges (including writing her own job description), but Ventura feels confident in her newly established goals.
Ventura is committed to leveraging each of her teams' experience and expertise to raise the bar across the region, sharing best practices and eliminating geographic silos to build collaboration. "I've implemented peer reviews among our engineering executives and we're now going to each other's areas, looking at business plans, getting exposure to different leadership teams, and dialoguing with markets other than our own." While there was pushback at the beginning, even the most resistant executives now recognize the value of sharing resources and are supportive of the new process.
"Thinking back on my career, it took me a while to find my voice," says Ventura, who is now quite accustomed to speaking up even when what she says is unpopular. "It's important for women—especially Latinas, and especially in technology—to find our voices as soon as possible. That voice must be backed by educated substance, but because there are so few of us around the table, it's imperative to find the courage to not be drowned out or ignored."
Fortunately, using her voice is something that's celebrated at T-Mobile. Combined with listening well, delivering results, and being an active and committed member of a team, those core values have made Ventura's last ten years fulfilling and enjoyable. And as T-Mobile's culture remains rooted in these empowering principles, the next ten years are sure to grow to new and even greater heights.
---
Share This Article