CORE's Regional Director of Community Engagement, Health Equity, and Partnerships Miguel Blancarte Jr. refuses to cower in the face of COVID-19
In spring 2020, as the majority of the world stayed home and commended frontline workers for bravely showing up to work every day during a pandemic, Miguel Blancarte Jr. knew he had to do more. So, when he was exposed to COVID-19 and endured a highly frustrating testing experience, he decided to put his career on pause and volunteer at a COVID-19 testing center in Chicago. He shared his story with Chicago radio station WBEZ as well as The Alumni Society.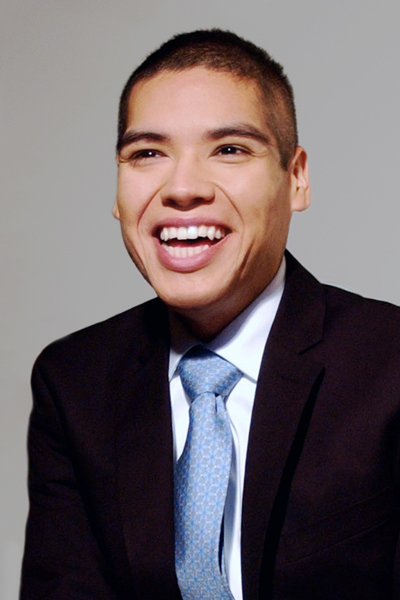 Blancarte was doing consulting work and traveling frequently when he was exposed to the coronavirus. He called 311, Chicago's non-emergency service line, and was told there were two testing sites near him. He went to the closest one, which was still quite out of his way, and "walked off flustered, angry, upset" because the health professional on-site refused to test him. The lines of communication, he says, were broken—and he was bothered.
Blancarte later saw a testing site open in the parking lot of his old elementary school, Maria Saucedo Scholastic Academy, located in Chicago's Little Village neighborhood. The testing site was operated by Community Organized Relief Effort (CORE). He decided to volunteer, a decision that quickly led to an "eye-opening" experience. Soon after, he was asked to be the site manager.
Blancarte's decision to spend at least ten hours a day in a COVID-19 "hot zone" and come into daily contact with hundreds of people did not come lightly. He was well aware of the associated risks—including the risks to his mental and emotional well-being—and aware that this choice could affect his ability to spend time with his family. Still, Blancarte was driven to help. He wanted to support his community, help alleviate the pain within it, and help fight the battle going on "quite literally in my front yard." He notes that the 60623 zip code—home of Chicago's historically disenfranchised West Side community—has been disproportionately affected by COVID-19.
"Just knowing that my staff and I were out here providing this service to underserved Black and brown communities makes my heart and my mind feel so good," Blancarte says.
Blancarte's family has a long history in the neighborhood. Little Village is where his parents established themselves when they immigrated to the United States from Mexico. He notes that the neighborhood is 84 percent Latino and that many immigrants and first-generation Americans live in the area. The per capita income per resident is $11,000, and only 41 percent of people twenty-five and older have a high school diploma or GED. Additionally, Blancarte notes that the neighborhood has many mom-and-pop shops and frontline workers, who do not have the luxury of working from home. All of these populations risk exposure to the coronavirus on a regular basis. This frustrates Blancarte, who says the community is already underresourced, underrepresented, and underserved. "I'm fed up with that," he says.
For these reasons and more, Blancarte is spending long hours, often out in the hot sun, to fulfill his mission of helping to heal his community. "I have this nice tan line," he jokes.
Thanks to a love for his community and a roll-up-your-sleeves attitude, Blancarte is sure to give back to the place that raised him.