Recap: Catalyst Los Angeles 2018
The Alumni Society members gathered for a night of Courageous Conversations, led by presenting partner Bank of America
---
By Frannie Sprouls // Photo by Cynthia Halverson
---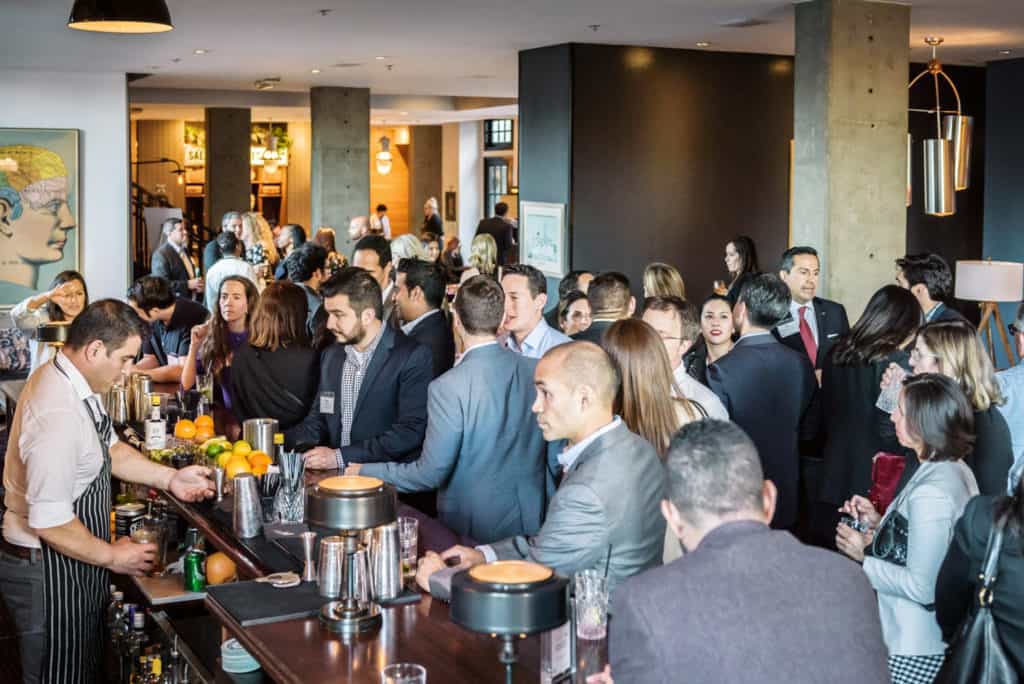 May 3, 2018, was a night of Courageous Conversations.
More than seventy people gathered at the Palihouse Hotel in West Hollywood to hear from a powerful panel of Latinas at The Alumni Society's Catalyst Los Angeles, presented by Bank of America.
The inspiration for the night's discussion was Courageous Conversations, an initiative that Bank of America began to provide inclusion, understanding, and positive action throughout the company.
"Some people might shy away from these conversations, but Bank of America is being proactive. We are honored to host them and our members tonight so we can talk about these things as a community," Sergio Fernández, chief strategist for The Alumni Society, said to kick off the event.
Bank of America's Julian Parra moderated the panel, which consisted of Anita Ortiz, vice president of diversity and inclusion for the West Coast at Viacom; Miriam Aguirre, vice president of engineering at Skillz; and Alejandra Campoverdi, commissioner at First 5 California.
"Bank of America's purpose is to make financial lives better," said Parra, the senior vice president and regional commercial banking executive for Bank of America Merrill Lynch. "Those connections are strengthened when we bring diverse talent to the table."
The panel conversation touched on a variety of topics, including addressing challenges that Latinos face in the workplace, finding the courage to speak up, and how to stay motivated. Here are some of the conversation's highlights:
Anita Ortiz on how to productively address challenges:
"On an airplane, they say, 'Put your own oxygen mask on first.' So I think we all really need to first take responsibility for ourselves. Someone told me, 'Form your own board of directors.' Find someone in finance. Find someone who's an attorney who can help you negotiate better. Find a working parent who can give you strategies on how to find your balance and your integration. Find out what makes sense for you and build that platform for yourself. I would also say it's really important to continually focus on both personal and professional development.
"Building your network is critical, and events like the one tonight are so important, but I will give a bit of caution. It's really important that we not only lift each other up, but we need to lift other communities up. We need to build allies with other communities of color; we need to build allies with the people in the majority. If there's no room for me at the table, I'm not going to kick someone out; I'm going to bring another chair."
Alejandra Campoverdi on speaking diplomatically while maintaining authenticity:
"Social mobility is something we are all faced with. And we don't hear a lot of people validating this experience. When you're moving through these spaces, you carry a lot of your personal experiences with you. Whether you're working in banking, politics, media, or any of these spaces, you're speaking your opinion as something that goes beyond representing yourself; it's representing your community. By bravely speaking your perspective and your community's perspective, you're not only contributing to your organization in a way that adds value, but you're also signaling that your experience is something to be proud of.
"This is a very privileged room. If we're not going to admit these things about ourselves and tell these stories about our community, who's going to do it? That becomes less hard because it's not about you; it's about all of us. Have courage for all of us."
Miriam Aguirre on overcoming imposter syndrome:
"It can look different for different people. Some have a paradox: you believe that you're tricking everyone into thinking you're good while you yourself think you aren't that good. For me, it felt more like I would attribute a lot of my success to luck. Something happened when I became a manager. I started interviewing a lot of people, and I started to notice that skill level and confidence level were not tied together at all. I started thinking of confidence as a skill instead of something that would naturally show up when I increased my skill set.
"It helped me see the hurdle. I wanted to be a leader who led by example. I had to confront that in myself. I can't share with these people on how to overcome hurdles if I can't do it myself. For me, being able to see the information and then have the motivation of wanting to be a better leader, that was enough to finally get over this imposter syndrome."
Anita Ortiz on having the courage to speak up:
"I speak my mind; I always have. But I realized once I entered the corporate sector that there is a little bit of a game to play. Understanding that, I found myself pulling back. Now I'm in a place where I have the confidence and I have the courage to speak my mind. I'm able to do it in a way that doesn't alienate people. I try to be as inclusive as I can."
Alejandra Campoverdi on drawing strength from community and nature:
"When I spend time working in the community, that gives me the perspective I need. And seeking out opportunities to constantly be connected. And the second thing is that nature is such a rejuvenator for me. Especially those of us who live in concrete jungles, go and spend that time in nature and reconnect. It's a healing thing. When you're dealing with these environments, make sure you do take care of yourself."
Miriam Aguirre on drawing strength from role models:
"I draw inspiration from other heroes. You've got your own list of things you want to accomplish, and maybe you're pretty close to the bottom and you've checked out all the things. You think, "I'm just going to retire, I'm done." Then you watch something like the Dolores Huerta documentary and humble yourself. She's got no fear, she's so driven, and makes such a big difference in so many people's lives.
"For me, I personally like to draw inspiration from watching what other people have accomplished, and then I line up what I've accomplished with bigger goals, and try to figure out how I'm going to be the next Dolores Huerta."
---
For members who attended Catalyst Los Angeles, you can find the attendee list on The Alumni Society app within the Member Hub. 
---