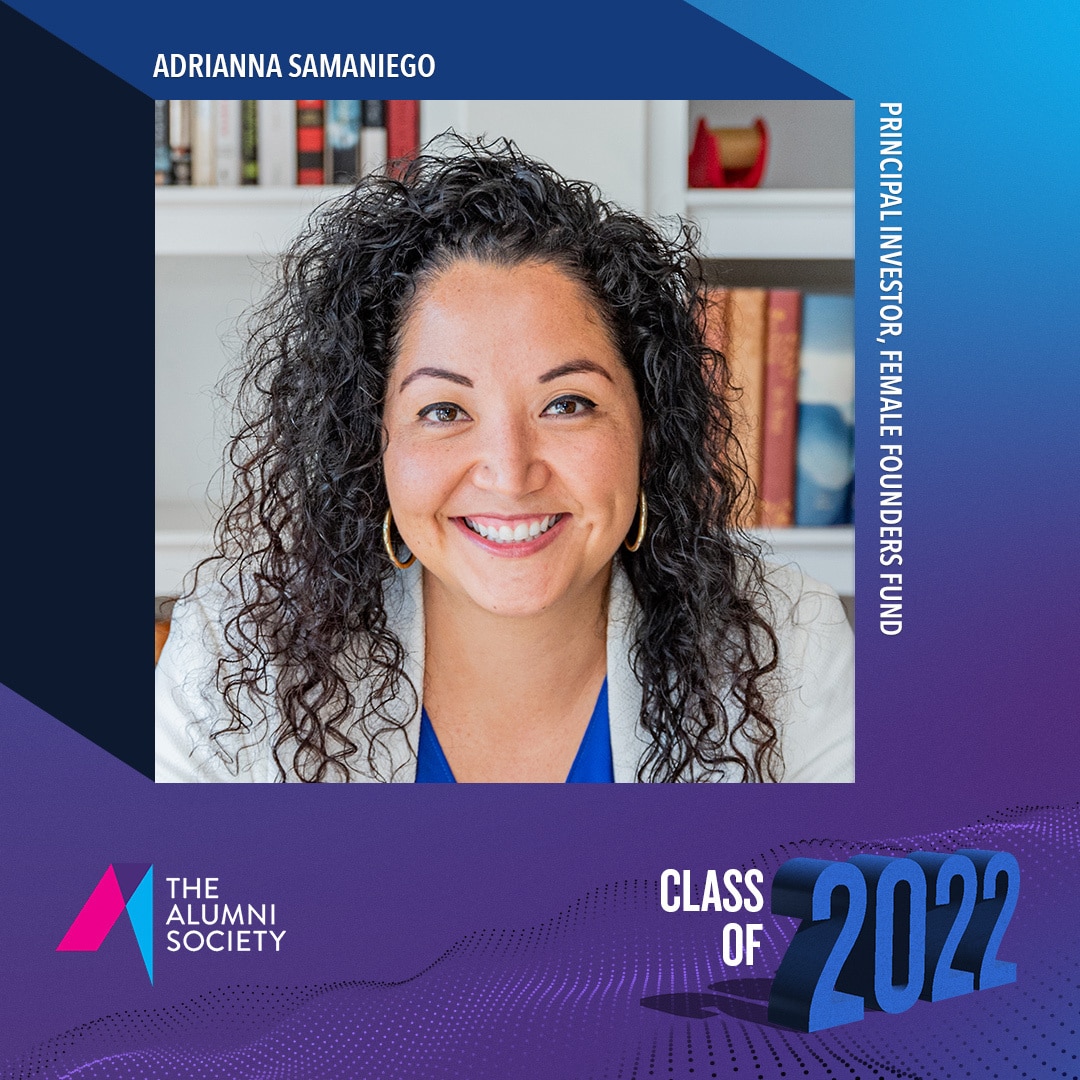 By: Zach Baliva
After starting at Google, Adrianna Samaniego was handed the opportunity to create something of her own. She seized it, started finding ways to help minority owners reach the top, and never looked back. Samaniego shares how she is following her passion and helping others find their true potential.
What do you do today?
I'm a venture capitalist investing in early stage tech-enabled businesses. I currently focus on investing in female founders building the next big thing. I've invested across every sector and have also worked at a couple of other early stage funds. Less than two percent of VC dollars go to all female-founded companies, and only 12 percent of venture capital dollars go to teams with at least one female founder. Latinx and Black women-led start-ups lag behind their peers—only 0.27 percent went to black women and 0.37 percent went to Latinas. But it's not only about being the right thing to do, it's about outsized returns.
I believe female founders are creating the next $1 billion businesses, and we want to back them. This is a really good business. I spend my days sourcing and evaluating all kinds of deals, doing the due diligence to help execute the deal, negotiating terms and winning the deal, and then supporting the founders and their boards to get them through future rounds of funding and to an exit.
Could you talk about some of the experience, both personal and professional, that has helped impact you as a leader and performer in your space?
I launched my career at Google working with chief marketing officers and business leaders to develop and execute digital media strategies. I soon realized I was passionate about the intersection of business and inclusion. I cofounded the Hispanic Googler network HOLA, an employee resource group committed to the representation, advancement, and inclusion of Hispanics at Google. This led me to ensuring we were building inclusive products for consumers and diverse-owned businesses. I made products, like how to find Hispanic- and Black-owned businesses on Google Maps and providing them the tools to create a website and digital presence, while pitching Google executives the business case for building programs and products targeted at minority-owned businesses. They listened and made me the global supplier diversity manager, a job description I wrote up myself. I built the program from the ground up, and Google was the first high-tech company to build such a program. I went on to consult for peers at Facebook, Airbnb, and Twitter. In only a few years, the company was spending over $1 billion with women- and minority-owned businesses. This was a huge success, and I was ready for my next challenge.
When given the opportunity to start my own business within Area 120, Alphabet's start-up incubator, I took it. Called Emporium, its mission was to empower minority- and women-owned-and-led businesses to unlock untapped economic potential for their businesses and community. My team created and launched a marketplace for Fortune 500 companies to procure from diverse-owned companies. Like many start-ups, the venture didn't work out, but the experience doing it was invaluable. This led me to consult in early stage start-ups and ultimately become an angel investor in a few. That's when I really knew I wanted my next venture to be VC and backing the most promising founders and solutions.
How does your ethnicity and heritage help you be successful?
I'm a very proud Mexican American. I grew up on the Arizona-Mexico border for sixteen years. Mexico was just a few miles away from my doorstep. My Nana Adela taught me my first lessons on business. A self-taught woman, Adela struggled with my grandfather, the hardest-working man I have known, to establish and build one of two plumbing and construction services in our town. Growing a small business and sustaining it through economic uncertainty without proper training and education was not easy, but they did it. As a pre-teen, I was the accountant for the business, and these early lessons taught me so much.
Seeing my family struggle also built a strong level of resilience and work ethic into my DNA. I know no other way, and these key tenants have enabled me to be a successful businesswoman. I love to learn, and I have grit. I also have learned to lean into my identity. This is a superpower because I bring a unique view and an edge, and it's authentic to me.
What kind of work have you done to pave the way to develop future leaders, and what importance do you place on doing this work?
I love this question, as I firmly believe I wouldn't be where I am today without key organizations and mentors who helped pave the way. For example, I currently serve as a reviewer for the Gates Scholarship, of which I was a recipient, and I have been on the Hispanic Scholarship Advisory for the last five years. As a first-generation college graduate, I blindly navigated my first year of undergrad. From that experience, I created LiSTO (Latinos Investing in the Students of Tomorrow), a mentorship program for first-year Latinos at Georgia that is still alive today! I've broken stereotypes, patterns, and barriers, and due to this I am deeply committed to holding the door open for the next generation.
I formerly served on the SF Board of SEO (Sponsors for Educational Opportunity) and mentor for four years. The ERG I founded at Google more than a decade ago now has thousands of members across the globe. More recently, I started serving as a mentor for Latinx VC Fellowship, which is helping the next gen Latinx investors break in. I'm also proud to have a scholarship that I launched two years ago in honor of my Tata (grandfather) supporting college-bound students from home state Arizona. The legacy of giving and building our community runs deep in my blood, even though our family once didn't have much to give.
What is next for you, your profession, and your industry? 
Honestly, I love my job, and know I'm very blessed to say that. I plan to continue to invest in the most promising founders and support their growth journeys. There are so many opportunities, and I love investing in new technologies that are changing the way we live, work, play, and more. Beyond that, I'm able to invest in solutions that are driving important impact and work for example improving health outcomes for mothers like early detection for breast cancer and the largest astrological social networking app driving connection and deeper understanding. I'm also deeply passionate about increasing diversity and equity in our industry and want to bring more underestimated investors and founders to the table. There is a lot of work to be done, and I'm very energized by this.
Finally, how do you relax? 
This is a tough one. I'm a busy bee, and all my loved ones tell me to take a break or a chill pill. I have a five-year-old pomsky who I love to take to the park every morning for some exercise. This where I can spend an hour reflecting and enjoying the outdoors. Additionally, I love watching documentaries and dramas. In my spare time, I'm slowly getting hours for my pilot license.
Follow Adrianna Samaniego on LinkedIn, Twitter, and Instagram.