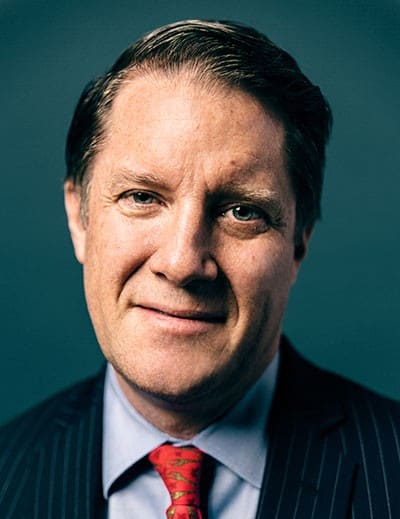 CEO | ALPFA (Association of Latino Professionals for America)
---
COLUMBIA UNIVERSITY
---
By Michelle Markelz // Photography by Caleb Fox
Charles Garcia knows with absolute certainty his purpose in life: to inspire and connect others to achieve extraordinary things.
But Garcia says knowing your life purpose is only half the battle. Having the courage to follow through on it is what makes a person successful.
It was only natural for the son of a teacher and a heart surgeon to choose a life of service. While Garcia was raised in Panama, he attended the US Air Force Academy, following in the footsteps of the generals he idolized in history books, and he learned about much more than aviation and combat.
Next to Garcia's cubicle in New York hangs a photo of the janitor of the academy. Garcia and his classmates didn't know it at first, but the man who mopped those halls was a World War II hero who won the Congressional Medal of Honor. "I would not be who I am today without the valuable lessons he taught me," Garcia recalls. "His picture reminds me to treat every person you meet as if they are a war hero."
As the CEO of the Association of Latino Professionals
for America (ALPFA), Garcia employs that perspective to develop the Latino community and to strengthen its connections to other organizations of commerce, philanthropy, and culture.
Garcia was an entrepreneur first. He founded a financial services firm with a focus on Hispanic consumers in the United States and Latin America. In less than ten years, he grew it from three employees to a sixty-office organization spread over seven countries, with more than $2 billion in assets.
In 2004, then-President George W. Bush appointed Garcia to the White House Initiative on Educational Excellence for Hispanic Americans. Two years later, Garcia returned to his alma mater when President Bush appointed him as chairman of the board of visitors of the US Air Force Academy. He oversaw all operations, overhauling the board system to function like a corporate advisory board. He significantly increased diversity, which caught the attention of President Barack Obama, who reappointed him to a new term and tasked him with replicating his success at the other four service academies.
Ten years later, the relationships Garcia built as an entrepreneur and education advocate serve ALPFA as Garcia shifts its focus and methods. Garcia met with the presidents of ALPFA's forty-three chapters and defined their mission. Formerly, the organization had served financial professionals, and its focus was purely business-oriented. Under Garcia's direction, ALPFA is developing Latino leaders for every sector of the economy, including a new focus on nonprofit, governmental, and STEM roles.
ALPFA provides Garcia the opportunity to realize his life's purpose—72,000 times over. That's how many professionals and students are currently benefiting from ALPFA's networking and leadership development opportunities, a number Garcia plans to grow to one million over the next few years. "The mission of ALPFA is to empower and develop Latino men and women as leaders of character in every sector of the global economy," says Garcia. "I believe that Latinos are the lifeblood of America's future because, according to a new study from IHS Global, they will make up 40 percent of the labor force growth over the next five years." Specifically, he's referring to the demographic shift caused by the retirement of 80 million mostly white baby boomers while the young Hispanic population continues to grow.
One way ALPFA is responding to these demographic changes is by nurturing Latino corporate leadership from the top and bottom. ALPFA is collaborating with organizations like Junior Achievement USA, which prepares students for the workplace with experiential learning. Junior Achievement's partnership with ALPFA connects Latino professionals with tomorrow's high achievers and develops Latino talent from the ground up. Garcia foresees the relationship creating connections with corporate leaders; nearly fifty Fortune 1000 CEOs sit on Junior Achievement local boards.
The partnership, like many of Garcia's initiatives, harnesses the power of relationship building—something he says the Latino community needs to improve if it hopes to see more representation in the highest seats of influence.
Ideally, ALPFA will be just one of the conduits by which that support network can develop and act. Through large-scale partnerships and one-on-one advocacy, Garcia hopes that every inroad he makes for Latinos will be the artery from which multiple avenues of opportunity can stem.
"If I want to fulfill my life's purpose, I need to help our community," says Garcia. "When I do that, it's like throwing a pebble on a pond. You have no idea how far the ripples are going to go."