Making a Name For Herself in Communications
Entercom's Esther-Mireya Tejeda speaks on her new role at the media company and her passion for diversifying the communications and PR industry
---
By Frannie Sprouls
---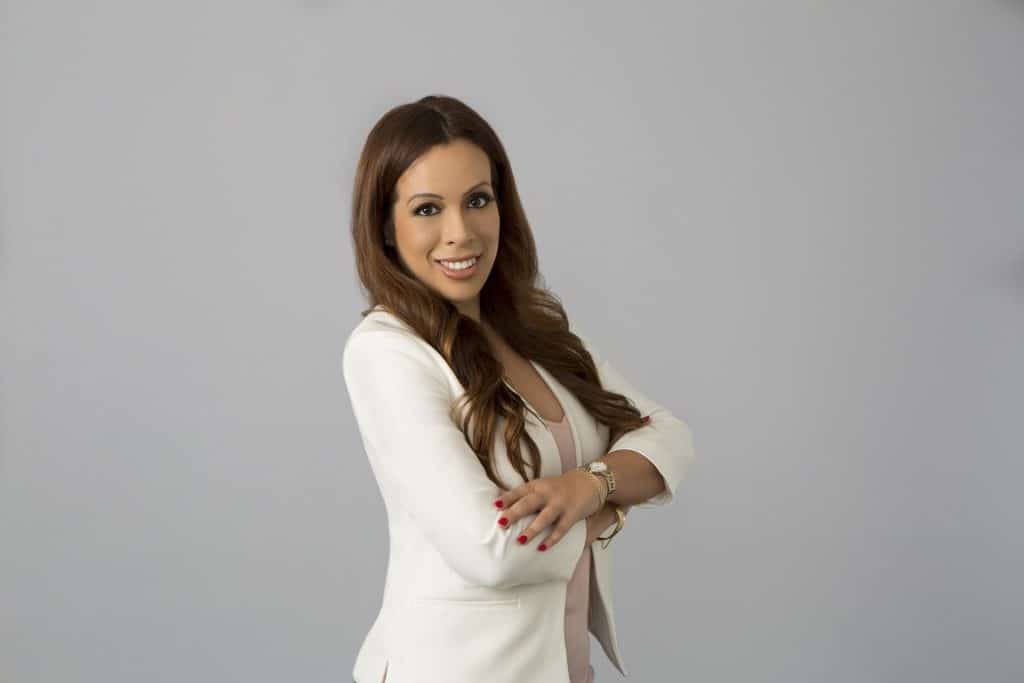 Last year was a big year for Entercom. The leading media and entertainment company merged with CBS Radio, making post-merger Entercom one of two largest radio broadcasters and the second largest podcaster in the United States.
Entercom reaches more than 100 million people weekly with a portfolio of more than 235 radio stations, digital platforms, and over 5,000 live events coast to coast. Entercom is also the nation's unrivaled leader in news and sports radio, with iconic brands like 1010 WINS and WFAN in New York City, WEEI in Boston, and KROQ in Los Angeles.
It was also a big year for Esther-Mireya Tejeda. The Alumni Society member joined Entercom in August 2016 as its vice president of corporate communications and by December 2017, she was named the company's inaugural head of corporate communications and PR. A challenging task was ahead of her: launching Entercom's first-ever corporate communications and public relations practice while the merger with CBS Radio was being finalized.
This challenge was perfect for Tejeda, a veteran communications executive with a career track including Univision Communications, PepsiCo and Diageo. The Alumni Society spoke with Tejeda about how she implemented Entercom's communications practice, her passion for the communications and PR industry, and how Latinas can break into an industry where diversity is needed.
What led to you joining Entercom? What was your role in the merger with CBS Radio?
I joined Entercom at quite a pivotal time—the company's merger with iconic CBS Radio. 2017 was a year of change, as I not only spearheaded the company's first-ever in-house corporate communications and public relations practice, but I instituted this function while we were merging with one of the biggest radio broadcasters in the country.
What is most interesting about this role is challenging how the media industry perceives radio.  Having come from television, the leap seemed logical. The statistics speak for themselves. While TV and digital are suffering from challenges like cord-cutting and ad fraud, radio remains the least disrupted and most healthy media platform for advertisers and listeners. It is America's No. 1 reach medium and No. 1 ROI medium, a fact that is typically misrepresented. I have an incredible opportunity to tout the power and value of radio in a media landscape that is increasingly disrupted and fragmented and to champion for radio as the stable hero in an ever-changing universe.
Tell me about launching Entercom's first-ever corporate communications and PR practice, as well as setting that strategy. What were some of the challenges? What past experiences did you draw on to successfully build this practice?
I have built a growing communications practice at Entercom, overseeing business and industry communications, financial communications, local public relations, programming and talent publicity, crisis communications, event publicity, sports business communications, and executive thought leadership.
Institutionalizing this function at a company of this scale and with so many brands to support has been challenging, but also rewarding. What is the most important is building the right team—people who are passionate, smart, and curious and with whom you can grow and reach beyond to do more and be better every day. I have a small but incredibly talented team and together, we have been able to launch an in-house communications practice, roll-out an entirely new corporate brand, and merge two of the biggest radio companies in the country all within twelve months. I am a true believer that a company's biggest assets are its people, and I have focused on recruiting and growing the best and brightest to take on this new challenge along with me at Entercom. It is truly a team sport after all.
Tell me about attending Brown University. What drew you to Brown?
I was drawn to the university's liberal approach to education and the freedom afforded to students to create unique academic experiences. However, what made Brown a transformative place for me was the people I met, both other students and faculty, who challenged and inspired me to think differently and to see the world in completely new ways. Many of these people are still part of my life today, many years after graduation, and that network of fellow Brown alum is still one of the places I look to for drive, encouragement, and inspiration to go out on limbs and take risks.
What sparked your interest in public relations and communications?
Public relations and communications is a field that I stumbled upon after college. One of the biggest challenges in this industry is the lack of diversity, and that has a lot to do with lack of awareness and recruitment into this career track for undergraduate students—especially students of color who are attending liberal arts colleges and universities, like Brown. While at Brown, the vast majority of my peers were entering into medical school, business school, or law school, and on-campus recruitment was heavily led by big financial institutions, like Goldman Sachs and Morgan Stanley. Parents typically pushed students into these fields because they're well understood job functions and are perceived to be lucrative.
But, I wanted a career that was equal parts business and creative, that required the use of qualitative skills, not just quantitative, and that would give me an opportunity to influence popular culture and build cultural norms. I wanted to be the person who was setting trends and making things cool, and this was well before the era of social media.
After college, I began hosting events that quickly turned into a role at the Ogilvy & Mather firm in New York City, and it was then that I realized that I could actually make a living creating experiences, working with brands to tie into culture, and influence the content that people all of over the country consume. I've been in this field now for almost sixteen years and have had the opportunity to work on marquee events like the Grammys and the Latin Grammys, New York Fashion Week, the NFL Super Bowl, the FIFA World Cup, and countless other iconic moments that are the fabric of American culture.
The PR industry has a diversity problem. Have you seen this improve since you first began your career?
There is still a diversity problem. I am often one of the only, if not the only, person of color in the room at any given time. What is dangerous about this is that the lack of representation leads to the creation of content and media that does not portray us as part of the cultural fabric of this country—and we absolutely are. We have to get to a place where this is  unacceptable. Now more than ever, it is critical to have true diversity in creative meetings and board rooms so that the content that goes out into the world reflects what America actually looks like in 2018. This is good for business, not to mention that it is the right thing to do for our society.
I would encourage PR firms and in-house teams to create pipelines for incoming talent and to begin outreach and recruitment efforts that tap bright minds of diverse backgrounds. This is a creative field at its core, and without the variety of thought, of experience, and of point of view in a room, how creative could you possibly be? As an industry, we need to get out of our own way and begin to actively promote ourselves as an interesting and dynamic career choice for rising stars coming into the workforce.
When did you join the Hispanic Public Relations Association? What motivated you to join its board?
I am fortunate to be on the national board of directors for the Hispanic Public Relations Association (HPRA), since 2017. HPRA has a rich history of advocating for Hispanic public relations professionals and the Hispanic marketplace, which is critically needed in this discipline. My mission at HPRA is to push Latino communications professionals into the conversation both among other Latinos in business and among PR professionals who are not Latino.
Who were some of your mentors or people you looked up to?
I have had the incredibly good fortune of working for some of the most brilliant Latina executives in the field—a fact that has made me able to envision myself becoming a leader in this industry because there is someone who looks like me who is already shattering the ceiling.  People like Virginia Sanchez at Diageo, Melisa Tezanos at PepsiCo, and now Ruth Gaviria at Univision and also at Entercom have set an example of what exemplary Latina leadership could and should look like.
What advice do you have for up-and-coming Latinas in PR and communications?
Communications and public relations is a dynamic field, one in which you will never have the same day twice and the challenges will be plentiful and rewarding.
My advice is to be vocal about where you want to drive your career. Nobody is responsible for your career trajectory except you. It is incumbent upon you to raise your hand for new responsibilities, to speak up in meetings and provide your point of view, to stay connected with your managers and mentors, and to continue to advocate for yourself and where you want to go next so that you are top of mind when those opportunities arise. Just working hard alone will not get you to the next level. You must be your own PR team!
---