The Alumni Society Remembers Lisa Garcia Quiroz
The former Alumni Society board member and Time Warner's first chief diversity officer Lisa Garcia Quiroz devoted to strengthening and advancing the Hispanic community across industries
---
By Frannie Sprouls
---
Lisa Garcia Quiroz, a former founding Alumni Society advisory board member, passed away on March 16, 2018, after a sixteen-month battle with pancreatic cancer. On behalf of The Alumni Society staff, advisory board, and our entire Society familia, we mourn the passing of Garcia Quiroz and extend the deepest condolences to her family.
"Lisa was a trailblazer and an incredibly generous, kind person. Her willingness to help us get The Alumni Society off the ground is just one of the multitude of examples in her career of giving back and helping others and our community advance," says Pedro A. Guerrero, CEO of The Alumni Society.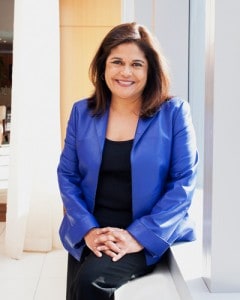 On March 20, the Harvard Kennedy School announced the creation of a graduate student fellowship in honor of Garcia Quiroz. This fellowship is designed for emerging student leaders at the school with a strong commitment to the Latino community. The lead donor is Time Warner Inc., where she served as the senior vice president and chief diversity officer of Time Warner Inc. and president of the Time Warner Foundation.
"We had the great good fortune to discover Lisa several years ago, and she fast became a wonderful partner for our Center," said David Gergen, director of the school's Center for Public Leadership (CPL), in a Business Wire release about the fellowship. "She worked tirelessly with us to strengthen the leadership development of Hispanic students and others devoted to that community."
As chief diversity officer, Garcia Quiroz tied Time Warner's diversity and corporate social responsibility efforts to the company's business goals. She ensured that Time Warner's investments in people, community, and content were reflective of a leading media company where the best talent can thrive and advance, and its content resonates with increasingly diverse audiences both domestically and globally.
Ricardo Anzuldua, the founding board member of The Alumni Society and former MetLife EVP and General Counsel, only met Garcia Quiroz a few years ago. This was despite their shared Harvard legacy and the strong advice of many friends that Garcia Quiroz was a font of passion and wisdom, he says.
"From our first meeting, Lisa was a tough, no-nonsense advocate for our community and an instant source of intellectual power and support, new ideas, and constructive criticism—and at the same time, a warm, supportive friend," Anzuldua says. "In our every conversation, she repeated that first impression—a woman of great passion, great ideas, great drive, and great love. I will miss her dearly. Watch over us, Lisa; we still need you."
Before joining Time Warner's corporate division, Garcia Quiroz worked at Time Inc., where she launched two publications that identified and successfully served new markets: People en Español and Time for Kids. As the founding publisher of People en Español, Garcia Quiroz helped the magazine grow to become the best-selling Hispanic magazine in the United States. Time for Kids, an award-winning classroom news magazine for elementary school kids, currently has a circulation of more than 3.5 million and has won numerous awards for its journalism and storytelling.
When Ed Rivera first met Garcia Quiroz as a twenty-eight-year-old, newly minted Harvard MBA graduate, she told him that "she hoped a career in publishing might allow her to have a positive social impact." "Twenty-eight years later, I want you to know you certainly did my dear friend," says Rivera, chief strategy officer at The Opes Group and advisory board member for The Alumni Society. "Lisa was certainly a giant among leaders from all backgrounds, and her passing is a monumental loss to our family."
Fellow Alumni Society advisory board members, Mick Lopez and David Guzmán, who also served with Garcia Quiroz, echoed Rivera. "Lisa was a great person, full of life, and always willing to assist others," Lopez says. "She will be greatly missed, especially in the Hispanic leadership community."
"She was a selfless, kind, trailblazing pioneer who set the bar high for all of us to continue," Guzmán says.
During her tenure at Time Warner's headquarters, the company's workforce efforts received significant accolades from organizations such as Catalyst for its development of women leaders, and the Human Rights Campaign for its leading efforts to foster an inclusive workplace. Today, Time Warner's overall workforce mirrors the country's demographics and is measurably engaged, productive, and happy.
"Talent is often hiding in plain sight, and as innovative companies we have to cast a wider net," Garcia Quiroz told The Alumni Society in 2016. "It's our mandate to seek talent in new places and expand our view of what stories are appealing to global audiences. That is how we move this industry and society forward."
Garcia Quiroz also refocused the company's philanthropic initiatives to align with Time Warner's diversity strategy and has invested in the discovery and cultivation of the next generation of storytellers. She served on the board of NuVoTV, formerly SiTV, a Latino-focused media venture in which Time Warner was a lead investor.
Active in civic issues, she was nominated by President Obama and confirmed by the United States Senate to serve on the board of the Corporation for National and Community Service. In 2014, the President named Garcia Quiroz Chairperson of the CNCS board. Her prior civic service includes appointments by then-Mayor Michael Bloomberg to serve on the New York City Commission on Human Rights and as cochair of the NYC Latino Media and Entertainment Commission. She served as vice-chairperson of the board of the Hispanic Scholarship Fund and on the boards of the Public Theater and the Apollo Theater in New York City.
Garcia Quiroz was born and raised in New York City and received both her undergraduate degree and master's in business administration from Harvard University. She is survived by her husband, Guy, and their son William; her mother Neida Quiroz; her father Armando Quiroz and his wife Irene; her brother Mark and wife Vicki Quiroz; her sister Noreen and husband Jim Mcleary; and her extended family.