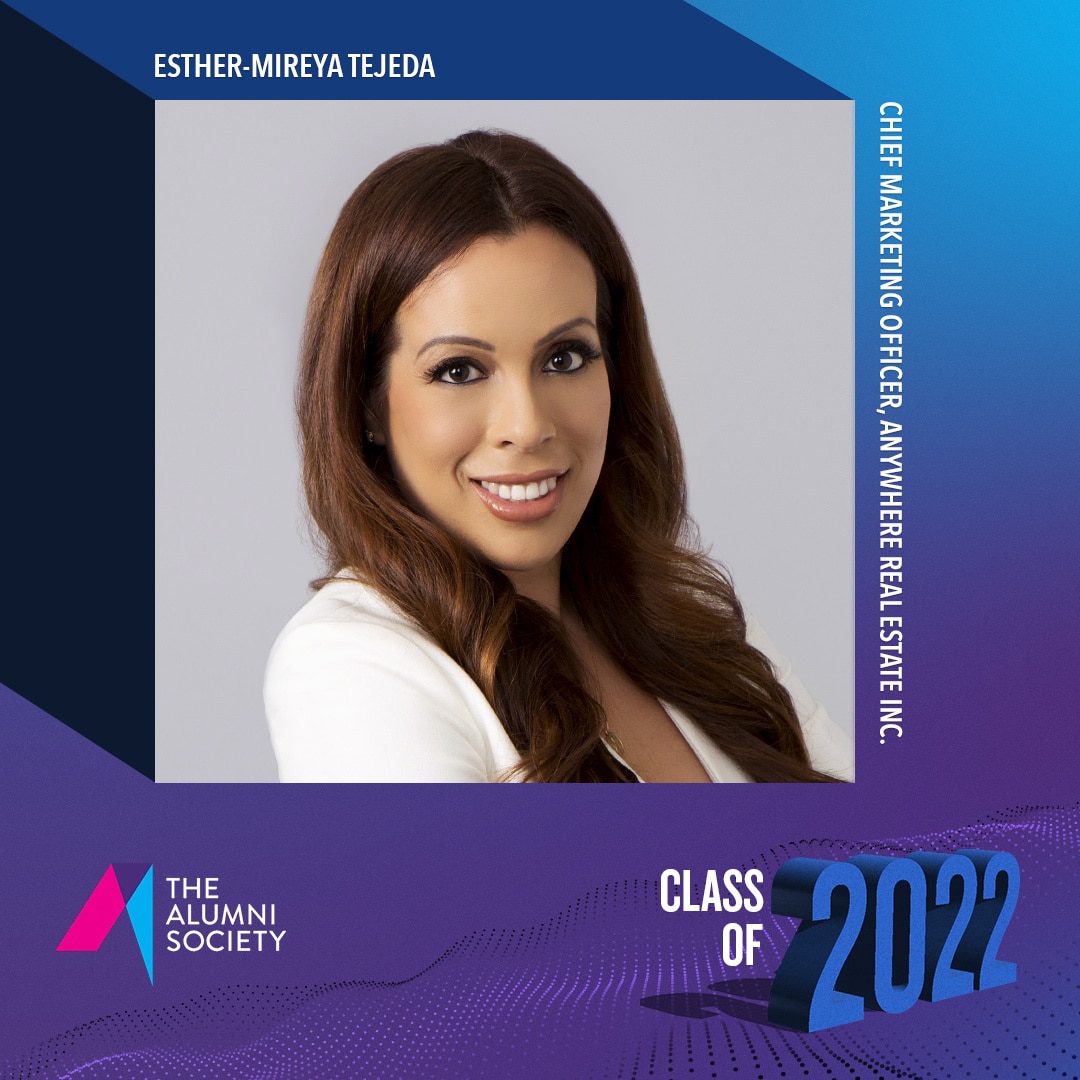 By: Billy Yost
Esther-Mireya Tejeda is the chief marketing officer at Anywhere Real Estate. In her role, Tejeda impacts Latino talent from a number of different perspectives. The CMO has more award nods that can fit in here, and both her experience and reputation "shatter ceilings and break down barriers."
It's the kind of language you'd expect from a native New Yorker, and it's no wonder why Tejeda has been able to make such a significant impact throughout the course of her career. Tejeda speaks to The Alumni Society about her "Latina Superpowers."
Could you talk about some of the experience, both personal and professional, that has helped impact you as a leader and performer in your space?
Over the past few years, our collective understanding of true leadership has evolved significantly, and leaders have been put to the test under the most challenging circumstances of our lifetime. Part of what has been crystallized is that before any other title—colleague, coworker, manager, supervisor, leader—we are people. Leaders that have risen to the occasion are those that value trust, connection, and inspiration in a real way.
I have been in the business of marketing for over two decades, and in those years, I have been fortunate to work with and learn from some brilliant, powerful, and inspirational leaders. What made each of them so spectacular was a leadership style that was definitively people-first without compromising on results. What I know now is that those leaders were ahead of the curve, bringing empathy and compassion to the table well before it was considered a best practice.
Today, in my role as CMO at Anywhere, I take a holistic approach to the business. While we are relentlessly focused on goals, I am also focused on the people who are hard at work bringing the vision to life and the people for whom we are building it. At Anywhere, we are endeavoring to transform how people become homeowners. Through smart technology, a simplified process, and a more integrated approach, we believe we can make the dream of home ownership a possibility for more families across the country. This is meaningful work that I believe will have a tremendous impact on future generations, especially for Latino families and other families of color.
But this work is not possible without the collective effort of the team. Connecting their effort to the impact that they are making in the world is an important way to inspire others and to value their contributions. Giving people the space to take risks, have big ideas, make mistakes, and change course is how we get to greatness, and all of this happens in environments with trusted leaders who have built genuine connections with their teams.
How does your ethnicity and heritage help you be successful?
Part of what I bring to the table besides the expected mix of credentials, expertise, and leadership is a very rich diversity of lived experience that comes out of being a Latina from New York City. Having grown up bilingual and bicultural means that I have been exposed to and understand twice as many perspectives. It means that I am adept at looking at problems that need solutions from at least two angles, if not more. And it also means that I have been exercising flexible thinking and an inclusive approach all of my life. This is the gift of being Latino in the US and one that we earn by navigating through two different worlds simultaneously every single day. It is a badge of honor and a superpower.
The Latino superpower is especially meaningful in the business of marketing. At its core, smart marketing is about building true and genuine connections with people. It is about understanding their interests, motivations, and perspectives, and delivering solutions that make sense to them. As the US continues to grow more diverse with each generation, building pipelines of marketing talent that reflect the country and its people is the only way forward. Having the diversity of lived experience and perspective is a richness that benefits every organization, and especially elevates the power and connectivity of good marketing.
Approaching my work as a marketer with the wide-lens view that is endemic to being Latina has been a strength that I have tapped into for the past two decades.
Could you talk about some of the D&I initiatives you're working on in your new role at AnywheRE (if any) and what those have looked like from your perspective?
Inclusive leadership is core to my approach to business. I have had the tremendous fortune of working for Latina leaders during critical points in my career, and tapping into their support, guidance and mentorship as I shaped my professional journey and navigated through some tough terrain. And now, it's my turn to do the same for others.
Part of the business of leadership is paying it forward, and I believe the biggest job that I have—far greater than being a CMO—is using my seat at the table to bring others along. As I often say, I was invited to the dinner party and I brought some chairs.
Currently at Anywhere, I sit on the advisory board for the Diversity, Equity and Inclusion Council. I am also the executive sponsor for the Women in Product & Technology group. In a less formal capacity, I exercise an open-door policy and offer my time and insights to young professionals who are looking for guidance. I make it my mission to advocate for diversity as a business imperative and champion young leaders of color however and whenever the opportunity arises. These are some of the ways that I tap into my sphere of influence to effect change and build pathways for others coming up in the ranks behind me.
I believe in aligning career goals with a greater purpose, and for me, that purpose is shattering ceilings, breaking down barriers, and taking down walls that have historically kept others from reaching their full potential. As a Latina in the C-suite, I want to represent what is possible for younger Latinas and women of color, to leave behind a beaten path for them to follow, to make my work count for something, and to leave things in a better place, if only slightly, for my daughter and all the daughters growing up in today's world.
What is next for you, your profession, and your industry?
In July, I was tapped to join Anywhere Real Estate Inc. as the company's first enterprise-wide chief marketing officer. As the global leader in residential real estate, Anywhere is home to some of the most recognized names in real estate: Better Homes and Gardens Real Estate, CENTURY 21, Coldwell Banker, Coldwell Banker Commercial, Corcoran, ERA, and Sotheby's International Realty. We operate franchise, brokerage, relocation, and title businesses as well as a mortgage joint venture and we supported about 1.5 million home transactions in 2021 alone.
In this new role, I am charged with setting Anywhere's portfolio marketing strategy and leveraging its scale to deliver maximum value for consumers, agents, and brokers. I am hard at work architecting the company's enterprise marketing function and building an integrated approach to brand strategy, customer science and research, creative and design, product and consumer marketing, digital performance marketing, and marketing revenue operations. And, I am leading the charge to digitize the company's marketing operation and build best-in-class marketing technology stacks.
Like many industries, residential real estate is experiencing significant change as our attitudes about home and home ownership have shifted in the past few years. For a lot of families, buying a home is the single biggest investment they will ever make—and sometimes also the most stressful. At Anywhere, we are endeavoring to transform the home buying and selling experience for families across the United States, making the process more simple for everyone. We believe we can do that with smart technology and a much more integrated approach that makes it easier from beginning to end. I am excited by this work, and about being part of the bigger mission to make the dream of home ownership a reality for many more families in communities across the country.
Finally, how do you relax?
I find balance by sharing with my vibrant and curious four-year-old daughter, Valentina. It is both relaxing and inspiring to see the world through the unencumbered lens of a child, and Valentina and I often spend time having conversations together that are equal parts amusing and thought-provoking. If not spending time with my preschooler, I am a trained pianist and relax by listening to and playing music—sometimes very loudly—at home.
Connect with Esther-Mireya Tejeda on LinkedIn.