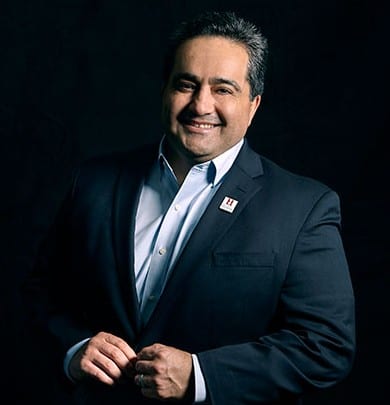 President & CEO | Hispanic Scholarship Fund
---
HARVARD UNIVERSITY
---
By Zach Baliva // Photography by Nicol Blesek
It was Christmastime in 1987, and Fidel Vargas was stranded. The oldest of eight children from Baldwin Park, California, was a freshman at Harvard University, and he had no way to get home from Boston, Massachusetts.
Until he received an envelope in the mail.
He opened it to discover a $1,000 check from the Hispanic Scholarship Fund (HSF).
Vargas used part of that money to buy a ticket back home. It was a moment he'd never forget. "I looked up at the sky and decided that if I ever got the chance, I would give back, like someone had given to me," he says. He felt empowered—not just because he could take a break from his studies and see his family for the holiday, but because an organization believed in him.
The HSF didn't send the money to a trustee, a parent, or an advisor—it sent the money directly to him. "There was a real sense of responsibility because I knew there was a group of people invested in me. I knew they cared," Vargas remembers.
Vargas learned the value of education from his parents, who came to the United States from Mexico in the 1960s, worked humble jobs, became citizens, and encouraged their children to pursue
higher education.
Vargas earned a social studies degree and a master's degree in business at Harvard University before working in private equity. As soon as he was able, Vargas donated money to the HSF. In 2010, he jumped at the chance to join the nonprofit's board of directors.
In 2012, when the group's previous CEO retired, Vargas faced a turning point. He had just raised and invested $1 billion, and his fund was doing well, but he also remembered his loyalty to the HSF. He recalled his vow to give back and help others. And he knew he could leverage his unique skills and expertise to take the organization to the next level of its development. He decided to step up.
As CEO, Vargas has focused on building the technology infrastructure the organization needed to scale its reach of programs, information, and resources. "We need to be a source not just for students, but also for the parents who help them prepare, plan, and pay for college," he says. At the heart of the organization's website is MyHSF, which allows users to create a profile if they are applying for a scholarship. To date, HSF has more than 575,000 profiles, and 124,000 Latino students applied for scholarships in 2015.
Today, the fund has awarded more than $500,000,000 to more than 65,000 students, including US treasurer Rosa Gumataotao Rios and American Civil Liberties Union director Anthony Romero.
After spending his first three years as CEO installing a robust infrastructure, Vargas is turning his attention to raising awareness. A $417 million grant from the Bill & Melinda Gates Foundation will help; HSF will administer a new Gates scholarship program that targets low-income students from other minority groups.
With tuition on the rise and the US Supreme Court still determining the fate of affirmative action for college admissions, private scholarship funding is becoming increasingly important for minority students. "Many Latino families are middle class, which means they don't qualify for financial aid, but they can't afford selective colleges," says Vargas. "However, they often remain unaware of other options." Several institutions like Harvard, Stanford University, and the University of Chicago, for example, offer full scholarships for students whose families earn less than $65,000 per year.
The HSF encourages all students to fill out the Free Application for Federal Student Aid to access federal and state aid, regardless of income. Since 93 percent of Latinos under the age of eighteen are US citizens, they qualify for this assistance.
Vargas says it's important for groups like his to change the perception of the Latino student. "When I ask people the ratio of Asian American to Latino students, most think there are three times as many Asians, but the reverse is true," he says, adding that the Latino dropout rate has fallen from 32 to 15 percent. "Perception impacts action," Vargas says. "If you're a young Latino in middle school, and you think no Latinos go to college, you accept that as your destiny." HSF is trying to drive a new perception home: Latino students in the United States are in charge of their own destinies, and there are no limits to what they can achieve.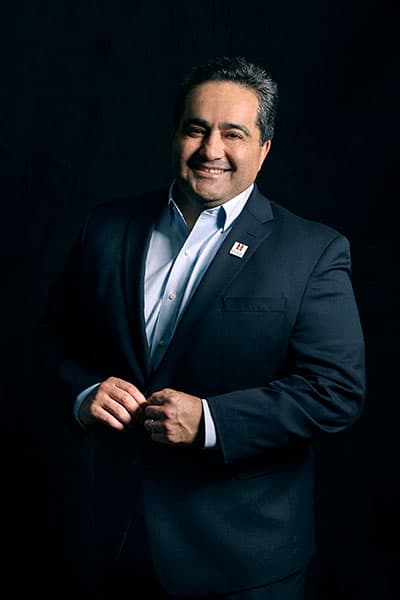 [kleo_gap]
---
"Changing lives of unforeseen generations, one life at a time. The impact that Fidel makes is exponential: one leads to two, two leads to four and so on.Inspirador!"—Victor Arias
---