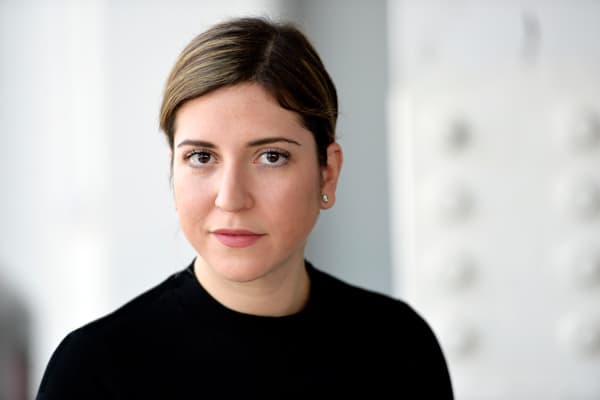 Francesca de Quesada Covey has seen the evolution of the small-business owner firsthand. As a child, she sat on her grandfather's lap as he picked up a pen and paper and went line by line through his business' accounts.
"I saw how hard my grandparents worked," she says. "They came to the US from Cuba with nothing, and they were still able to build a great life for themselves."
Now, de Quesada Covey has the opportunity to help today's small business owners via her position at one of the world's most influential companies: Facebook. There, as the head of jobs and services partnerships, she works closely with the company's product development team to launch digital tools that these businesses can use to expand their footprint in a world that's becoming increasingly focused on technology.
"The opportunity to work with local businesses is really exciting. I believe in the promise that the online world can bring them to connect with existing and new customers," she says. "Facebook is one of the best platforms to really think through the opportunity. We give entrepreneurs tools that help them grow their businesses for free, like our new jobs tool."
De Quesada Covey's work has been built around fostering connections and economic growth opportunities, as her previous role was working with President Barack Obama's administration to help enable more avenues for the American public to engage with policy makers.
In an interview with The Alumni Society, de Quesada Covey discusses how her previous work informs her current strategies, and just why it's so important for small businesses to make their way online.
How would you frame your position in regard to Facebook's overall mission?
Facebook's mission is to build community. On the local team, we're focused on enhancing the ways people interact with businesses, especially small businesses who are the backbone of our economy. We want to help facilitate those interactions so they're more effortless and also done in a manner that's consistent with what you want to see and experience.
What appealed to you about the position in particular?
This position resonated with me because it's about tools and products that small and midsize businesses (SMBs) can use to grow their own ideas. I love that we can fuel growth for these companies, who at the end of the day are run by people who are the pillars of our communities.
You previously worked within the Obama administration. How would you say that experience continues to impact your current work?
My work in the Obama administration was really to facilitate that conversation between the American public and the policy makers, which is very similar to the work that I'm doing now. Here, I facilitate the dialogue between developers and business owners and the product and engineering teams, working to ensure that the feedback we're getting from the community is always on the minds of the teams that are building these innovative solutions on our platform.
What are some big successes you've had so far?
We know that finding the right talent can be a challenge. Forty percent of US small businesses report that filling jobs was more difficult than they expected, which is surprising when you consider that these small businesses also employ nearly half of the country's workforce. Our jobs tools helps people find the best jobs, and businesses hire the right employees. This year, we expanded this product and launched it to more than forty international markets.
Facebook also owns Instagram, WhatsApp, and other popular apps. What are some cross-platform strategies you're embracing?
We think of Facebook as a family of apps, and we're trying to create a holistic vision for how businesses can engage across our platforms. Everything we are doing at the moment is really about weaving those opportunities together to discover ways we can surface the right information on the right channel for people. We're very early in the process, but we'd really like users to see Facebook not as the blue app that everyone knows, but really as this large and diverse family that allows you to connect in the ways you want to connect with the audience that you want to connect with.
So how does an app like Instagram factor into your mission within Facebook?
We see that Instagram has a really high adoption percentage among local businesses. Earlier this year, we did a small announcement about how we're now making it possible for users to book appointments at restaurants, salons, and other small businesses via Instagram directly.
What specific challenges do you face in these pursuits? How have you overcome them?
There's always a balance of making sure that we're moving quickly but also thoughtfully. Facebook is a company that is laser-focused on impact, so we have to be really deliberative in our ability to move fast and scale quickly while also making sure that we have a really steady cadence with our external partners.
Is it difficult to always keep up with evolving technologies?
Definitely. But the amazing thing about working at Facebook, is that your colleagues are so smart and so dedicated to the mission. They're building such amazing things. Sometimes, I just sit back and think, "We're living in the future."
What is your big idea that other people aren't thinking about? Why is it so important?
Small businesses account for 90 percent of businesses globally, and a lot of people are thinking about the ways that you can bring them online. The businesses that are going to succeed in the future are the ones that really think with a tech and digital mind-set first, that are thinking about how they can implement technology to create better experiences for their customers and employees.
I'm not talking about digital businesses or unicorns. I'm talking about the mom and pop shops, the ones in Guatemala or Colombia or Brazil where, right now, it's still pen and paper. At Facebook, we're not just building the tools to get them online, but also doubling down on the digital education. Education is key to all of our work and projects. I am excited to see some new partnerships come online in the near term where we increase these efforts.