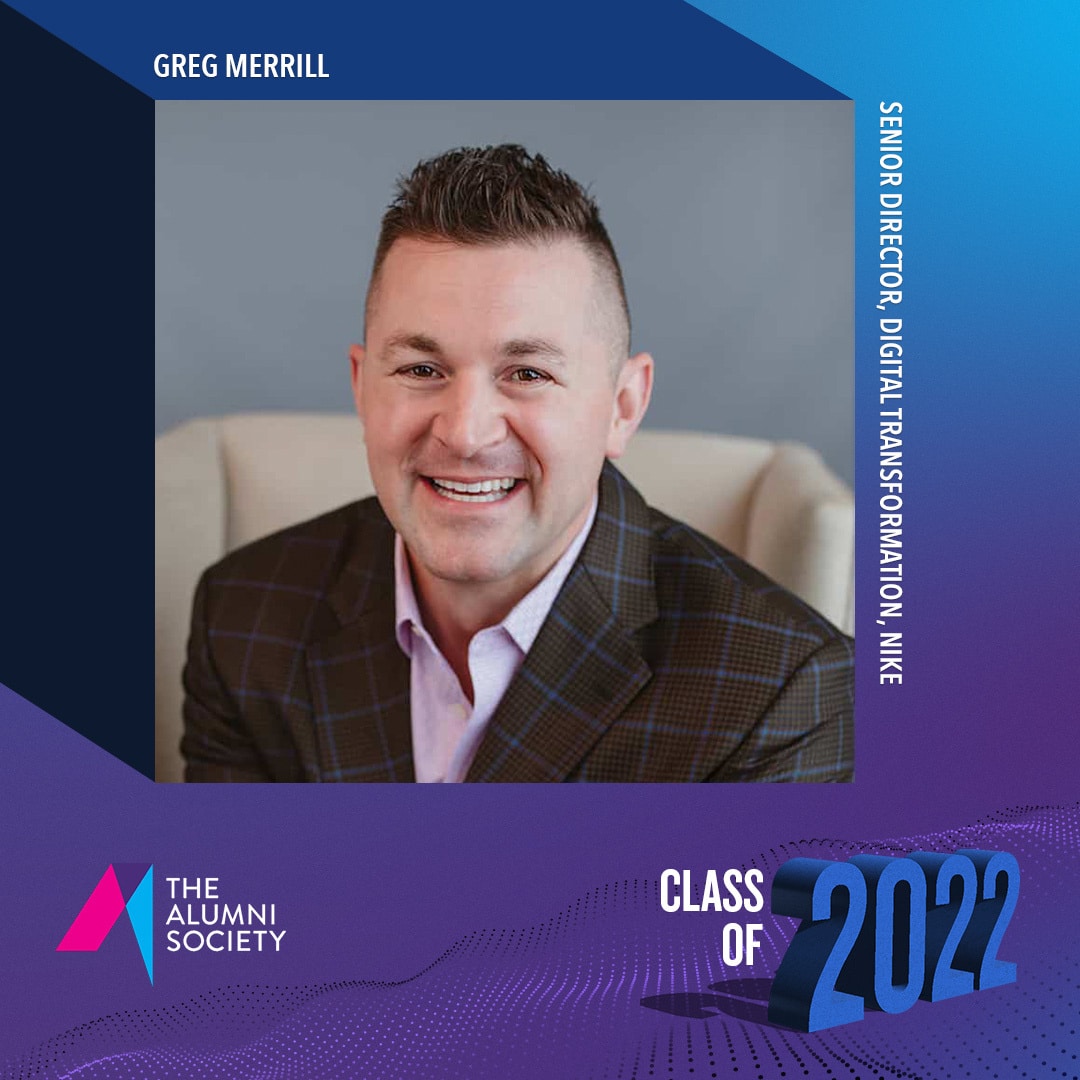 By: Zach Baliva
Some people have called Greg Merrill a trailblazer. He leads teams that drive critical digital initiatives behind an iconic company's future growth. But Merrill says his past informs how he leads and operates. He's keenly aware of the many family members, friends, and mentors who have sacrificed to give him opportunity. Merrill shares with The Alumni Society how he hopes to do the same for his own three girls and the others he encounters on his journey.
Could you talk about some of the experience, both personal and professional, that has helped impact you as a leader and performer in your space?
Right after graduating with my MBA from Johns Hopkins University, I cofounded my first of three companies that would span the next decade. The lessons I learned during that time will always stay with me. The grit, perseverance, and resourcefulness (or scrappiness) I developed through those experiences have paid dividends and factor heavily into my success now growing within Nike for the past seven years. I see myself as an entrepreneur turned intrapreneur, and my extensive experience in the start-up and VC world is incredibly valuable as I navigate a large company.
Growing up, I spent my summers in my father's hometown of San Miguel de Allende, Mexico, where my family has deep roots. My father was the only one from his family that left, so we would go back and spend as much time there as possible. Having this connection to my familia and growing up in a blended Mexican American family has contributed to my perspective on empathy. We all have different journeys that brought us too today. Honoring and appreciating the experiences of others are the root of empathy and serve as the foundation for my leadership style.
My father served in the military, which meant we moved around frequently. While I didn't appreciate it as a child, I look back now and see that my ability now to drop into new and unfamiliar settings and quickly establish myself with relationships built on mutual trust and respect was born through this adversity.
There's always time to dance: Even toward the end of her life and up until her untimely death at seventy-six years young, my Lita Yaya (abuelita) would go out dancing every Thursday night in her hometown of San Miguel de Allende. As a father and leader at work, I build fun and enjoyment in as often as possible. Life is short, and beautiful, and it's important to take the time to enjoy the little things.
How does your ethnicity and heritage help you be successful?
I'm a proud Chicano on my father's side with family roots in San Miguel de Allende.
Honor your past, build for the future. In San Miguel de Allende, there is a large church, La Parroquia, in the central town square. In the late 1800s my ancestor, Zeferino Gutiérrez Muñoz, was the master mason that rebuilt the church to what it is today. Over a century after completion, Zeferino's work on La Parroquia is still widely admired as a marvel of beauty. Memories like this serve as daily reminders to me that we are products of immense luck and crazy hard work put in by so many ancestors that came before us. The best way I can think to honor these individuals and their hard work and sacrifices is by building a future we can all be proud of. While the world can feel so heavy these days, I strive to be one of the good ones tackling the issues we face in pursuit of a better future for all.
Nothing is given, only earned. My extended family taught me early on that hard work is the foundation of success. Coming from humble beginnings and armed with immense dreams and aspirations, the only way forward was through consistency and hard work.
Commitment to community. My Lita Yaya was a member of the Otomi tribe and instilled in me the power of community. Only together may we overcome the biggest challenges we collectively face. I make the decision each and every day to show up for my family, friends, and teammates. Professionally, my dedication is to our united mission and my commitment is to my teammates that show up each day. It's my dedication and commitment to the team that gets me out of bed each morning.
Could you talk about some of the D&I initiatives you're working on in your role at Nike and what those have looked like from your perspective? 
I serve as a member of Nike's Global Technology DEI Council, where we are creating the equitable playing field of the future for more than eight thousand teammates. One notable initiative the team is driving is the de-biasing of our tech stack, focused on removing outdated, harmful, and biased language from our tech stacks to create a more inclusive environment.
Additionally, I serve as an executive advisor to Nike's LAFN (Latino American & Friends) ERG group. Most of my work with LAFN focuses on our career pillar where we work to develop our community members focused on movement and promotion. To best develop and retain our Latinx teammates we must ensure access to a wide range of experiences and roles as well as growth through more senior roles.
What kind of work have you done to pave the way to develop future leaders, and what importance do you place on doing this work?
I'm committed to actively building a more equitable future and am a proud member of various Latinx and diversity, equity, and inclusion groups and committees, including Nike's LAFN ERG and The Alumni Society. Every day I show up with the courage to lead from the front and pull others alongside me. Leading from the front allows me to remove obstacles so that others can succeed and accelerate faster than me.
On a weekly basis I coach and mentor folks within Nike and through various start-up accelerators focused on supporting and developing the next generation of women and BIPOC (Black and Indigenous people of color) leaders. My unique blend of both start-up and corporate leadership experience provides me a well-rounded perspective that has been valuable in supporting folks as they navigate personal development and career growth.
I'm a huge advocate for diversity in representation, and beyond coaching I actively look to bring under-represented folks into positions of power with decision making authority. I am proactive in bringing junior teammates to leadership meetings and inviting them to contribute. I want my teammates to not only see that they are capable, but that they're valued as well. This diversity in representation and inclusivity is the only way to progress. It's not just the right thing to do, it's good for business too.
This work is immensely critical and it's a team sport—we need everyone to participate. I'm mindful of those that supported me along my journey. None of us got here on our own; we stand on the shoulders of giants. And, as a dad of three multiracial girls, my work is so they are positioned to break barriers that we can't even fathom today.
What is next for you, your profession, and your industry?
My future is brimming with growth, impact, and leading large teams to do meaningful work. My personal mantra is "building a better future for all through human transformation, digital innovation, and empathetic leadership." My goal is to have a positive impact on the world and society with work and leadership serving as my tools.
I lead digital transformation at Nike, and the future of transformation is strong and bright. Given the speed and complexity of change the world is facing today, the urgent need to re-engineer the foundation of a company is an existential consideration, and most companies are navigating some form of transformation. With this urgency comes opportunity, so I know my skills and experience are incredibly valuable for the foreseeable future and I'm excited to continue growing.
Sport is not going anywhere—the power of sport to connect and unite the world is massive, and Nike will continue to lead the world toward more access to and participation in sport. I believe the definition of sport will continue to expand and the importance of play on individual's wellness will drive further expansion of the industry.
Finally, how do you relax? 
With three young girls, I'm not really in the "relaxing" season of life right now. When I can get everyone to sit still for a few minutes, I love reading books on philosophy, lifting heavy weights, and watching thought-provoking movies. Oh, and traveling—I'm eager to get back to exploring the world soon.
Follow Greg Merrill on LinkedIn.