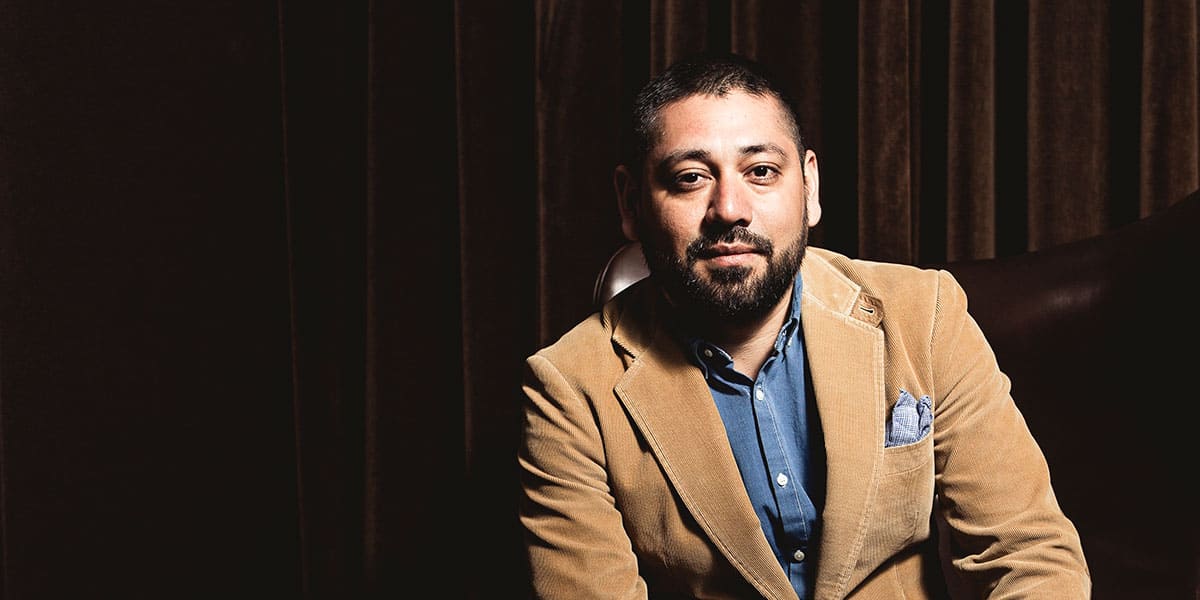 VP of Marketing  |  Verizon
---
COLUMBIA UNIVERSITY
---
If you ask, Javier Farfan will tell you life is good. He has a soon-to-be wife named Nathalie, a new baby, and a new job as vice president of marketing for Verizon.
In some ways, it's a happy ending. More accurately, though, it's a new beginning. "You know the movie TheMatrix?" he asks. "At the end, [the protagonist] sees everything more clearly. That's how I feel. I see life clearly."
The newfound clarity comes three years after Farfan's late wife succumbed to a four-year battle against breast cancer. In the wake of tragedy, Farfan sought—and found—a fresh start.
"When my wife passed away, I went through a reawakening," says Farfan, who joined Verizon in 2015 after a prestigious career working for Accenture, JPMorgan Chase, MTV, Microsoft, and PepsiCo. "I knew I needed a change in every aspect of my life, and that included my career."
It was not the first time Farfan has remade himself. Born and raised in New York City, he's the son of Ecuadorian immigrants who settled in West Harlem in the 1960s. He's had to constantly evolve and adapt to fit into the world around him. "I was part of an immigrant family in a predominantly African-American neighborhood, so I was different and unique from a very early age," recalls Farfan, whose individuality instilled in him a deep appreciation for diversity—and a deep appreciation for music. "Because of where I lived, I was exposed to every type of music you can imagine." When his mother had to work two jobs to support him, "music was my babysitter," he says. "It was my way of escaping. I used to wonder, 'How can I be part of that?'"
He became part of it while attending Binghamton University, where he had an educational awakening. "One of the guys I used to hang out with [in high school] passed away doing something stupid, like a lot of kids do in inner-city neighborhoods," Farfan says. "That inspired me to do something positive with my life." Farfan helped establish JUMP Nation, a nonprofit mentoring organization that puts inner-city youth into college pipelines. "Starting that organization, which is still operating 20 years later, was a turning point for me."
That path led him to graduate school at Columbia University, where he earned a master's degree in organizational psychology. He went to school full-time on a scholarship, but in the evenings he supported a group of friends who had started a hip-hop magazine. That was the medium through which he finally figured out how to be involved in the music world he had loved for so long: not by playing music, but by marketing it.
Being exposed to the promotional side of the music industry inspired Farfan to pursue an interest in business. He started a career as a management consultant in the media and entertainment practice at Accenture. He spent two years there before joining JPMorgan Chase as vice president of marketing. While there, he completed his MBA at New York University, then began plotting his debut into the music industry.
He met Herb Scannell, then the president of MTV Networks' family and adult networks, who eventually agreed to give Farfan a chance to work on Nickelodeon, Spike TV, and MTV. At the latter, Farfan was tapped to help launch a new television network targeting Hispanic consumers called MTV Tr3s.
Three years after he took on a similar marketing role at Microsoft, Farfan accepted a position as head of music, entertainment, and culture marketing at PepsiCo. There, working alongside spokespeople such as Beyoncé, Katy Perry, and Bruno Mars, his mission became to redefine PepsiCo's multicultural marketing efforts.
"I don't believe in 'multicultural' marketing because I think it marginalizes the ethnic experience in this country," Farfan explains. "Latin people don't just want 'Latin' things, but that's how people operate when you have a 'multicultural' marketing department." Instead, Farfan endeavored to rethink 'multicultural' marketing. "I call it 'cultural branding,' because it's about understanding consumers' culture." His approach is more about inclusivity and engagement.
Whatever its name, it was a job tailor-made for Farfan, who leveraged qualities like flexibility, persistence, and curiosity to turn his lifelong interest into a prolific career. The next chapter will be dedicated to connecting Verizon with Latinos and millennials.
"I got where I am in life by being open to everything and not limiting myself," Farfan says. "I've never been afraid to take risks because I don't think about failure; I just focus on having experiences." 
---
Words by Matt Alderton   //   Photography by Caleb Fox