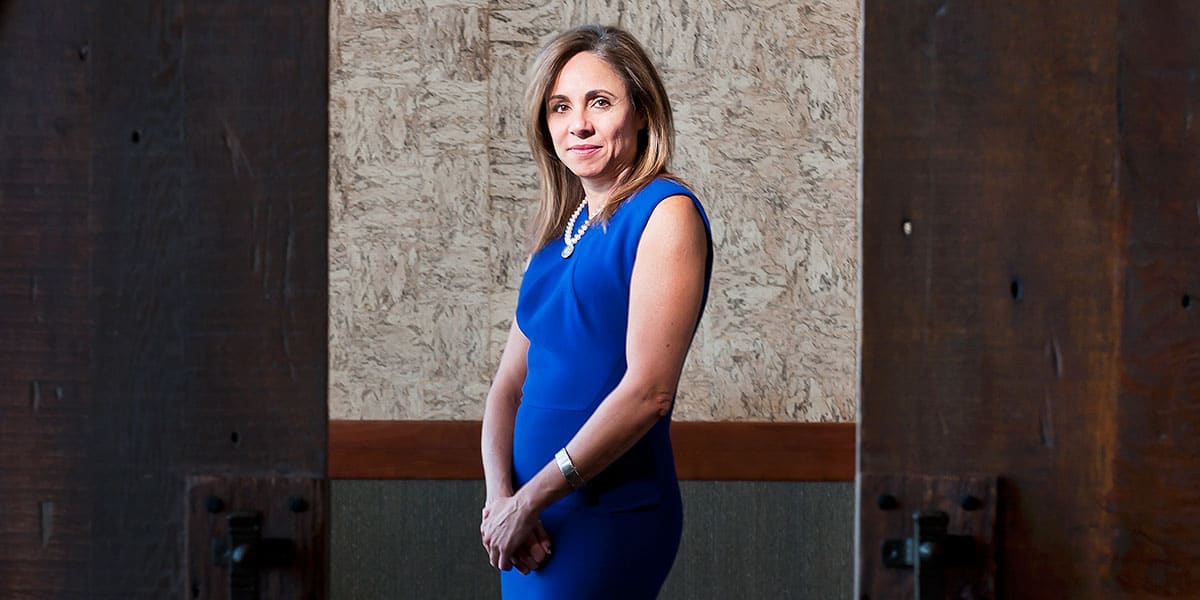 Chief Legal Officer & Corporate Secretary  |  DaVita HealthCare Partners Inc.
---
HARVARD UNIVERSITY
---
If a single word were to describe Kim Rivera, it would be "adaptable." The C-Suite attorney of the Fortune 500 firm DaVita HealthCare Partners dealt with more tragedy and responsibility before the age of 16 than most adults, but she didn't allow those obstacles to keep her from reaching her destination.
Orphaned as a teenager, Rivera says she had no context in which to envision what it would be like to attend Harvard, to be a lawyer, or to work for a corporation. She attended Duke University with the help of a friend's aunt, who provided guidance. While college education is a commitment of its own, Rivera had another responsibility that superseded her own ambitions: her younger sister, who also struggled with the absence of their parents and the lack of a definitive road map for success. The two not only adapted to accelerated adulthood, but to a culture vastly different from their childhood in Puerto Rico and Paraguay.
For young Hispanics, Rivera says, role models are scarce. After Duke, Rivera worked for a year at the Latin American Youth Center in Washington, DC, where she felt young role models were a hard-to-find asset for Hispanic children and teenagers.  At the youth center, the encouragement and affirmation she received from people who were only two to four years older than her and her peers made a huge difference. She went on to attend and graduate from Harvard Law School.
Her first job after Harvard was at Jones Day, one of the world's largest law firms, where Rivera was a courtroom attorney who did pro bono work on the side. She loved her career and could not imagine any other job, she says, until a friend suggested she would be a good fit as a business attorney.
Her career path turned to corporate law, where her first stop was at the Fortune 500 industrial robotics and software firm Rockwell Automation. Ever-adaptable, Rivera grew quickly in her role and in the business, becoming vice president of law and chief litigation counsel in her six years there.
After working for the Clorox Company, where she was in charge of the global compliance program and had oversight of international employment counseling and litigation, she decided she wanted to be the chief legal officer of a publicly traded company. The first opening that suited her needs was at DaVita HealthCare Partners.
Rivera says her favorite part of her job at DaVita is the variety, which, by any measure, is extensive. She oversees the company's legal staff and spends part of her time considering how to attract and retain the best legal team she can assemble. "That is one of the most important parts of my job—to make sure we have the right lawyers with the right skills at the right operations to help advance what the business does," she says. She also works on material pieces of litigation, material transactions, mergers and acquisitions, and negotiations with business partners.
With 2,179 outpatient dialysis centers serving 170,000 patients in the United States, and 91 centers in other countries, Rivera helps keep the Denver-based company in compliance with a preponderance of federal and state regulations. After merging with HealthCare Partners in November 2012, the company totals 65,000 employees, and Rivera is the company's voice on labor issues.
She believes DaVita is committed to its people-oriented mission. "It's a very cool company," she says. "It's got a very unique culture and a unique approach." She adds that she has an almost innate tendency to love her work. She has yet to find a job she wouldn't describe as something she loved to do.
Rivera notes that there is "no single blueprint" for a career path that ends with a seat in a corporate boardroom. Resilience is a key trait for anyone trying to make his/her way in the corporate world. "Having confidence in bringing a different perspective and voice matters," she adds. "There's huge value in that. Maybe [you feel] you don't have something unique to offer, but the truth is, almost everyone does."
---
Words by Anthony Hall   //   Photography by Chris Schneider