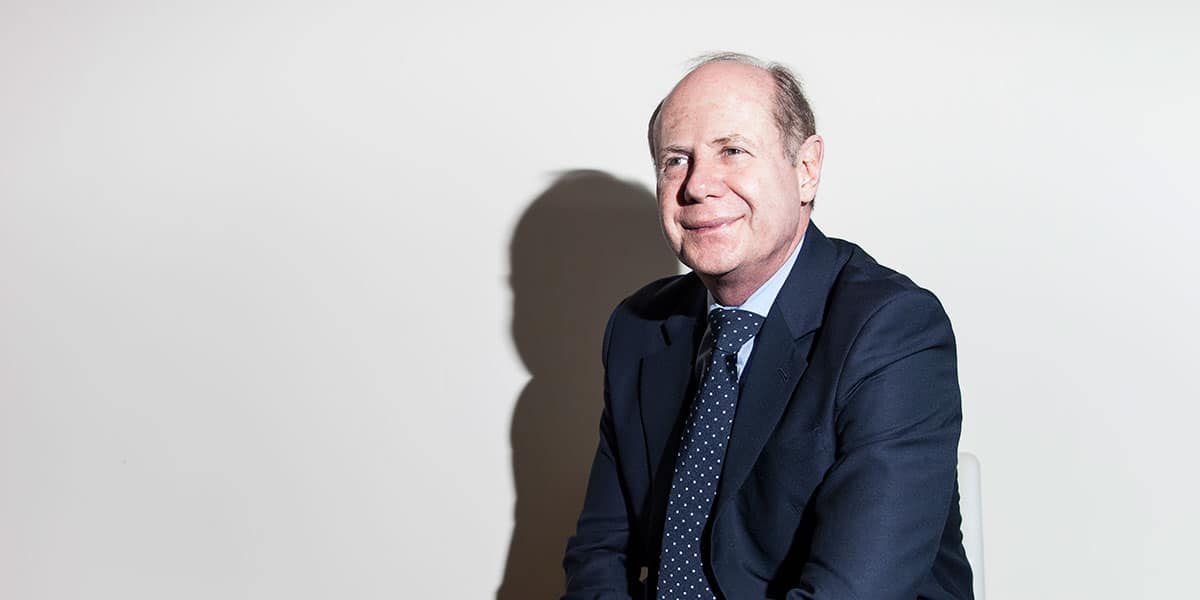 President & CEO  |  Asterias Biotherapeutics
---
UNIVERSITY OF PENNSYLVANIA
---
It's natural to assign a defined career path to the CEO of a company. But if he doesn't subscribe to such a notion, should anyone else?
"I don't believe that a grandiose vision for your career is critical," says Pedro Lichtinger, president and CEO of Asterias Biotherapeutics. "Visions evolve. When I was a student in engineering, the only thing I was sure of was that I didn't want to work as an engineer. And when I went for my MBA at Wharton, the only thing I was sure of was that I didn't want to go into finance, which is what most people did."
One thing Wharton did do for Lichtinger was change the scope of his thinking. He says pursuing his master's degree was the most important, transformative experience of his life: Wharton taught, nurtured, and connected Lichtinger in a way that altered his trajectory, his aspirations, and his capabilities.
It's that thinking—a professional approach more than an intended path—that has shaped Lichtinger's career.
If Lichtinger had a goal upon graduating from Wharton, it involved running one of the largest companies in his native Mexico. But opportunity presented itself elsewhere—specifically, in Brazil. Though some viewed the move as untenable—in 1979, Brazil was considered a "hardship country" by the corporate world—Lichtinger saw a chance to explore something different both culturally and professionally. "When I moved to Brazil, I moved to other areas of professional responsibility, too," he says. When he came back to the United States, he managed a research group, which dramatically increased his ability to understand how to manage people and teams. Taking functional risks and crossing functional roles proved important for Lichtinger, who believes that as you grow and advance within an organization, all functions converge.
Lichtinger fell in love with both health care and the opportunity to explore foreign cultures. Thus, when an opportunity surfaced with Pfizer in Belgium, he didn't hesitate. As he assumed responsibility for revenues and personnel that exceeded all but the most massive oil companies in Mexico, Lichtinger's understanding of his own career and why he pursued it became similarly expansive. "My dream was to make a difference in society," he says. "Health care enabled that dream."
Soon, New York became home for Lichtinger's multinational family (his wife is a native Brazilian, and his children, who hold Mexican, American, and Brazilian passports, were educated in the French-speaking schools of Belgium). When he moved on from Pfizer, Lichtinger realized he could help smaller American companies that had exciting science but needed help navigating the complex health-care landscape to deliver that science to patients.
Lichtinger's approach to senior leadership roles, both at Asterias and on the board of the Boys and Girls Clubs of America, reflects the global thinking that has shaped him. "One thing I focus on is maximizing the quality of your people and how to leverage what they're really strong at," Lichtinger says. Doing that means understanding how their backgrounds shape their expressions of their strengths. "People of different cultures participate and lead differently," he notes, adding that he insists on the need for interviewers who understand these differences. "You only achieve that when you have a pipeline of people of all colors, cultures, and genders in interviewing positions all the way up to the board."
Once that happens, opportunities abound. "In recent years, the number of Hispanics in leadership roles has blossomed. It used to be that if you were considered diverse, your goal was to become more mainstream—more white, Anglo-Saxon, and Protestant. But once you have corporations with diverse representation all the way up the board, corporations seek and value diversity."
Lichtinger appreciates the effect of that thinking in other areas, too: "The kids I work with at the Boys and Girls Clubs of America represent the less-privileged Hispanic kids in our country," he says. "It's incredible what attention, mentoring, and the right environment does for them. I strongly believe that we all have an inherent ability to succeed, given the right environment. Creating that has been a major part of my life, and, in many ways, the most rewarding." 
---
Words by Topher Bordeau   //   Photography by Sheila Barabad