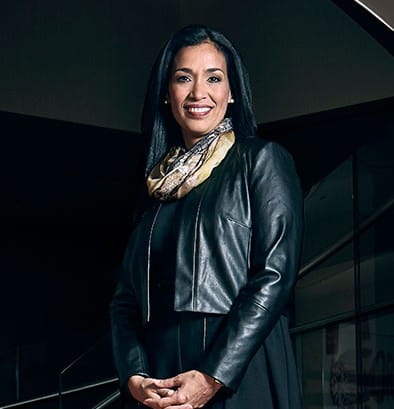 Chief Talent & Diversity Officer | Verizon
---
CORNELL UNIVERSITY | HARVARD UNIVERSITY
---
By Michelle Markelz // Photography by Ed Estrada
Years ago, Magda Yrizarry shuffled through the mail sent to her Cornell University address. On one delivery, she found her name written in a familiar hand-scrawled script that reminded her of home.
The undergraduate was further from her Brooklyn, New York, beginnings than her mother may have liked, but even as she ventured far from home, her supporters were determined to help her seize every opportunity. Those supporters included teachers, youth group leaders, and others—all ordinary people who took an extraordinary interest in Yrizarry's success. Some of them, like the women of the First Spanish Presbyterian Church of Brooklyn, sent envelopes stuffed with dollar bills.
A network indirectly helped Yrizarry reach her potential, and the effort was not lost on her. "This set of people was divinely—not by coincidence—placed in my life," says Yrizarry, who describes her journey to become Verizon's chief talent and diversity officer as anything but self-made.
Now a mother herself, Yrizarry can appreciate the circumstances her mother overcame at thirty-eight years old, when she was a young widow raising three children in New York City. "There were gang fights [in our neighborhood]," Yrizarry says. "We weren't sheltered from that reality, but we weren't defined by that condition, either, and that had everything to do with who my mother was." Her mother believed education would be an equalizer for her children—and the key to opportunities she never had.
Beyond the environment her mother nurtured at home, Yrizarry is aware of the impact left by so many others who defined how she saw the world and herself. Her Girl Scout troop leader, an Italian woman who bused into her Puerto Rican neighborhood for meetings, wasn't like Yrizarry in the traditional sense, "But she was like me in that she cared about other people, and she understood that her place in life was to serve others," she says.
At ASPIRA, a national Hispanic youth development program, Yrizarry learned the value of servant leadership and of writing her own measures of success. As she worked toward bachelor's and master's degrees at Cornell, she found in professor Stu Stein a mentor who went above and beyond to support her—even hosting her and her extended family when she graduated.
Yrizarry felt compelled to reciprocate the gestures made by those who contributed to her success. Though it wasn't apparent at first, Verizon became the platform from which she could give the most back to the communities that supported her education and career.
Yrizarry had been working to extend childhood education through the New York City Mission Society when she became a divorced single mother with a sick child. Her next move, she decided, would be to continue her work as an educator—until another way showed itself.
Yrizarry had worked closely with New York Telephone, a legacy Verizon company and the premier contributor to the educational initiative. When her counterpart there heard of her plans to leave the program, he suggested a corporate change.
"I was trained to be an advocate and social servant, not a corporate person," Yrizarry recalls, but she learned that the two were not mutually exclusive. As Verizon's manager of education relations, she picked up where she left off. She worked with former New York governor Mario Cuomo's administration and Verizon's Hispanic Support Organization. "It was a beautiful entry point for me," she says. "Twenty-six years later, I realize what I wanted to do on behalf of society and community, I could do from here probably better than anywhere else."
One of Yrizarry's responsibilities at Verizon is to ensure that the company's staff provides the right combination of ideas and perspectives to meet diverse customer needs. This task is important, she says, because homogeneous talent won't give Verizon the innovation and speed it needs. "Women and people of color are often labeled diverse, but everyone is diverse," she says. "We're working to make sure we never forget that."
Once Verizon has recruited its talent, getting 170,000 people to work toward the same goal is the next challenge. "That doesn't happen like magic," says Yrizarry, "but we have a credo that gives us a common language around what we do and how we do it." That credo expresses a commitment to valuing diversity—not just of ethnicity, but also of thought, and it relies on the basic but defining belief that every person has value.
"We've had a lot of change in our organization, and you have to make sure you reset the certain principles you believe to be important," she says. "As other things change, certain things don't: our core values and our credo."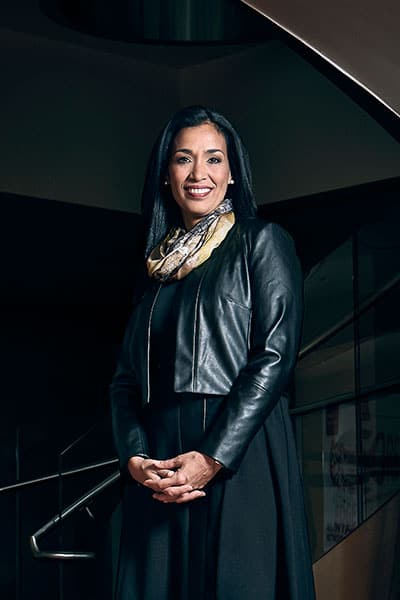 [kleo_gap]
---
"One of the greatest sources of motivation is the desire to repay those early supporters in your career, who took time and effort to assist you. Magda is clearly grateful for their trust and support and is actively passing it on to others."—Mick Lopez
---