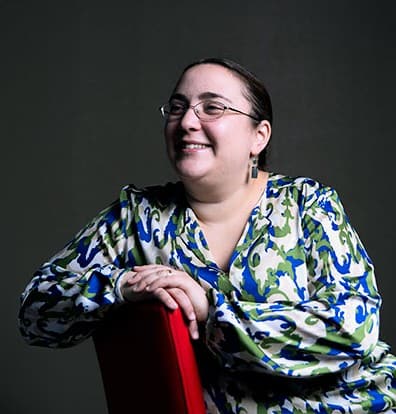 Chief Diversity Officer & General Counsel (Americas) | Barill
---
UNIVERSITY OF CHICAGO
---
By Alexandra Talty // Photography by Sheila Barabad
Talita Erickson doesn't see limits. She's a business school graduate who is fluent in three languages, can practice law in both the United States and Brazil, and holds two executive positions at an international corporation.
From her résumé alone, it's clear that Erickson has always been willing to push herself.
The businesswoman from Brazil moved to the United States for what was supposed to be a five-year assignment at Kraft in 2004. After receiving her master of laws degree from Loyola University and a master's degree in business from the University of Chicago, Erickson decided to settle in the United States. She joined Barilla in 2012.
Erickson finds it easy to continue developing leadership skills while in the workforce. Describing the company as "humble," Erickson says that people at Barilla are not afraid to make mistakes or be wrong. This day-to-day practice of humility makes it easier to be inclusive.
Erickson describes herself as a "professional student." She first discovered the idea of inclusive leadership at the Booth School of Business, where some of her classes were "life-changing." It was there that she learned the importance of working with people who are different.
In an effort to address the gender gap at Barilla's executive level, Erickson and her team took a unique approach in focusing on unconscious bias and targets rather than quotas.
Many business studies have shown that women usually take a larger share of the "office housework," which has a negative impact over the course of their careers.
With that in mind, the local US leadership team decided to implement a rotating secretary position that was assigned alphabetically. "It is a tiny thing that makes such a difference," says Erickson.
Since taking on the role of chief diversity officer, she's seen the number of women in leadership positions and in the leadership pipeline rise from 32 percent in 2014 to 41 percent in 2015. She also helped lead the company to participate in the Human Rights Campaign's Corporate Equality Index. Barilla received a perfect score of 100 in 2014 and 2015.
"Something is happening—it gets to a point that women are not getting the same opportunities," she says with a laugh. "It is not like all of a sudden, all the women we hired are less smart than we thought or less smart than the men."
She believes that the absence of women in executive roles is tied to the perception that men and masculine qualities are better suited for leadership opportunities.
"This is not because woman are not good leaders; this is because there are structural barriers to how people perceive leadership," Erickson says. "The same way women face unconscious and implicit bias, African Americans and Latinos face unconscious bias, as well." She adds that members of the LGBT community also experience this.
"When I got to the United States, I actually felt a little awkward checking the box as a Latina," recalls Erickson. Prior to moving to Chicago, the Brazilian never felt different because she was part of a majority. In Brazil, more families tend to be of blended ethnicities than in the United States, so race doesn't seem to have as much of an impact.
"I felt a little bad because I know I have a huge privilege—a huge privilege—because I look white," says Erickson. She believes that people are more accepting of her Portuguese accent, calling it "exotic" instead of judging her negatively for it.
She continues, "I have so many Latino friends from Mexico, from Puerto Rico, and I see all the stereotyping that happens when you don't look white or you have a Hispanic accent."
Erickson believes that many of these biases can be overcome with education.
Ultimately, she says, inclusive policies and education will drive revenue for a company.
Describing a recent Barilla partnership with Ingrid Hoffmann, a Colombian-American celebrity chef, she explains how Barilla launched a Latino Italian Fusion campaign, combining two family favorites—Latino flavors and spices with traditional Italian ingredients.
Barilla partnered with Hoffmann to develop delicious and unique recipes as part of a video series that perfectly captures el sazón Latino in reimagined pasta dishes.
"A lot of the time, companies don't even take the time to try and understand the diversity in their consumer base," says Erickson. "Companies that manage to do that do better. That is undisputed."