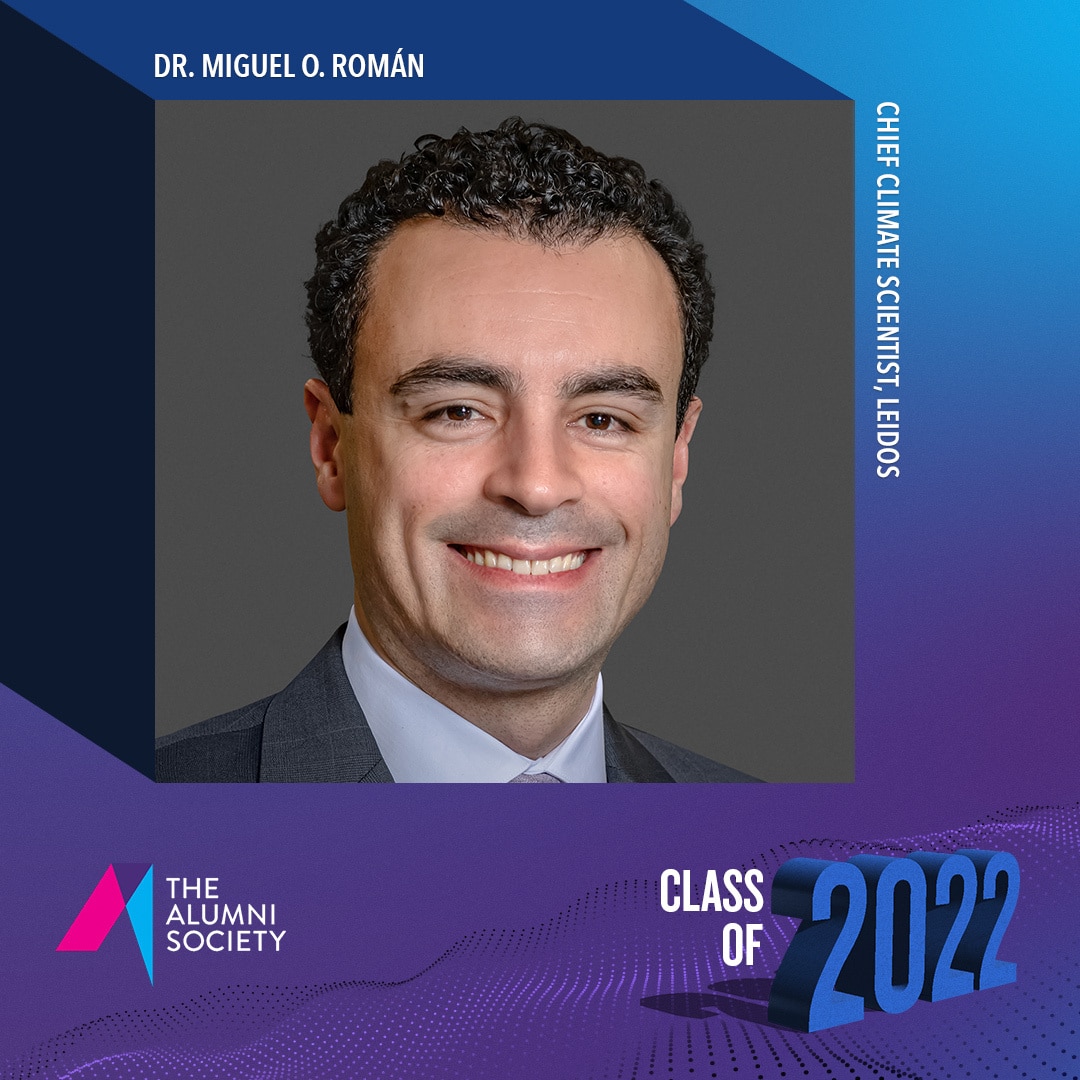 By: Zach Balvia
Dr. Miguel O. Román says business as usual is no longer enough. Hurricanes and other natural disasters are happening more often and making a bigger impact. He's dedicating this chapter of his distinguished career to developing a new response. He shares with The Alumni Society what drives him, and what's ahead.
Could you talk about some of the experience, both personal and professional, that has helped impact you as a leader and performer in your space?
As a child growing up in San Juan, Puerto Rico, I dreamed of being able to build things and launch them into space. I was fortunate to realize that dream when I joined NASA's Goddard Space Flight Center, and I continue to hold multiple leadership roles in the space community now at Leidos. I was also recently named the team leader of the Moderate Resolution Imaging Spectroradiometer (MODIS) science team for NASA's Terra and Aqua missions. MODIS is the Swiss army knife of NASA's Earth science satellite fleet. The instruments allow us to monitor all sorts of changes happening on our planet, including vegetation changes and surface albedo, sea surface temperature, cloud optical properties, snow and ice, and aerosols. They also provide timely and accurate insights about extreme events such as hurricanes, wildfires, floods, heat waves, and volcanoes. The missions have produced over 20,000 publications in peer review with an estimated 4.6 million unique users.
I have also pursued translational research activities at the intersection of science, technology, and society. For example, in 2019, I published a study that focused on the catastrophic damage to Puerto Rico's electrical grid after Hurricanes Maria. By combining satellite data products with advanced analytics, we estimated that Puerto Ricans lost an estimated 3.9 billion hours of access to electric power in the six months after Hurricane Maria. We also found that rural and disadvantaged communities accounted for 61 percent of power losses.
Hurricane Maria led to the largest power outage in US history and an estimated 4,645 deaths. To put that into context, that is about the same number of people who died on 9/11. If you asked any person of Puerto Rican descent, they likely know someone who passed away. These experiences have changed my perspective on climate-related risks and how they are recurring more frequently with greater cumulative impact. At Leidos, our mission is to make the world safer, healthier, and more efficient. Through our work, I will continue to ensure that communities across our nation—regardless of their race, income, territorial status, or political affiliation—can receive the help they deserve.
How does your ethnicity and heritage help you be successful?
People have mentioned that I am a very passionate leader, which I relate to my heritage. Passion is contagious, especially when it's rooted in purpose. I also find it interesting that nearly every colleague visiting Puerto Rico has come back with a similar realization. That Puerto Rico is not just a vacation destination but a place where communities are struggling yet welcoming, compassionate, kind-hearted, and gracious.
Could you talk about some of the D&I initiatives you're working on in your new role at Leidos and what those have looked like from your perspective? 
I am a member of our Hispano-Latinx Leidos Asociación (HoLA) employee resource group and have participated in various forums and events. The impassioned group of volunteers across our company is focused on providing resources to promote career and personal development, education, and peer-to-peer networks. At a national level, I am trying to earn the title of "Top Climate Scientist" afforded to me by The Alumni Society. I have recently taken on the role of science communicator, helping disseminate critical climate information to Hispanic audiences during times of crisis. Just this week, I joined five-time Emmy Award-Winning Meteorologist Deborah Martorell (from TeleOnce-Puerto Rico) to discuss our Leidos team's efforts to help speed up Puerto Rico's recovery following Hurricane Fiona.
What kind of work have you done to pave the way to develop future leaders, and what importance do you place on doing this work?
Our people are our greatest asset, so talent cultivation is very important at Leidos. I have had the privilege to mentor and sponsor dozens of scientists across the STEM pipeline, from undergraduate students to post-PhD and early career faculty. I have also advocated for the continued support of federally funded university research and support for higher education curriculum improvement programs, including NASA's Minority University Research and Education Project, which supported my education and graduate research.
What is next for you, your profession, and your industry?
Our nation must learn from previous events like Hurricane Maria, no matter how painful or traumatic they may be. If we're unclear about the scope of the problem posed by these events, we'll undershoot the solution. Continuing business as usual (when we treat disasters as individual events) is no longer enough.
Our team at Leidos is pursuing a multiyear initiative to develop and operationalize a new framework on Recurrent Acute Disasters (RADs). The idea behind this strategy is simple. Disasters such as hurricanes, floods, and wildfires are increasing in frequency, and many locations are experiencing repeated disasters. Each disaster can create legacy conditions that affect the outcome of the disasters that follow. Our research is helping to understand and predict these important legacies. Does it make sense to conduct a "blue-tarp" airborne survey of Puerto Rico after Hurricane Fiona, when there are rural communities that still have their blue tarps from FEMA installed from five years ago? What are we going to do now? Are we going to start changing the colors of the tarps so we can tell the difference between events?
And what about building damage? In the southern town of Guánica, which experienced a 6.2 magnitude earthquake back in 2020, roughly 17 percent of occupied housing units were already damaged or destroyed five years before by Hurricane Maria. Our team is leveraging various data sources and online tools to help tackle these system-wide issues, including satellite-derived data, improved modeling approaches, field-collected data, mobility tracking, and social media data.
The increase in recurrent disasters requires a change—if not a complete rethinking—of how we prepare for disasters, respond to emergencies, and plan for recovery. As the science of recurrent acute disasters advances, more accurate predictions and more effective preparations are possible. Understanding and preparing for recurrent acute disasters can improve disaster response, build resilience to future disasters, and save lives.
Finally, how do you relax? 
To me, cooking is the ultimate stress reliever. This week, I have been preparing Japanese bento boxes and yakiniku. I also enjoy Saturday afternoons with my French-Puerto Rican family, adapting L'Apero dishes with local specialties, such as Tostones de Pana with Maryland crab meat. I am also a proud supporter of Puerto Rican coffee roasters. For those that love coffee, I recommend Café Madre Isla, a high-quality craft coffee made by Casa Pueblo, a community self-management project located in the picturesque mountains of Adjuntas.