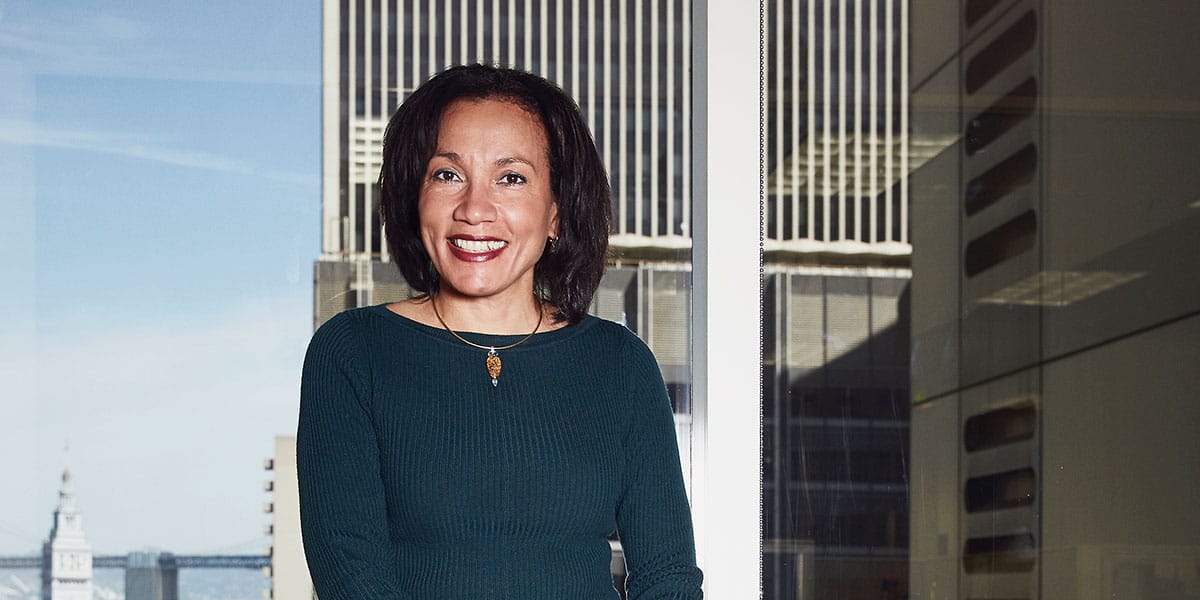 Managing Partner  |  Bay Area Growth Fund
---
STANFORD UNIVERSITY
---
"I'm an inner-city, Spanish-speaking, low-income, free-lunch, first-in-her-family-to-go-to-college girl," said Miriam Rivera at an awards dinner in her honor. Rivera is a managing partner for the Bay Area Growth Fund, cofounder of Ulu Ventures, and former vice president and deputy general counsel of Google.
To the disappointment of those expecting a gritty tale involving bootstraps, cutthroat competition, and an insatiable desire to get ahead, Rivera's story of self-determination is more collaborative than competitive. That's what makes it powerful.
The foundation of Rivera's success rests on a few Chicago public school teachers who opened her eyes to "a whole new world in books and education." She capitalized on her teachers' investment when she studied at institutions like Exeter and Stanford. Rivera earned four degrees—a bachelor's, master's, juris doctorate, and MBA—at Stanford, where a work-study program in the career services office led her to an educational awakening. "Working there allowed me to see so many different jobs and professions," Rivera says. "Being exposed to all of the options out there was key."
But exposure to transformative opportunities is common among successful people, especially those who share Rivera's background. Unearthing the roots of her success in an industry in which she is anything but common requires a look at what she considers important in her development, and why.
Early in her career, Rivera worked for Thomas Kellerman, a partner at the firm Brobeck, Phleger & Harrison. Kellerman had been diagnosed with pancreatic cancer. The way he handled his illness affected Rivera profoundly. "I remember him coming to work," she says, "and I thought, 'If I were going to die, would I still be coming here?' He came to work when he had potentially terminal cancer because it was a place where he was loved and where he loved other people. He was an amazing boss. He changed who I wanted to become as a manager."
Kellerman's care for his colleagues encouraged Rivera to let her inherent kindness shine in her professional approach. It soon paid off: she landed her role at Google with the help of a colleague she'd had to lay off at a previous company. At Google, she absorbed another lesson from her boss's boss, Eric Schmidt. "When we were making hard decisions, he would poll everyone for their opinion," she says. "He would ask us to make a judgment call, really put ourselves out there, and take a risk with our recommendations." It taught Rivera to trust her judgment and to have the confidence to make the call, right or wrong.
Kindness, inclusion, and confidence define the memories that Rivera identifies as key to her development. They also define her success and how she enables the success of others. Teachers and mentors showed her kindness and intentionally made her feel included, giving her the confidence to make decisions. "The things that make the difference in peoples' lives are the investments they make in others and the people who invest in them," Rivera says.
Unsurprisingly, kindness, inclusion, and confidence are at the heart of Rivera's advice for those who aspire to follow her path, as well as those in positions to enable those dreams. "Finding ways for outsiders—minorities and people from other cultures—to feel less like outsiders is key," she says. The method to accomplish that is simple, she says: "By treating people well, by trying to connect as individuals—one human being to another, with respect, with interest in people and their life story—and by finding shared purpose."
Benefiting from inclusion and its inherent kindness, in Rivera's experience, gives people the confidence they need to take the risks that enable early success. Further success, as Rivera explained during the same awards dinner speech, is about extending those virtues outward. People who hunger to be successful for more than themselves are almost always better off than people who think only of number one, she says. "This is what true leadership is about."
---
Words by Topher Bordeau   //   Photography by RC Rivera