PARTNER SPOTLIGHT
From Coach to Coaches
NBA's Gracie Mercado has found a way to be an HR partner in any industry
---
Growing up in the Bronx, Gracie Mercado lived four blocks from Yankee Stadium. "Walking to the train station every day, you would see the stadium and I'd always be so excited because everyone in the community always looked forward to the season starting," Mercado says.
Watching tourists flood the borough during Yankees season, Mercado says she realized just how valuable the team was not only as an economic driver for the neighborhood, but also as a rallying point for the community at large. That included her family. "I grew up with parents who were diehard sports fans, particularly my mother," Mercado says. "At an early age, seeing the most important female figure in my life hold court with all the males in my family left an impression on me. She broke the stereotypical barriers that were prevalent at the time."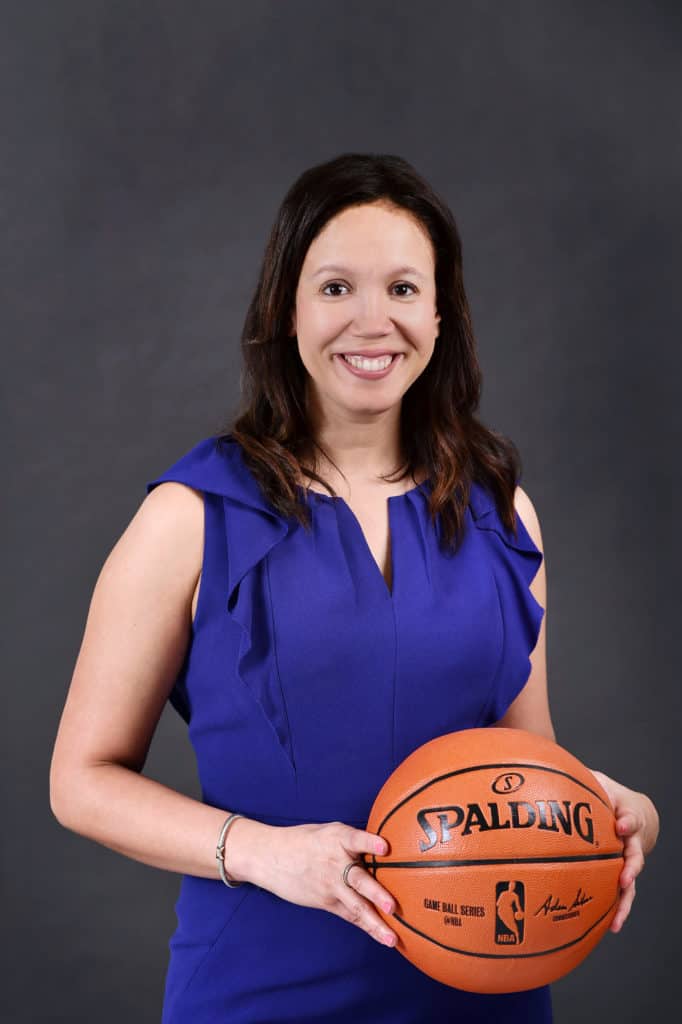 Mercado found a way to make her childhood pay dividends. The current vice president and head of team HR support at the National Basketball Association (NBA) found her HR legs early in her career and later found her passion working for sports organizations including the New Jersey Devils (Devils) and the Golden State Warriors (Warriors).
While only one month into her new role with the NBA at the time of writing, Mercado is sure that her past experience will come in handy. "At the team level, I was definitely more of an HR generalist," Mercado says. "You're sometimes the only point of contact, and you find yourself having to shift quickly and be adaptable."
At the NBA, Mercado will have a chance to dive deeper. "At the league level, I'm really excited because I have a lot of resources that I'll be able to leverage," Mercado says. "It allows me to be more of a specialist in my particular role." Being surrounded by experts, Mercado believes, will only improve her own performance.
While she has racked up a considerable amount of experience in sports, it's not where Mercado got her start. Fresh out of school, Mercado took on her first HR role with not a coach, but the Coach: the most famous name in handbags. Mercado says Coach taught her valuable lessons that have paid off ever since about HR partnering with the business, and much simpler, knowing the business. "I had gone into the store and just walked around," Mercado says. "I was able to speak about my observations during my interview let them know I had an interest in the revenue side of the business."
Mercado says the lesson is important because it just can just as easily apply to sports as it does to sport coats. "When I first joined the New Jersey Devils, it was my first exposure to hockey," Mercado says. "I sat and watched the game live and had people who could explain the game to me." The best HR partners, Mercado says, deeply understand the business that they're in.
Understanding the business of professional basketball may have come easier to Mercado, but she says that becoming good at HR and HR partnering, not merely knowledge of the game, is what got her to where she is. "I'm not someone who started in sports, and for me, it was really about getting good at my function and having that be valued by a sports organization," Mercado says. "You don't have to think that you need to know someone in sports or start in sports to eventually get here."
---
"I'm not someone who started in sports, and for me, it was really about getting good at my function and have that be valued by a sports organization"
---
When developing her own approach to her role, Mercado says she's had two great role models along the way: Devils (and Philadelphia 76ers) CEO Scott O'Neil and Warriors President & COO Rick Welts. "Both of those executives truly believe in the power of people and a world-class culture," Mercado says.
In the case of the New Jersey Devils, Mercado says that O'Neil's commitment to the employee experience made it easy for her to tell job applicants just how great the organization was. "It was almost isolated from the wins and losses of the team," Mercado says. "We got to spend time thinking about what would engage our employees while making them excited about coming to work."
Joining the Warriors offered what Mercado admits is once-in-a-lifetime (if not more) opportunity. The team's absolute domination of the NBA post-2015 is in the same vein as the Los Angeles Lakers of the eighties or Chicago Bulls of the nineties. "It's something we'll all always cherish being a part of," Mercado says. But it represented its own unique challenges.
"When you play through mid-June and your team is in high demand, it really creates a shortened off-season," Mercado says. "It can be very taxing on employees and create very short turnarounds for the marketing team." Not to mention that the organization was in the middle of building a new arena.
In rising to the league HR role, Mercado says she's excited for big plans surrounding the Women's National Basketball Association [WNBA], though details are still to be announced. "Player programming has been a huge area of focus for us right now and getting more exposure to that right at the start of my role has let me know that the WNBA is a huge priority," Mercado says.
Being back in New York is a frequent reminder of Mercado's upbringing and her family's shared passion for sports—a new chapter that mixes nostalgia and excitement for what's ahead.[/vc_column_text]
---
Share This Article