Once there is an official Democratic nominee for President of the United States, Patti Solis Doyle is going to get back to what she does best: working as hard as she can to make sure that candidate wins the 2020 election.
It's not that she doesn't appreciate her current role as a political commentator and contributor to national cable news organization CNN. In fact, she says she relishes the opportunity to share her thoughts with a national audience and feels a "tremendous responsibility" to let viewers know the truth in a time when so much media is politicized and whitewashed and the information coming out of some of the highest levels in the country is just not true.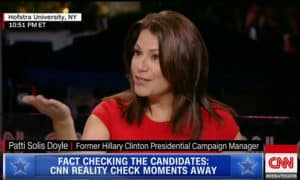 But at a time when she says President Donald Trump has given "permission to hate"—particularly against the Hispanic population to a level she calls "inhumane"—she says there needs to be a clear referendum on his words, actions, and policies and that result needs to happen at the ballot box. A born competitor, Solis Doyle is spoiling for the chance to fight for that change.
Born and raised in the Pilsen neighborhood of Chicago to a father who immigrated from Mexico (and was twice deported before securing his papers) to make a better life for his wife and children, Solis Doyle says she was raised in a traditional Mexican manner.
"I was never allowed to go out," she recalls. "I came home from school and studied."
When she had her first taste of freedom at Northwestern University, to which she was accepted on scholarship, the result was too much.
"It was intoxicating," she says. "I was kicked out, and I lost my scholarship."
Instead of harboring regrets, Solis Doyle got her degree from Northwestern through night classes after working all day. Having learned the value of education, her brother—a community organizer alongside President Barack Obama—got her a job on the mayoral campaign for Richard Daley. Solis Doyle says she was hooked immediately.
"I loved working on adrenaline every day—working twenty-hour days," she says. "One day was never like the one before. It was exhilarating, and I knew I had found my calling."
When Daley won, he offered her a job in city government, which she took—only to discover it didn't offer the same rush as the campaign trail. She soon got a job on President Bill Clinton's first campaign and moved to Arkansas in 1992. She hasn't been back to Chicago since. In the years since, she ran First Lady Hillary Clinton's Senate campaign and her presidential campaign. Although the loss to Donald Trump in 2016 stunned her, she says she remains resolute in bringing change back to the United States government.
Solis Doyle says there needs to be a clear referendum on President Trump's words, actions, and policies and that result needs to happen at the ballot box. A born competitor, she is spoiling for the chance to fight for that change.
"People in politics are driven by a variety of factors, whether a specific policy issue, a candidate, or principle," Solis Doyle says. "Some people are just driven by the nature of the game—thinking one, two, or three steps ahead of the competitor. Whether that was a board game as a kid, an academic exercise in school, or horsing around with my brothers and sisters, I've always been competitive by nature."
Photos: CNN
Meet Our Mission-Driven
Class of 2019
Our annual class honors esteemed Alumni Society members from a myriad of industries and disciplines. This is not a list but a collective of incredible individuals with a commonality: to lead a mission larger than the roles and responsibilities outlined in any job description. They have a passion for serving the greater good, and they have found a way to align their purpose with their work—an achievement of which most only dream.