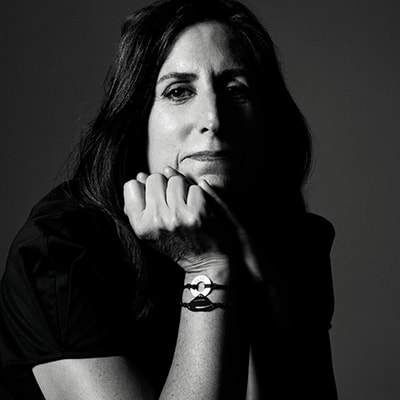 The emotionally scarring experience of solitary confinement, the struggle to survive a war zone in Sudan, the marvel of a melting ice cap—journalists are constantly challenged to make stories like these compelling. At Emblematic Group, CEO Nonny de la Peña does exactly that, using virtual reality to give audiences a more direct experience. Thanks to de la Peña and her team, journalists and everyday people will soon be able to communicate what matters to them in a medium more textured than text and more visceral than video.
"The world is simply not flat," says de la Peña. "The world has dimensions. And yet, what we experience in our media has always been without dimension."
With a PhD from USC and a BA from Harvard, the former Newsweek correspondent combines the advanced techniques of videogrammetry and photogrammetry to create what she calls "immersive journalism." Emblematic has produced content with PBS, The New York Times, The Wall Street Journal, and more. Her work has even brought VR to Cannes and Sundance. Today, Pulitzers and Academy Awards are awarded for VR, and this growth is due largely to her trailblazing.
While The Guardian and Engadget have called her the "Godmother of VR," she points to Academy Award-winning filmmaker Alejandro González Iñárritu's name as "the real VR pioneer."
De la Peña, however, remembers early skepticism: "People literally pointed a finger at me and said 'You're crazy. You can't do that. That won't work.'"
Sometimes it still happens, and today her technology is streamlined enough to persuade people on the spot. She contrasts today's success with her first winter at Harvard after moving from Los Angeles at seventeen, as well as her experiences as the only woman in her engineering classroom at the University of Southern California. And the odds are still up against her today.
"It's kind of great to be called a pioneer. Here I am competing with billion-dollar companies. It's insane," de la Peña says, laughing. "We're ten people. Anywhere else in this field you'll find a team of at least forty or fifty. In this role, you have to work twice as hard and do twice as well to shine."
More than shining individually, she's also giving her storytelling power to anyone with internet access, rather than engineers with funding and advanced equipment. Emblematic's new tool, Reach.love, doesn't even require users to code.
"The kinds of stories that are going to be told are much more diverse," explains de la Peña. "Anybody can step up and start working in the medium."
"The world is simply not flat. The world has dimensions. And yet, what we experience in our media has always been without dimension."
She notes the importance of bringing coding and other tech skills to a broader population but points out how making powerful storytelling technology more approachable to those without rarefied engineering skills and cutting-edge game engines has real potential to democratize media.
It's the reason de la Peña works to bring the power of volumetric content to more people even while pursuing her own excellence—she wants to bring greater dimension to our media landscape.
With Reach.love about to launch and the tech ever more accessible, de la Peña is optimistic about the future of storytelling.
"We're at a point where we can start to think about recreating the world and the stories in it," she says. "And doing it in a way that is dimensionalized and not flat."
Photo: Gregory Harris