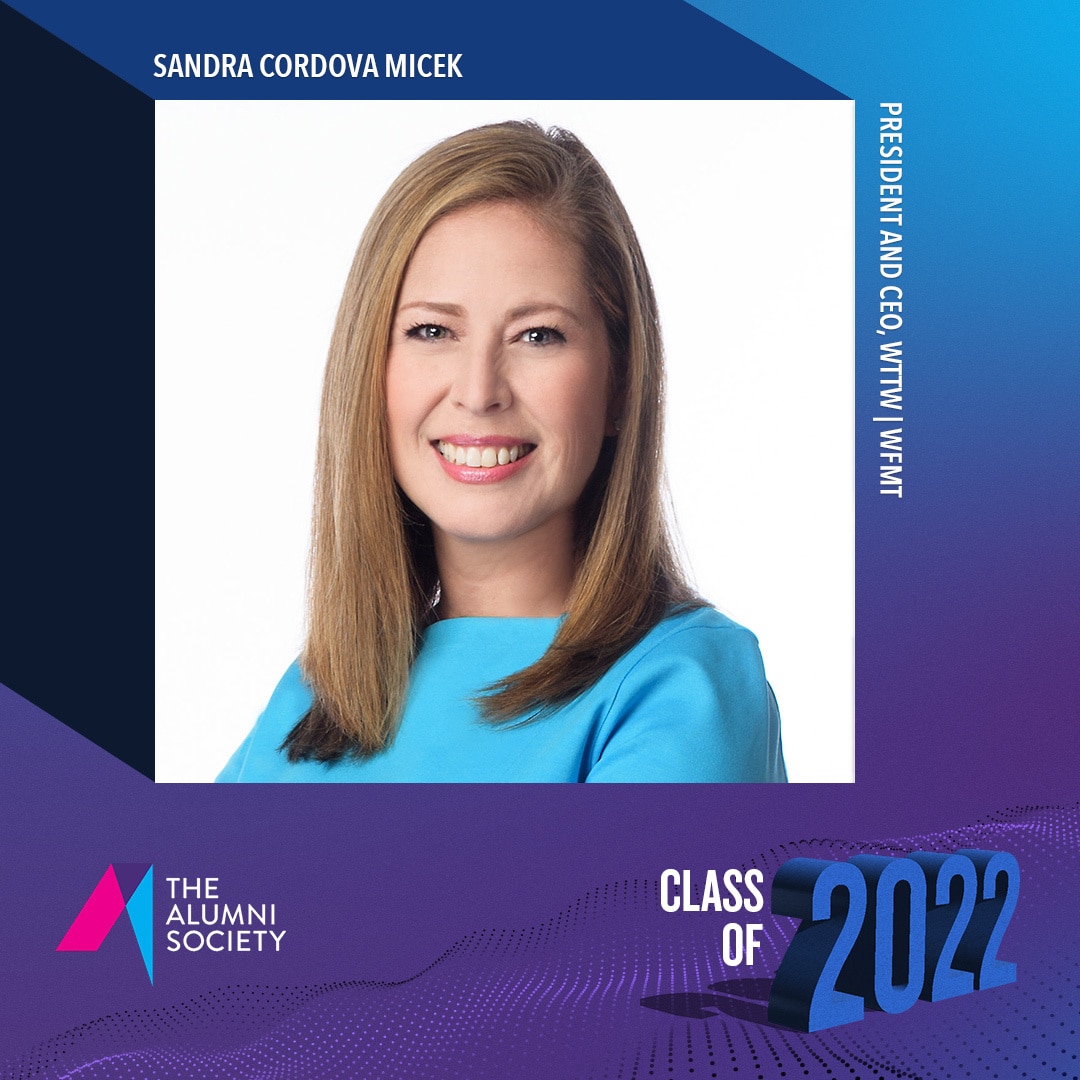 By: Zach Baliva
As head of a public media company, Sandra Cordova Micek is in a position of influence. It's not something she takes lightly. Cordova Micek shares with The Alumni Society about what it means to leverage her own experience for the benefit of others.
Could you talk about some of the experience, both personal and professional, that has helped impact you as a leader and performer in your space?
One of the most seminal experiences for both my personal growth and professional career was my time in business school at the Wharton School at the University of Pennsylvania. I did not enter lightly into the decision to pursue an MBA. I was on a career track and could have just continued down that path, but I also felt that taking the time for business school would not only enhance my business skills but also expand my worldview. I found this to be true and it turned out to be so much more. Developing business fundamentals across disciplines, learning how to think critically, and coming to understand the value of curiosity were just a few of the additional benefits. This immersive experience has served me well across so many facets of my business life, and the relationships that started there continues to be rewarding.
Even as I advance in my career, I find that it is more important than ever to establish and maintain relationships with peers at other leading organizations. Another experience that positively impacted me as a leader was being selected by Leadership Greater Chicago as the McCormick Foundation Daniel Burnham Fellow. The Daniel Burnham Fellowship is an accelerated civic onboarding experience for senior executives who, in their roles, play a part in shaping the future of Chicago. The Fellowship mobilizes leaders in the city and encourages collaboration and immersion into the civic fabric of Chicago with the goal of positive collective impact was especially beneficial to me having recently relocated to Chicago from another city.
Throughout my career, the roles I have typically gravitated towards were often with companies and industries in transition. While these organizations are leaders in their fields, they recognized that change was required, and conventional thinking needed to evolve. My work has often involved identifying, codifying, and communicating the company's purpose—why they do what they do. This purpose-driven work goes beyond simply focusing on the company's bottom line and uncovers the real value that it brings to its stakeholders which in turn drives positive business results.
My performance as a leader has almost always been tied to my work with a team. It is important to develop high-performing teams where relationships are built on trust, and where team members develop a genuine understanding of the business objectives as well as how to work best with one another. After working in seven different cities, across cultures and time zones, I realize that to navigate challenges successfully, developing a deep understanding of the needs of team, along with internal and external stakeholders, is essential.
How does your ethnicity and heritage help you be successful?
As a child of immigrants from Ecuador, the values of a strong work ethic, education, and the importance of family were ingrained at a young age. My parents came to the US in search of higher education and to develop their careers. They worked full-time jobs while attending college, achieving advanced degrees, and raising a family.
Work and family can often be at odds with one another, especially for women. And often, cultural expectations come into play. But balancing the demands of work and family comes naturally to me I think because of my background. There is no one right way to achieve success, but my hope is that Latinas see more and more examples of women achieving success in all areas of their lives.
My upbringing was also rooted in appreciation of the value of a quality education, one that fosters a broad perspective, as well as an understanding of and empathy for those whose cultures and lived experiences are unique. I was taught to embrace the richness of the various cultures within and beyond the Hispanic/Latino community. My heritage, and the cultural and generational challenges my parents faced, have made me innately conscious of the need for representation.
Could you talk about some of the D&I initiatives you're working on in your role and what those have looked like from your perspective? 
D&I is a journey that organizations go through together, and that employees experience individually based on their own experiences. Our approach has been to focus on creating an inclusive and equitable culture through education and experiences as opposed to training or events. This means being intentional and committed to not just activities but also creating real, sustainable change through culture shifts. We have worked with experts to help us understand and embrace the idea of allyship as the cornerstone of a culture where respect is at the center of what we do and how we behave. The idea is to strengthen the organization from within through diversity, equity, and inclusion, with the goal of creating lasting positive impact. This is baked into all aspects of the business from our strategic plan to the content we produce, and how we engage with communities and other stakeholders.
While the employee resource groups, newsletters, and planning sessions are important, we have found that bringing outside thinking in is essential. We developed an employee speaker series called "Outside In" to do just that—bring outside thinking into the organization. People from various industries, who are in various stages of their own journeys, share their experiences so that the staff can gain insights they can apply to their own work and lives. The employee response has been overwhelmingly positive.
What kind of work have you done to pave the way to develop future leaders, and what importance do you place on doing this work?
In my view, "paving the way" has everything to do with showing people what it looks like to lead. The next generation, people of color, and women and girls in particular need to see themselves in our leaders today. For me, that has meant modelling not just what professional success and breaking barriers looks like but also what it means to be involved civically and philanthropically. In addition to my role as a president and CEO of a public media company, I serve on several nonprofit boards, primarily focused on my areas of personal and professional interests including education, the arts, community, leadership development, and equity.
For example, I chair the advisory board at the Newhouse School of Public Communications at Syracuse University and was recently named a trustee of the university. Serving in various leadership roles, I interact with engaged students and alumni, and I have a voice in helping to advance the university's priorities including creating opportunities for students from underrepresented groups. In addition, to help Hispanic/Latinx students defray the cost of attending the university, my husband and I created the Cordova Micek Family Scholarship.
What is next for you, your profession, and your industry?
I am in an industry that is rapidly changing—the media and content business. There has probably never been more content available to more people on more platforms. Quality content though—content that enriches lives, engages communities, and inspires exploration—is not everywhere. I am proud that my company, as a public media organization, focuses on   offering essential, high-quality content that has the potential to make our society a better place. While it is not without challenges, I am optimistic about the future of media and content as it plays a significant role in helping future generations think critically, engage in civil discourse, and ultimately, advance democracy.
Finally, how do you relax? 
Relaxation for me is about growth and joy. I like to get out of my comfort zone, learn, read, and travel. Travel especially has been a source of enrichment for my family. I am the proud mom of two teenagers and time spent with them, while not always relaxing in the traditional sense, brings me immeasurable joy as we explore the arts, pop culture, sports, nature, other communities, and beyond.
Follow Sandra Cordova Micek on LinkedIn, Twitter, and Instagram.