PARTNER SPOTLIGHT
Leadership at Goldman Sachs
A conversation with Goldman Sachs' Michele Docharty and Anilu Vazquez-Ubarri
---
Different paths led Michele Docharty and Anilu Vazquez-Ubarri to Goldman Sachs. Docharty joined as a financial analyst right after she graduated from Georgetown in 1989. Vazquez-Ubarri had worked at a corporate law firm in New York and was brought on as a vice president in employee relations in 2007.
But what attracted them to the global firm was the same. "It was Goldman's reputation for being best in class and being very much a team-oriented culture," Docharty says.
Vazquez-Ubarri agreed. "People talked to me about teamwork and being driven, and I could see through the people I met that there was a culture of employing those values."
Throughout the years, their leadership roles evolved. During her tenure, Docharty has held sales positions in the US and Latin America. In 1999, she was named managing director and then partner in 2010. Now, she is the co-head of global synthetics products distribution and global head of corporate access for the securities division.
Since joining in 2007, Vazquez-Ubarri has helped evolve and drive recruitment, leadership, talent, and diversity strategies. In addition, she ensures the firm's diversity priorities are integrated across all talent initiatives. Now, Vazquez-Ubarri is the chief diversity officer and global head of talent. She was named managing director in 2013.
Both were recently recognized on Fortune's "50 Most Powerful Latinas in Business" list, which recognizes powerful Latinas who are leading large public companies in global operating roles, operating large private firms, and entrepreneurs who have successfully scaled their businesses.
In an interview with The Alumni Society, Docharty and Vazquez-Ubarri spoke about their leadership and their commitment to leading Goldman Sachs' diversity and inclusion initiatives.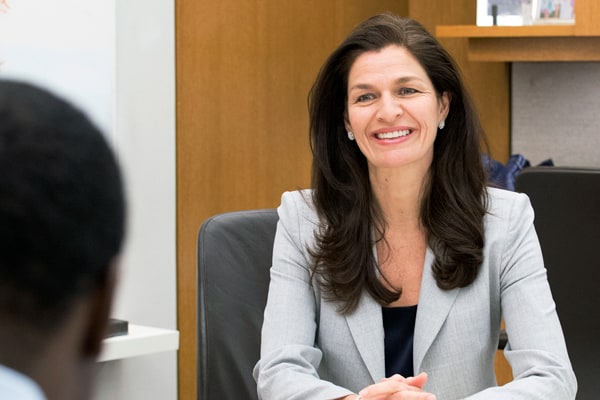 What are some of the toughest leadership challenges you've overcome?
MICHELE DOCHARTY: Challenging markets test leadership skill. Volatile markets are very difficult to manage through and create uncertainty. I think back to 2008 which was a very difficult year for the financial industry. I ran our synthetics distribution in the Americas at the time which was a financing business operating in a constantly evolving landscape. There was uncertainty that was related to Goldman Sachs and keeping your team informed, engaged, and motivated during periods like that is critical. It was a big leadership challenge, as well as a learning opportunity.
ANILU VAZQUEZ-UBARRI: I completely agree. The first thing that came to my mind was 2008. It was a pivotal experience for me and my career. Despite the extremely difficult moment, you got to see how the firm made decisions. I learned a lot about how to behave as a leader and the importance of staying calm under pressure. As a leader, you want to be transparent and empathetic but at the same time forward looking and digging in beyond your job description.
How did you become involved with or leading diversity efforts at Goldman Sachs?
MD: We had a women's network in the equity business during the '90s, before it became the formal group that it is today. I was working with other women to make things better on our trading floor. Now, I'm on the Americas Diversity Committee with Anilu and a group of people who are very focused on continuing to take our diversity efforts to different levels. In my day to day, I am committed to mentoring and sponsoring people where possible.
AV: Michele is being modest because she is leaving out that she does those formal things, but she is also a sounding board for many people around the firm. She is a very constant presence for people at the firm and a great partner to us.
MD: Anilu and the team have made it easier for me to have a platform so that I have the opportunity to speak. It is important from my perspective that people at the firm have something to look forward to and that they see a path forward for themselves. As a partner at the firm, I am a woman, and I am Latina, and my path to success was different. I want to make sure I am sharing that with as many people as I can.
AV: As for me, I've always been involved in diversity efforts. I was on the diversity committee at my law firm, and I founded the first women's network there. When I came to Goldman, I got involved with the black and Hispanic networks in my own division. The entire time I have worked at the firm, I have had some sort of involvement with the function and was lucky enough to lead the group and work with the diversity committee. The great thing about working with the committee is that there are so many ways you can look at things. It is very unlikely that you alone will have the answer.
What drives your leadership and commitment to diversity?
MD: It is pretty simple. I strongly believe, without question, that diversity is very good for business. We need different perspectives and skills to really maximize revenue for the firm and to keep our culture best in class.
AV: I've seen the impact it has not only on the individuals who feel included and motivated but also many of our senior leaders, some of whom are in the majority and see their own journey with respect to diversity and inclusion. When they can imagine a future where everyone is included and also appreciate the talent when it comes in various forms, they too become better leaders.
What is one thing that leaders at any company can do to elevate Latinas to leadership positions?
AV: Be informed. This is not unique to the Hispanic/Latino population, but it is a significant part. Latinos come in very different forms, with different backgrounds. It is in everyone's best interest to understand not only the community but also that, from a leadership perspective, communicating will take effort. You cannot assume Michele and I had the same circumstances growing up. Quite frankly, the circumstances and how we grew up probably have a lot to do with how we experience the workplace, interact, and present ourselves.
MD: Ultimately, we should be goal-oriented. Determine the metrics that we are utilizing to define success and make sure everybody understands them. A level playing field with clarity regarding how we measure success is foundational, critical to helping people drive for success.
This interview has been edited and condensed for clarity.
Share This Article