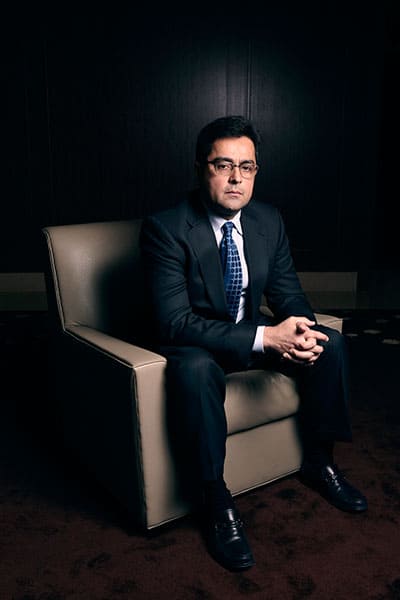 Lead Independent Director & Chair of the Nominating and Governance Committee | Electronic Arts
---
HARVARD UNIVERSITY
---
By Matt Alderton //   Photography by Ed Estrada
In the 1970s, New York's South Bronx neighborhood was the urban equivalent of the Wild West. Not the romantic interpretation seen in movies, defined by chaps and lassoes, but the historical one: loose, lawless, and lethal. It's in this setting—and in the company of stray bullets, burning buildings, stripped cars, and sex workers—that Pan American Development Foundation board president and Electronic Arts director Luis Ubiñas spent his childhood.
"I grew up in the South Bronx when it was the most dangerous zip code in the United States," says Ubiñas, whose parents emigrated from Puerto Rico in the 1950s. "Movies like Fort Apacherepresented hyperbolic representations of the community, but at the same time reflected the sense of fear and insecurity that typified the South Bronx in the 1960s and '70s."
Now a full-time investor and board member, Ubiñas lived in public housing with his four siblings and their mother, who worked as a seamstress for sixty cents per dress and supported her family with food stamps. His father, who suffered from chronic unemployment, alcoholism, and addiction, died when he was young.
"When you grow up in an environment like that, you have a simple choice: you can either turn your back on the past and move on, or you can move on but look back," says Ubiñas, who leveraged educational opportunities to supersede his circumstances. With the help of financial aid, he attended private school in Manhattan, then received undergraduate and graduate degrees from Harvard University. "I chose to move on and look back," he says. "Without the support of others, including individuals and the government, I would not have survived, so I have always felt a deep sense of responsibility to make sure others can have the same opportunities I have had."
For more than thirty years, that sense of responsibility has been the driving force behind his career. Ubiñas initially thought he'd be a journalist. "At Harvard, I had the opportunity to spend two summers as a reporter at The Wall Street Journal and a third reporting at The Los Angeles Times," he says. "I was offered jobs after graduation at both The Los Angeles Times and The Wall Street Journal in San Francisco, Miami, and New York. I thought that's what I would do."
Instead, he pursued a career in business. "I was accepted to Harvard Business School, but my mother got very ill with cancer, and I realized she wouldn't live too much longer," Ubiñas recalls. "We needed more resources, so I decided to take a job in business so I could make a surplus for me to help my mother a little bit, as she was in the final years of her life."
The job as a business analyst at Booz Allen Hamilton paid 50 percent more than a same-level job in journalism. "That's how I ended up having a twenty-year business career," explains Ubiñas, who deferred enrollment at Harvard Business School two years, then worked for eighteen years at the consulting firm McKinsey & Co, where he ultimately led the company's West Coast media and entertainment practice before leaving in 2008 to assume leadership of the Ford Foundation, where he stayed for more than five years. He joined Electronic Arts in 2010.
Because he gave up his journalistic ambitions to provide for his family, his career choice could be viewed as a sacrifice, but Ubiñas doesn't see it that way.
"I had a mother who died because, instead of getting health care, she was sitting at a sewing machine so my brothers and sisters and I could have food and clothing. That's sacrifice," Ubiñas says. "What I have had is opportunity. I've worked very hard and made choices between several outstanding opportunities available to me. I don't see that as making a sacrifice; I see it as meeting my responsibility to those who did."
If the first chapter of his career was about giving back to his family, the second chapter has been about giving back to society at large—starting with his tenure at the eighty-year-old Ford Foundation.
In his almost six years there, Ubiñas led a massive restructuring that included shifting its grant-making strategy from a revolving set of more than 200 varied, small initiatives, to a focus on three dozen heavily-funded, interwoven social justice issues designed institutionally. This included Girls Not Brides, which works to end child marriage around the world; The Just City, which pursues inclusive growth as countries embrace urbanization; More and Better Learning Time, which wants to extend the school day in American public schools; and ArtSpace, which supports the development of arts facilities in the United States—a cause especially important to him.
"Very few people understand the role art has played in my life," Ubiñas says. "When you grow up in the extreme poverty in which I grew up, aspiration and imagination have to come from somewhere […] I remember going to the Metropolitan Opera for the first time in school and watching the crystal chandeliers. Never before had I imagined those things existed, and here I was thinking, 'Wow. This world exists. It's possible, and I might someday be able to buy a ticket to it.' The arts showed me what the light at the end of the tunnel was illuminating."
Ubiñas remains committed to business and philanthropic ventures as a member of several boards of directors. He is a board member at Shorelight Education, which helps American universities diversify by expanding educational access and opportunities for international students.
In the nonprofit sector, he is president of the board of trustees of the Pan American Development Foundation, which spends $100 million a year on development projects in Latin America and the Caribbean. He is a trustee of both the New York Public Library and the Statue of Liberty-Ellis Island Foundation.
"Society at large invested a tremendous amount in me," Ubiñas says. "Now I'm at a point in my life where I'm lucky to have the opportunity to invest a tremendous amount in society."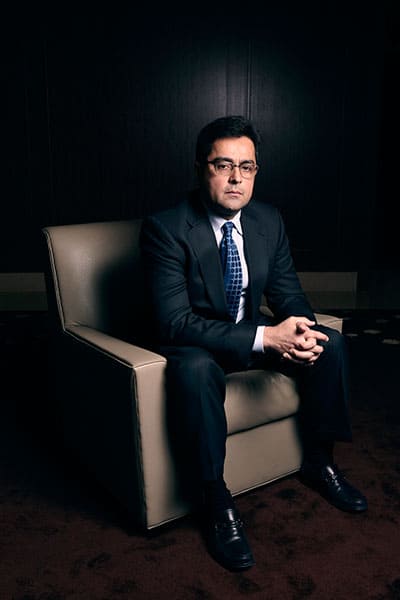 [kleo_gap]
---
"Mr. Ubiñas is a true inspiration in overcoming adversity, and he is humble and grateful for the opportunity to succeed."—Yasmine Winkler
---