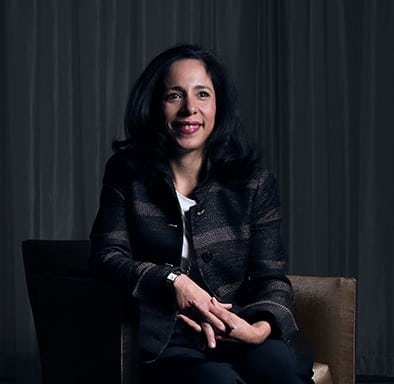 Managing Director & Head of Community Development Banking, Chase | JPMorgan Chase
---
COLUMBIA UNIVERSITY
---
By Daniel P. Smith // Photography by Sheila Barabad
When Priscilla Almodovar first set eyes on Capitol Park Historic District in Detroit, Michigan, five years ago, her initial impressions of the historic Motor City neighborhood were far from positive.

The once lively community and former home to Michigan's first state capitol had deteriorated amid Detroit's economic struggles. Looking at a courtyard surrounded by multistory buildings, Almodovar saw destitute wanderers and drug-related paraphernalia scattered across the ground.
Forgotten and forlorn, Capitol Park characterized the woes of Detroit, a city facing bankruptcy, decay, and a fleeing populace.
But a concerted effort, Almodovar knew, could spark change and renewal.
As part of JPMorgan Chase's five-year, $100 million commitment to Detroit, Almodovar joined a corporate-led effort in 2014 to fuel the resurrection of Capitol Park.
Almodovar and her team partnered with city and state officials and two Detroit-based community development financial institutions to identify specific communities with need and potential before working with the Pritzker family, Liberty Bank, Invest Detroit, Quicken Loans, and Capital Impact Partners to propel the city's rebirth.
Today, after Chase directed $40 million of long-term flexible capital to real estate developers committed to Detroit's revitalization, Capitol Park stands as a shining example of Detroit's renaissance and a corporate heavyweight's ability to balance social good and profit. The Chase-enabled renovation of two historic Capitol Park buildings has brought hundreds of market-rate apartments to the neighborhood, along with new businesses and fresh hope.
"We continue seeing the evolution of Detroit, and I love that the investments we make have a real impact," says Almodovar.
The Columbia graduate, who blends an earnest humility with deep reserves of energy, oversees a team of approximately 100 bankers and risk professionals at Chase. The department partners with local and state governments, nonprofits, and other corporate players to finance projects in low-income areas throughout the twenty-three states in which Chase operates.
Each year, her team deploys roughly $2 billion toward affordable housing for seniors and families, charter schools, health clinics, supermarkets, community centers, and other quality-of-life projects. "Community development issues are so big that no one can address them alone,"she says.
As a result of Almodovar's efforts and the partnerships she's helped forge, neighborhoods lacking jobs, investment, and infrastructure in New York, Chicago, Seattle, New Orleans, and more than six dozen other US cities have been revitalized.
Acknowledging the absence of one-size-fits-all solutions to urban renewal, Almodovar's team brings capital and financial expertise as well as best practices from past projects, combining their wherewithal with the capacities of like-minded partners—organizations and civic administrations that share Chase's values and commitment to creating more vibrant, stable communities—to achieve dynamic results.
In the poverty-plagued Melrose neighborhood of the Bronx in New York City, Via Verde stands as a testament to Almodovar's collaborative spirit and innovative dealmaking. The award-winning, $99 million development, a joint venture between Jonathan Rose Companies and Phipps Houses, blends 151 units of mixed-income rental housing with seventy-one affordable co-op units and more than 7,000 square feet of retail and community space. Chase provided nearly $74 million of financing for the project, which the American Institute of Architects hailed for its exemplary "commitment to creating social housing that addresses poverty, health, and the environment."
"When you have the naysayers out there, this is a great one to show them," Almodovar says of Via Verde. "It's emblematic of the power of community development."
Interestingly, Almodovar was part of Via Verde first as president and CEO of the New York State Housing Finance Agency, where she began working in 2007 following a fourteen-year legal career at New York-based White & Case.
At the housing agency, Almodovar oversaw state financing to for-profit and nonprofit developers constructing affordable housing or rehabilitating existing properties. The position introduced her to a diverse collection of people—from corporate executives and community organizers to low-income citizens—and spotlighted the value of partnerships to deliver change. She learned to reject the public sector's traditional silos and to craft relationships with non-housing government agencies, legislators, and county and local officials.
To accomplish great things, Almodovar says, "you need to recognize partnerships, break down silos, and know the stakeholders."
It's a philosophy the Brooklyn native has developed over the last six years at JPMorgan Chase, where she remains passionate about helping low-income communities and doing so within the framework of sound business.
"It's the proverbial double bottom line—generating a financial return while creating positive social impact for others," she says.
[kleo_gap]
---
"Priscilla has the vision to see value and opportunity where others see despair and challenges. Transforming a hopeless housing situation in Detroit into a beneficial economic and social outcome is admirable." —Mick Lopez
---