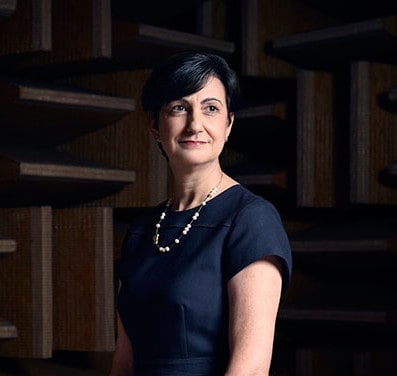 President & CEO | Consumer Reports
---
YALE UNIVERSITY
---
By Michelle Markelz // Photography by Ed Estrada
When a child grows up as a political refugee, democracy is not an abstraction—it's personal. At three years old, Marta Tellado's family arrived in the United States from Cuba. As the daughter of parents who valued democratic principles over the comfort of familiarity, Tellado did not yet realize how that connection to her world would eventually manifest into a passion for civic engagement.
"I knew from an early age that I was passionate about ideas that inspire and motivate us to action," she says. When she was named president and CEO of Consumer Reports in 2014, the chairman of the board, Walter Bristol, noted Tellado's "deep understanding of how to build social movements in today's digital age." Tellado honed that understanding over years spent in service of the public interest.
Whether it was around the family dinner table or in front of the TV, where she watched political conventions with her father, Tellado learned at an early age that the success of democracy relied on an active and informed citizenry.
Her first introduction to advocacy arrived in her life uninvited. Just outside her door in Newark, New Jersey, the city erupted into racially charged riots in the summer of 1967. "That era, its tensions, and the progress that grew out of it manifested itself in my childhood," Tellado says. "[That childhood] and the story of my family played a huge role in the work that I chose to pursue."
Once she was old enough to participate in the democratic process, Tellado seized opportunities that allowed her to use that system to improve the lives of the people it governed. Upon completing her undergraduate studies at Fairleigh Dickinson University, she followed her passion for government and politics to Public Citizen's Congress Watch, a nonprofit group that represents the public's voice in Congress.
Working under Ralph Nader and alongside tax and environmental attorneys in hearings, Tellado thrust herself into what she felt was the crucible for public advocacy. "Some things are debated in a less-than-public view," she says. "You learn very quickly to raise your voice and be well-informed. I became passionate about organizations that allowed me to be at the policy table but also to connect these issues to real people."
After continuing her education at Yale University, she applied that passion to work with Senator Bill Bradley, representing her home state of New Jersey as Bradley's director of issues and outreach and advisor on social policy.
To truly represent the interests of her state, Tellado knew she had to connect with its people and their issues. She attended town hall meetings and helped translate the concerns of families into actionable policy. She was energized by the search for solutions. Her contributions helped bring to fruition the Partnership for Public Service, a nonprofit organization dedicated to improving civil service, and the domestic strategy group of the Aspen Institute, which provides a forum for business, governmental, and academic leaders to collaborate on domestic policy. She went on to spend ten years with the Ford Foundation, a global philanthropy organization that focuses on civil rights, social justice, economic fairness, and Internet accessibility.
Today, Tellado is determined to figure out how Consumer Reports can ensure that the marketplace is one of justice and fairness for the consumer in the digital age. "The beauty of the marketplace is that it has a supply side and a demand side," she says. "We often forget as consumers that we have enormous power to exercise every time we make a choice in the marketplace."
The bulk of her work, Tellado says, is about making a difference. "I consider myself a builder. I'm not someone who just steers something along a predetermined course; my role is to create a path and bring together the people to get us there."
At Consumer Reports, Tellado is forging a path that will bring the eighty-year-old organization closer to a new generation. The nonprofit has made important strides in health care, finance, and automotive safety and is confronting a more complicated marketplace than ever before. "I believe we're going to continue to serve a loyal audience, but we're really going to lean in on the digital presence in ways that will attract a new more diverse audience."