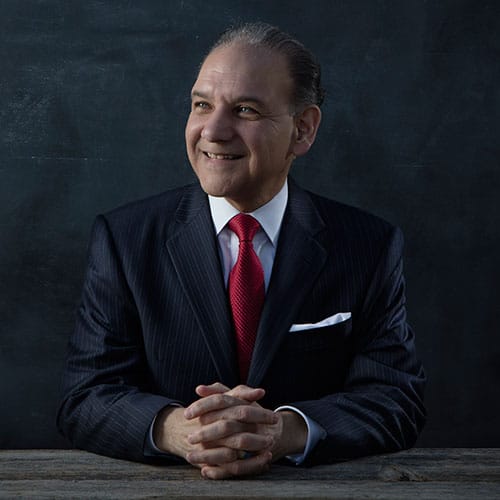 Chief Administrative Officer & Senior Vice President  |  Sodexo
---
HARVARD UNIVERSITY
---
By Kristen Bahler   //   Photography by King Lawrence
He calls them his "angels along the way."
It's a strong statement, to be sure, but it's not an empty platitude. Michael Montelongo's angels, the people who helped him forge a path from the inner city to the Pentagon's E-ring to the C-suite, were a powerful force in his upbringing. When he recounts his journey, he wouldn't dare leave them out.
"So many people had a hand in guiding my life," Montelongo says. "If they didn't, perhaps none of this would have transpired."
Montelongo grew up in run-down public housing projects on the Lower East Side of New York City. His first "angels," his parents, had only grade school educations, but they were uncompromising in their plans to build a better future for their children.
Rather than send Montelongo and his two siblings to local public schools in the then-dangerous neighborhood, his parents "sacrificed mightily" to give them a Catholic school education. "My parents believed, firmly, that a quality education is the great enabler in America," he says. "They instilled a fierce ambition in us—a passion to rise above our circumstances and become stronger for doing so."
In high school, Montelongo met teachers who suggested he consider applying to the United States Military Academy at West Point, New York, for college. This was crucial insight—despite it being just fifty miles away, Montelongo had never heard of the school, and he was delighted to learn that it offered a full scholarship to every cadet candidate the school accepted. With the help of some "angels," Montelongo applied, and became the first person in his extended family to go to college.
"I didn't have any particular career aspirations growing up," Montelongo says. "When you live in an inner-city, low-income neighborhood, you aren't exposed to the full array of opportunities. But I knew West Point could provide that exposure, and I knew the scholarship would be a huge financial help to my parents, so I took it."
At West Point, the school's motto of "Duty, Honor, Country" ignited Montelongo's passion for service and led to a twenty-year career in the US Army, where he obtained airborne and ranger qualification and a graduate school fellowship at Harvard Business School, among other honors.
In 2001, after a successful stint in the private sector, Montelongo was named the nineteenth assistant secretary of the Air Force for financial management—or chief financial officer—by then-President George W. Bush. Initially, Montelongo was hired to transform the finance function of the Pentagon and the Air Force. But after September 11, 2001, everything changed.
"I was in my office in the Pentagon when the third plane hit and violently shook the building, so I experienced that attack in a very personal way," Montelongo says. "I instantly became a 'wartime CFO' responsible for organizing, training, and equipping my team to 'finance the fight,' while concurrently working to transform the CFO function."
When Montelongo left the Pentagon in 2005, he wanted to continue to focus his career on "choosing service over self." After considering several options, Montelongo joined Sodexo, the global $20 billion, 420,000-employee service company.
It was a good fit, Montelongo says, because Sodexo's model is steeped in service—the company works to improve the quality of life of its clients by providing food-service and facilities programs, as well as many other services, at a variety of organizations and centers.
Montelongo's work today is strategic and makes good use of his "tri-sector" skill set, he says. But importantly, it also stays true to his values.
"There isn't a standardized definition for 'quality of life,' but that doesn't mean it's an abstract notion," he points out. "Sodexo believes that to create lasting value, organizations must turn their attention to the people within. The average employee spends about half of his or her waking hours on the job and, given the right environment and tools, is capable of transforming today's challenges into a multitude of opportunities."
Montelongo is quick to note that many of his opportunities, including his current role, materialized with help from friends, mentors, and other allies. It's a message he likes to drive home: had his career not been guided by an army of "angels," Montelongo may have never left the projects. In many ways, his passion for service is a tribute to those people.
"I'm a testament to the fact that, in spite of bleak circumstances or disadvantages, success is not impossible if one is determined, disciplined, and guided by providence."
UPDATE:
After press time, Michael Montelongo stepped into the role of president and CEO of GRC Advisory Services.