Chief Marketing Officer  |  GE Measurement & Control
---
DARTMOUTH COLLEGE
---
t was a moment that marked a turning point for an entire family. Marcelo Prado stood at São Paulo–Guarulhos International Airport, suitcase in hand, and said goodbye to friends and family who had gathered to see him off. He took his wife's hand; together, they led their daughter toward the departure gate. And as Marcelo looked back at the people they were leaving behind, he caught a glimpse of his three-year-old daughter beside him. She had started to cry.
After carefully weighing his options, Prado was moving his family from Brazil to the United States to pursue his master's degree in business administration at Dartmouth. He knew that the elite business program would open new doors in his career, but he also knew how much his family was sacrificing. They would leave loved ones behind. His daughter would say goodbye to her friends. His wife, a psychologist, would have to abandon her new practice. And Prado, who was already a successful consultant, would have to press pause on his own career.
But he knew the pros outweighed the cons. His family would be part of another culture, speak a second language, and explore a new country.
His company, Accenture, had agreed to pay for the program in return for a two-year commitment. And Prado, who completed his undergraduate studies in mechanical engineering at the University of São Paulo, would develop professionally and expand his career options. "In some ways, enrolling at Dartmouth was a risk for me," he says. "Though it was difficult at the time, we knew it was the right thing to do when we considered the long-term value."
Sixteen years later, that long-term value has manifested in Prado's career. He graduated in 2002 and honored his commitment to Accenture, where he worked in supply chain and other areas throughout Latin America.
In 2008, he joined GE Energy as the regional marketing director for Latin America. "They liked my experience in growing businesses in Latin America, as well as the fact that I lived and worked in many countries in the region," Prado says. He became chief marketing officer in November 2012.
Prado has amassed several wins in his positions at GE. First, he helped bring commercial intensity and creativity to solve customer needs and problems, and his teams made selective investments to grow business in Latin America. He helped design and implement a comprehensive plan for the region. Part of that plan involved a start-up renewable business in Latin America that went from zero to $1 billion in just eighteen months. Prado was later instrumental in growing overall division revenues from $1.8 billion to $6 billion in three years.
Today, in digital solutions, he's working with customers to create solutions as he transforms his division into a digital-first business that competes with companies like IBM and Oracle.
While good mentors and experiences have contributed to Prado's overall success, he says his time at Dartmouth remains critical. "Going through a top MBA program changes the way you're perceived in the marketplace," he explains. "When people hear what you've done, they know what kind of performance to expect, and my career would not have been possible without my MBA program."
To get that experience, Prado couldn't stay in Brazil. "I did my research, and I wanted a leading program in the United States or Europe, because the caliber of education and where it can take your career is just different," he says.
He encourages young professionals facing a similar decision to think about their long-term career aspirations. Though it might seem counterintuitive, a lateral move or temporary backward step might enable future success.
That's Prado's story. His family took a risk. They each gave up a lot—but they also gained so much. They grew as individuals and as a family, expanded their horizons, and formed special bonds. They welcomed a second daughter, who was born in the United States.
"The decision changed all of us," says Prado. "But it changed us for the better."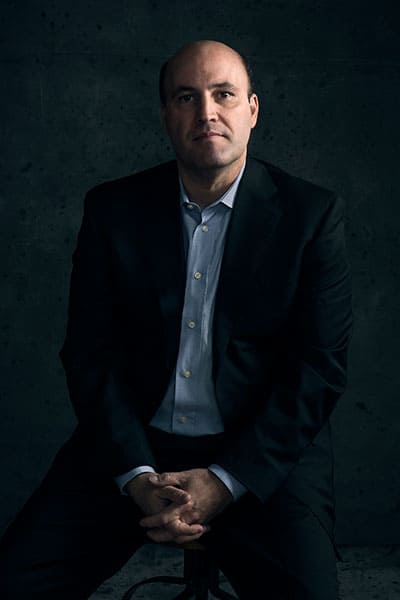 [kleo_gap]
---
"The ultimate risk-taker, Marcelo recognized that if one wants to open new professional doors, it may mean traveling thousands of miles to an unfamiliar city in a new country. Marcelo did just that when he left his native Brazil to attend Dartmouth. Armed with this prestigious degree, he has achieved enormous success, and he and his family have all been the recipients of the important and very difficult decision to say goodbye to friends and family and hello to a new adventure."—Regina Montoya
---