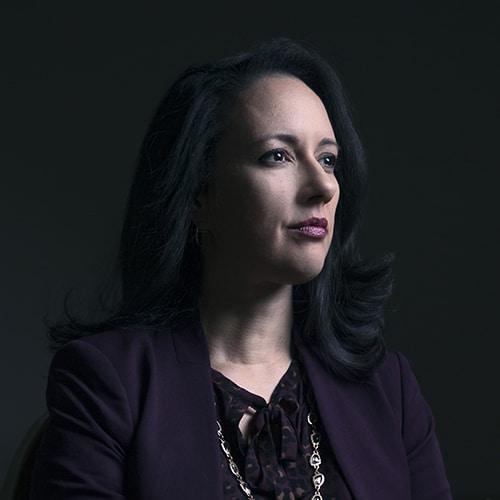 Executive Vice President, Global Distribution Operations  |  HBO
---
BROWN UNIVERSITY
---
By Zach Baliva   //   Photography by Sheila Barabad
Being good at something doesn't always equate to passion."
That's a lesson Bernadette Aulestia learned when she was just twenty-three years old. Today, Aulestia is an executive vice president at the world's leading premium TV brand, but then, she was a young financial analyst. The economics major from Brown University had visions of flourishing as an investment banker, but she quickly realized her reasons for pursuing the career were influenced more by external factors than her own enthusiasm.
So she took a risk—and a pay cut.
Aulestia went into entertainment when she joined Turner Broadcasting. Though she was still working as an analyst, Aulestia leveraged her skill set in an industry more in tune with her desires.
The move paid off. Aulestia found herself more engaged, and as a result, she increased her performance and professional development. In 1997, she joined HBO to develop strategic marketing plans to increase the company's presence in the Hispanic market. More recently, she took on additional responsibility for sixty-seven branded international HBO networks.
It's all part of HBO's strategy to increase its international reach while finding new ways to deliver content in the changing world of digital media. In 2015, the company shifted course, allowing non-subscribers access to its entire lineup for $14.99 per month on Apple, Amazon, and Android devices.
It's exactly the kind of work Aulestia hoped she'd be doing when she joined the company nearly twenty years ago. "We've established ourselves well in this space, and in a fluid time, we're figuring out how to galvanize an entire organization while maintaining our competitive edge and entering new markets with new products," she says. "It's tremendously exciting."
It's easy to understand why. In 2015, HBO shattered records when the company won forty-three Primetime Emmy Awards, including outstanding comedy series for Veep, outstanding dramatic series for Game of Thrones, and outstanding limited series for Olive Kitteridge. That night validated many of the choices Aulestia and her peers have made. "It's a fragmented consumer world, and people want to interact with our shows in new ways," she says. "We're in our golden age of content creation as a company now, and the new challenge is to deliver that great content in all the ways consumers want and expect it."
Regardless of the devices and technology, users want a good story and an emotional connection. HBO's content creators and marketing teams can create immersive experiences, but they have to find ways to monetize those efforts. For Aulestia, that means finding more business partners and more ways to get HBO content into the hands of the consumer.
Aulestia has led many complex projects at HBO. When the company decided to tap into the Hispanic-American market, she organized a multidisciplinary team to determine programming for the birth of HBO Latino. She says the collaborative approach and her role in bringing people from many departments together was a natural fit that she traces back to herformative years at Brown. She started as an engineer before moving to economics and took classes in many disparate areas. "I thrived at Brown and am grateful for the chance I had to be exposed to many different influences and perspectives," she says.
Aulestia is in a role that's at the intersection of business, finance, technology, and marketing, and that role calls on all she learned from a liberal arts environment. On any given day, she might oversee a distribution group, negotiate contracts, manage accounts, study the consumer experience, dig into big data, or research new ways to attract customers.
Her background and work ethic has led her here, but Aulestia also points to the value of networking. Her contacts led to inroads at Univision, Turner, and ultimately HBO. "I got job interviews and offers from conversations that started when I stuck my head over my cubicle wall," she recalls. "We often don't peek over the wall and ask questions and meet people. That's a mistake."
Today, her primary network is a "sisterhood" of advocates, mentors, colleagues, and friends who help her navigate a demanding career and complex path as a Latina and woman in business. "There's wisdom and knowledge that come from people who have either gone before you or are in it with you," she says. "I've stayed connected to that."
When facing a dilemma, Aulestia often thinks back to the pivotal decision she made at age twenty-three. "I go back to that moment a lot," she says. "And it still gives me courage to take the less obvious path." 
---